Nexus Clash
Nexus Clash is a popular text-based browser game where you can experience amazing adventures. Begin with your journey by creating a character where you've been given an opportunity to select a starting skill. Buying skills is available later too. It's good to know that you can create more than just one character, so play with lots of characters and reach the top. The game allows you to move to different directions and see what's going to happen next.





(202 votes, average: 1.91 out of 5)
Rate it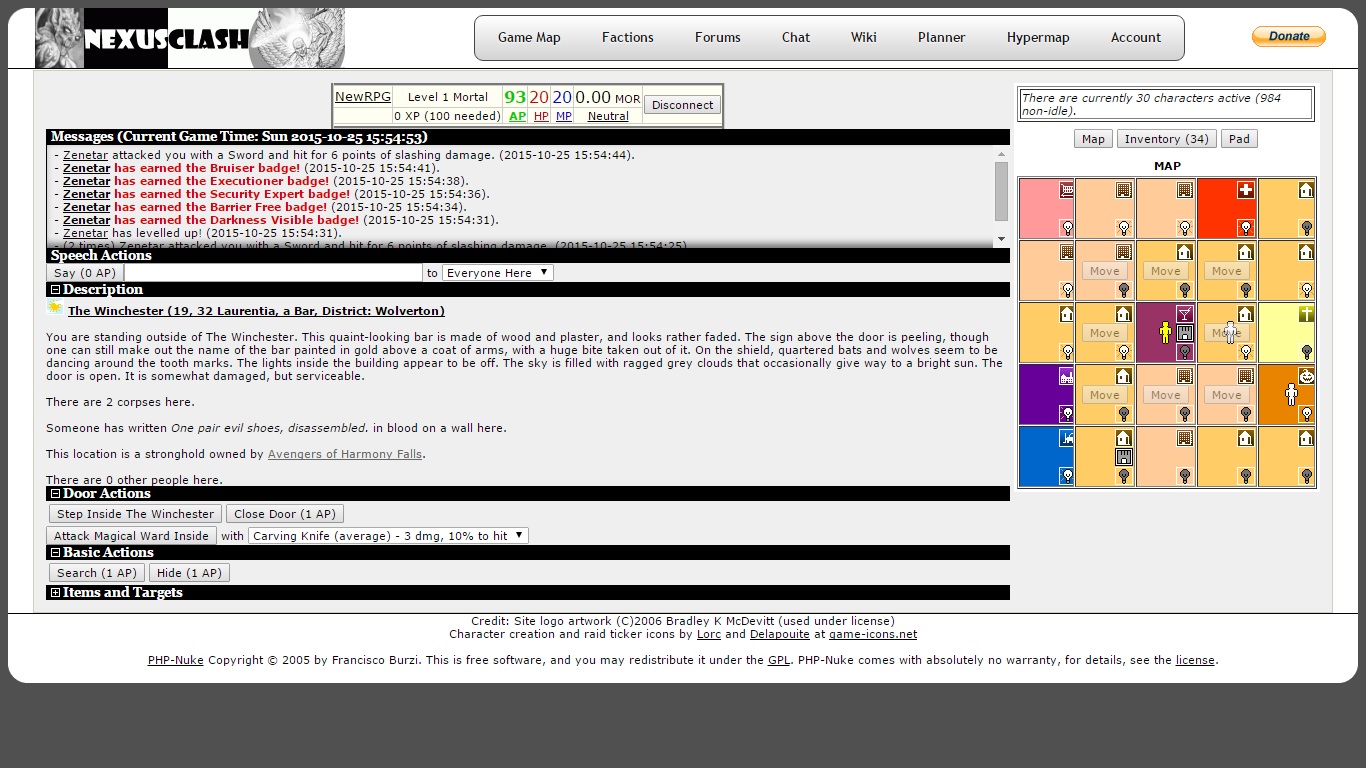 12

comments on

"Nexus Clash"
Not an Aethersprite
October 17, 2022 at 02:32 pm
The game is actively developed and from early 2018 onward has had a huge push of new content, ease of use improvements and fixes on a pretty much constantly (every few weeks) ever since. It's not perfect - the interface is showing its age and there's a really sharp learning curve involved in figuring out the game's tons of content, but the community is friendly, growing and (also since 2018) actively moderated, so if you join expect a lot of help with the learning curve from friendly players.

(As a quick glance at this chat demonstrates, a few players miss the broken pre-2018 version of the game and pine for the unchecked power that they once held over what used to be a poorly moderated community, but that environment is gone now that the developers have their act together and honest players have been taken seriously and protected from abusive ones.)
Hardman?
October 16, 2022 at 12:56 am
Hardman was here
Wann wird man je verstehen?
October 15, 2022 at 08:15 pm
This game's administrator crew and disciplinary actions are dubious at best, and favoritist at worst. Innocent players will get penalised after lazy "investigations", and actual rule breakers will be let run rampant as long as it's convenient for the admins. NC has been dying for a while, and has only been partially necro'd with the last reset November 2021. Don't waste your time and sanity on this, let it breathe its last breath as it deserved many years ago.
Sweet Prince Amongst Toads
October 15, 2022 at 01:38 am
This is a game. It is on the internets. It is fun to play and hangout online (HOLO as the youths say). You do not need a strong dial up modem unless you get into real time combat. It is not the best on your cellular telephone. IRL you only YOLO once but in the nexuses you can YOLO and YOLO all over again. I give it 6 out of 6 bullhorn blasts.
Not a Conduit
October 15, 2022 at 01:05 am
this game sucks. Kwazzir isn't even here anymore
Roly
October 15, 2022 at 02:19 am
Kwazzir was only good for XP anyways. ;)
Not a Conduit
October 15, 2022 at 12:11 pm
I HISS at you! Kwazzirr was good for many things.... Like mooching lighten enchants of a... Not a conduit of course. And death touching too many people...and providing no logistics help whatsoever
Raven
October 15, 2022 at 08:41 pm
Oh they were also good for throwing grenades at don't forget that
Not a Conduit
October 16, 2022 at 05:39 pm
YES THAT TOO (cries uncontrollably)
Roly
October 14, 2022 at 10:48 pm
Hypno is not amused. Roly on the other hand loves this game!
anonymous
October 14, 2022 at 10:33 pm
kharn, I don't know if you'll ever see this, but I must confess. I wish to see you again, yes, it's true.
not a spambot
October 14, 2022 at 10:25 pm
One of the few actively developed browser based games left. If you're an old fogey who remembers Urban Dead and it's ilk, consider trying Nexus Clash.

The community is fairly small, but very receptive to new players.
Patrycjusz
October 14, 2022 at 10:06 pm
I've played the first iteration of this game more than 10 years ago, when player count was in the thousands (I think).

Came back recently and am enjoying myself, the community is still going strong, although it's only several hundred people now. Plenty of fun to be had,
Jelly_m00n
October 14, 2022 at 09:53 pm
Fun game once you get past the learning curve. Very active with a great community that is eager to help you achieve.
Naganted
October 14, 2022 at 09:48 pm
Been playing this game for years. It is NOT new person friendly, but it has a great community that is more than eager to teach people the ropes. The game is extremely complex, or sometimes just as shallow as you'd like it to be. Want to be a madman with no pants running around yelling and just murdering everything you see? Go ahead. Want to get in to a faction and become a support class type and help out in all sorts of ways to make other people absolute beasts or maybe just enchant everything? Sure, why not.

A game that almost requires some studying and asking questions to really figure out, but it is really worth it, a kinda completely unique sort of game that's been around for years and years mostly steadily tweaking and adding mechanics.
Kraufen
October 14, 2022 at 09:20 pm
Great game, and one of the few active games like this that is still being worked on with a dedicated fanbase. Really worth your time