The Ninja-RPG (OFFLINE)
The ninja-rpg (TNR) is a multiplayer fighting simulator browser game. You can enjoy it anytime anywhere. There's a unique combat system in the game so you could be challenged in missions or on quests. There are five villages and you should chooce one of them. If you fight for you village, the village and also people in this village will get better and stronger. Train yourself, create a group with your friends, build your own armory equipment and fight all your way up to become the Kage.





(51 votes, average: 2.94 out of 5)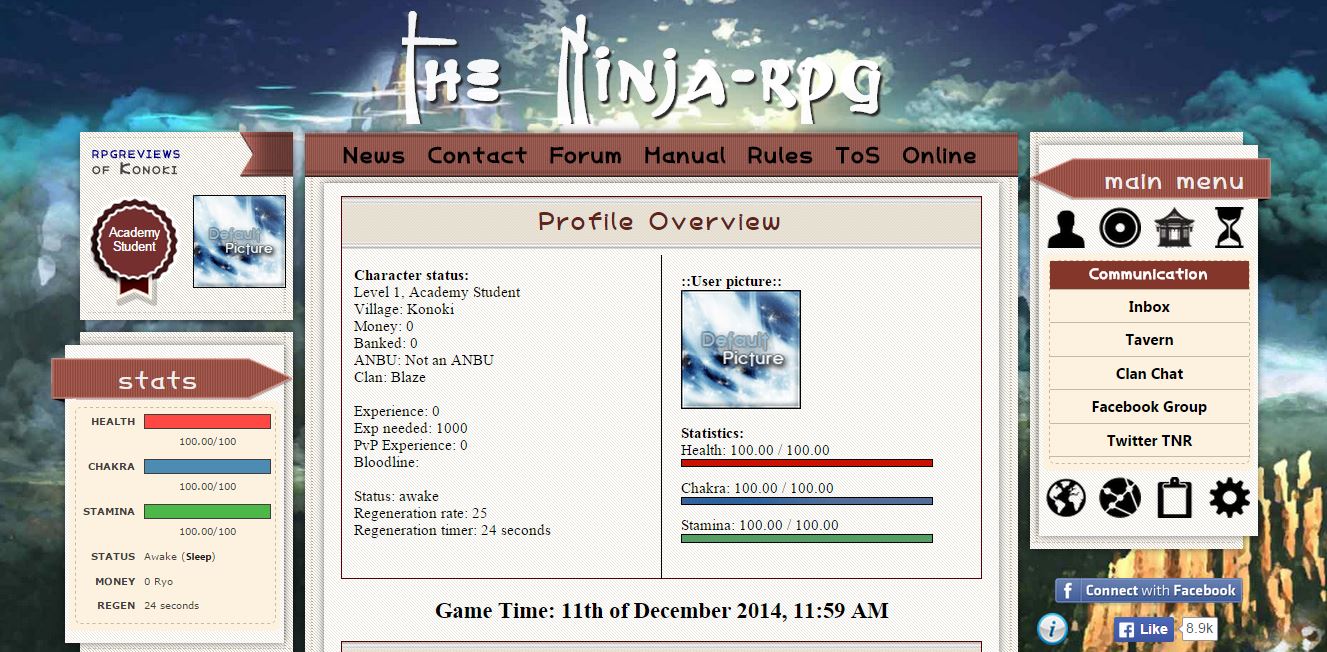 15

comments on

"The Ninja-RPG"
Krylanceo
March 30, 2023 at 12:09 pm
This game is awesome , my achievment in this game is iam ex kage of shroud , and my in game name is Krylanceo , i will play again if the game is open again
Starkeeper
March 22, 2023 at 11:39 am
It's been so long since I played this game
A TNR Player
March 04, 2023 at 06:30 pm
Hey everyone! For those that don't know, Core 4 is INDEED coming! Terr is back at it and it's currently in progress! Official date to be released is still TBD, but it was mentioned that possibly late summer is an "realistic date of release", and Terr also mentioned he will try to have earlier access once the basics are at least implemented and working. Check out the Official Facebook Page, as well as joining us all on Discord to be included on everything currently going on and what work is currently done/in the works! See you soon old friends! :)

Official Discord:
https://discord.gg/jDk2Xr9PuV

Facebook Group:
https://www.facebook.com/groups/23383523075/
Celestina
March 08, 2023 at 12:14 pm
That's great news, waiting for it.
VenessaTheVampire
February 28, 2023 at 12:37 pm
This game was life at one point. So many memories and laughs. You had to have an imagination to enjoy a lot of the simplicity this game had to offer tho. But totally worth it if you did. I'd pay to play again
Yonda
March 02, 2023 at 07:26 pm
well core 4 is in the development so its returning. see you soon :*
Tankulis
March 02, 2023 at 10:18 pm
When is soon?
Yashamaru
January 22, 2023 at 09:58 pm
Wow it have been like 13 years agos
when I was playing this game
it was very awesome
Joel
December 23, 2022 at 07:28 pm
Was once a good game, but the creator closed it, and quit making games.
Mdot
May 10, 2022 at 05:45 am
Would've made a great app game tbh.
Mastema
June 30, 2019 at 02:52 am
good game , just lack players and updates to events
gaveuponthisgame
December 24, 2015 at 05:43 am
This game was fun until you try to advance to a chunin/jonin. thats when all the high level players wreck your shit constantly until you quit
Hater
May 31, 2015 at 04:29 pm
I beg to differ....this game sucks. :(
Bazinga
May 31, 2015 at 05:06 pm
And why is that? Tell me ONE reason why is sucks or are you just not good at the game, is that it?
TheRevenger
December 13, 2014 at 03:44 am
The games awesome :D
Claudia
December 11, 2014 at 07:52 pm
an amazing game good for both casual and hardcore players xD
Red_Fang
December 11, 2014 at 06:10 pm
Wait until you join. It will be a blast...
Lunatic
December 11, 2014 at 05:40 pm
KeepCalmAndBlamePana
Bonita
December 09, 2014 at 08:46 pm
The best game! And I am the best genin in Konoki! :D