The Ninja-RPG (OFFLINE)
The ninja-rpg (TNR) is a multiplayer fighting simulator browser game. You can enjoy it anytime anywhere. There's a unique combat system in the game so you could be challenged in missions or on quests. There are five villages and you should chooce one of them. If you fight for you village, the village and also people in this village will get better and stronger. Train yourself, create a group with your friends, build your own armory equipment and fight all your way up to become the Kage.





(51 votes, average: 2.94 out of 5)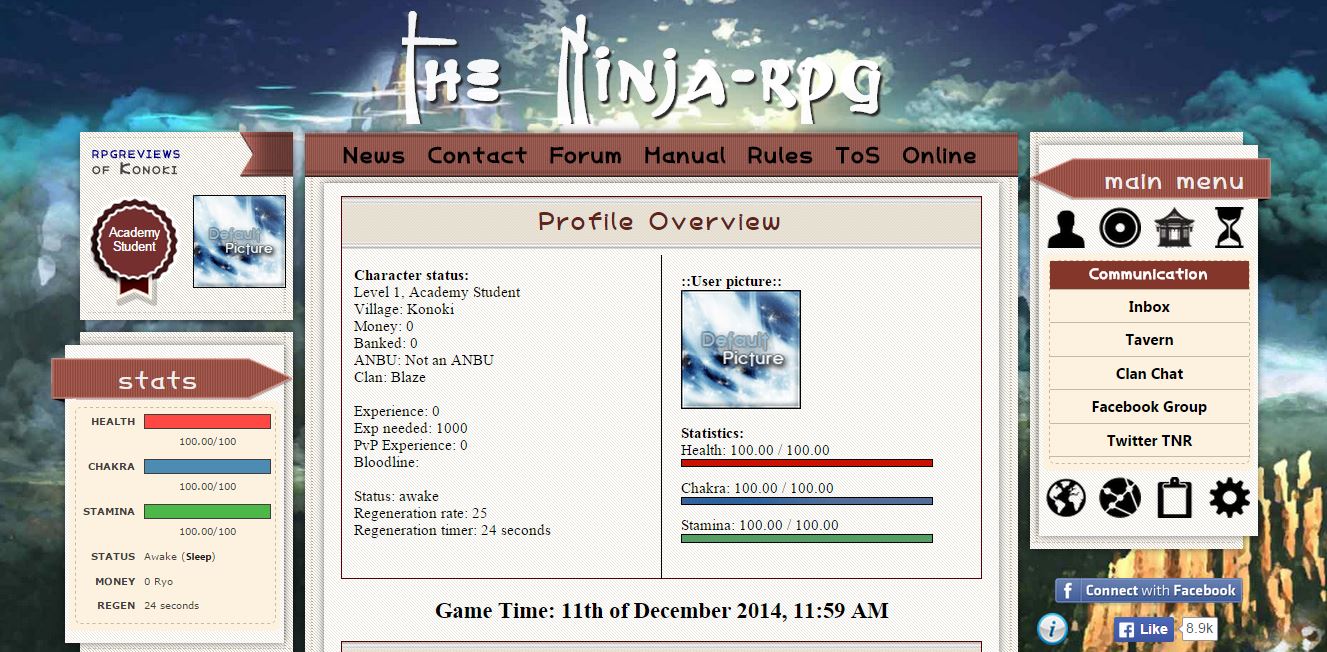 11

comments on

"The Ninja-RPG"
Yashamaru
January 22, 2023 at 09:58 pm
Wow it have been like 13 years agos
when I was playing this game
it was very awesome
Joel
December 23, 2022 at 07:28 pm
Was once a good game, but the creator closed it, and quit making games.
Mdot
May 10, 2022 at 05:45 am
Would've made a great app game tbh.
Mastema
June 30, 2019 at 02:52 am
good game , just lack players and updates to events
gaveuponthisgame
December 24, 2015 at 05:43 am
This game was fun until you try to advance to a chunin/jonin. thats when all the high level players wreck your shit constantly until you quit
Hater
May 31, 2015 at 04:29 pm
I beg to differ....this game sucks. :(
Bazinga
May 31, 2015 at 05:06 pm
And why is that? Tell me ONE reason why is sucks or are you just not good at the game, is that it?
TheRevenger
December 13, 2014 at 03:44 am
The games awesome :D
Claudia
December 11, 2014 at 07:52 pm
an amazing game good for both casual and hardcore players xD
Red_Fang
December 11, 2014 at 06:10 pm
Wait until you join. It will be a blast...
Lunatic
December 11, 2014 at 05:40 pm
KeepCalmAndBlamePana
Bonita
December 09, 2014 at 08:46 pm
The best game! And I am the best genin in Konoki! :D