Path of the Vampire
Path of the Vampire is a fun browser-based roleplaying game that takes you to the bloody vampire world. In Path of the Vampire you can choose whether you would like to become a vampire or a human. You can also pick out your path and gender. Path of the Vampire assumes that you gain a lot of experience and try to earn lots of cash. Experience could be gathered by exploring the world. It's important to think about battling tactics that would give you benefits.





(20 votes, average: 3.6 out of 5)
Rate it
Path of the Vampire images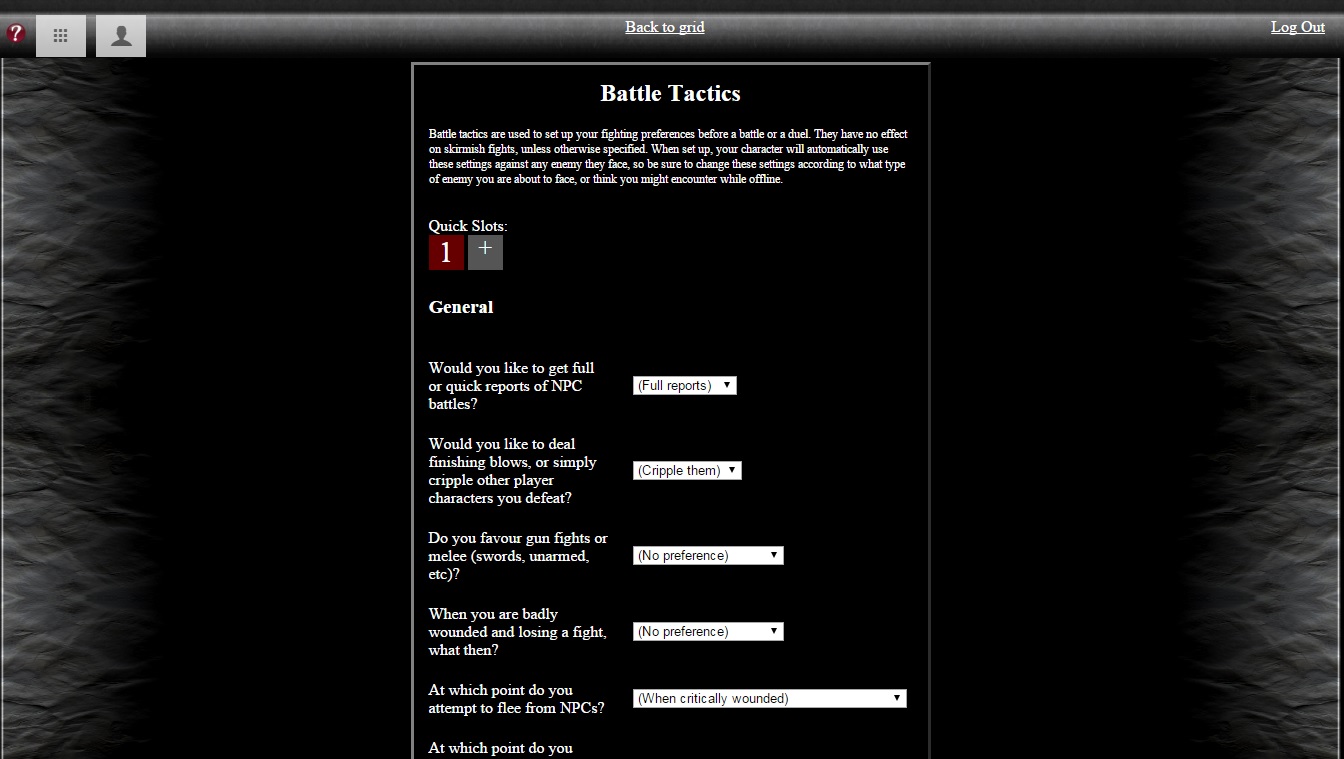 10

comments on

"Path of the Vampire"
BOO
June 30, 2022 at 09:44 am
Management pulled the game from the public space after a year of dead silence.
You can't play this game now.
Ally
October 10, 2022 at 09:37 pm
It wasn't dead silence at all, several players myself included played up until the last possible second and still want the game to return.
BOO IMAGHOST
April 19, 2021 at 04:27 pm
New rules added to Discord Roleplay encourages quantity over quality...

Caligrace (owner) posted on 03/30/2021:

"The less you write, the less you will receive. This is based on activity. If, for the week, you (as the player, not per character) have only posted once or twice, you'll receive far less than 10,000 RPP for the week. It's based off amount of activity and posts.

Examples

1-5 posts - 1,500 RPP
5-10 - 5,000 RPP
10+ - 10,000 RPP."

One person writing 1 line of roleplay 10 times a week is more valuable than an actual writer who cares about the roleplay. Well done to the owners of Path of the Vampire. Just when I think you couldn't suck the life out of your own forum, you go and do it. SLOW CLAP.
BOO IMAGHOST
March 29, 2021 at 02:12 pm
Chapter 9 comes a whole YEAR after Chapter 8 and nothing has happened.
No one feels motivated to write anything after years of having their hard work nerfed by the owners who are only in it for themselves. Even the owners are too lazy to write, but, they want to control everything at the same time so nobody does anything. Just go in there and look for yourself. You don't have to register to see just how dead it all is. It's a lame ass tragedy.
syk-in-the-head
March 15, 2021 at 11:05 am
A brilliant concept for a browser-based Vampire RPG that I played for 10 years.
Unlike most RPGs out there, the gameplay and the written roleplay automatically work together so that players can see instant results from their hard work.
There are bugs, but they're not game-breaking and improvements used to take place very regularly.
It's a shame that it has died a death since the Winter of 2020 as it really has the potential to go places with the proper focus. Good luck to the small community that remains and I hope that this is just a bump in the road.
Spiffy
February 01, 2021 at 03:30 pm
While the game is not as active as it has been in the past, it is still an active (helpful) community. The new owners took on a game that had a lot to fix and they are doing the best they can to sort things out. Understandable that updates have taken a back seat to fixing bugs. Pricing is very reasonable, especially when you consider how easily in game currency is acquired. As for players being given levels on a whim, this is false. All players, even the owners of the game, earned the levels they have. The owners often give extra exp gain days but this is a perk everyone playing the game gets to enjoy. As for bugs in the graveyard, none is perfect. They were either accidentally moved, or assumed fixed only to have the problem resurface. I imagine running a game, like path, is never easy. That's why the players of path work together to make it a better game for all. I highly encourage others to check it out. The grid is enjoyable, with many different aspects to explore. You do not have to be a writer, but there are several RP opportunities for those who enjoy such. If in need of help, all one must do is ask. Path is full of helpful players and staff.
BOO IMAGHOST
March 24, 2021 at 12:46 pm
The owners don't even play anymore and they rarely login to discord. How much more can you show you don't care about your own game? They're more than happy to take your money monthly though. Don't fall for this scam. Stop your donations asap!
Jaz
January 03, 2021 at 11:44 pm
Game is all but dead and now sold to new owners that have little time for the game except for themselves. Rolling back previous updates, won't update prices to compare with other mobile games, while giving friends/themselves multiple levels on a whim. Bugs aren't being fixed but just discarded into the graveyard.
BOO IMAGHOST
March 15, 2021 at 10:54 am
I have to agree with Jaz.
The community has 6 members left and 4 of those are staff who don't have any interest in making things better. They took on a job that was too big for them and only listened to their friends and personal interests. The new admins look at PotV as a personal playground and don't give a shit about anyone else but themselves, that's why it's dead. Loyal players who've been playing since the beginning have left because of their selfishness. New players were driven off because the staff didn't want to engage with them. There is NO roleplay being done here. It's a waste of potential. Very sad.
Necalli
October 18, 2015 at 08:59 pm
Great community of grid play and role play alike. In depth, interactive storyline with continual updates and progression. RPG and PvP heavy, and great player customization ability. Strongly advised to give it a try!
Jesse
October 18, 2015 at 01:36 am
The community here is thriving! New players are welcomed with enthusiasm. The grid and the game work together to help with character development in a way I have seen nowhere else - you can be a gamer only, or you can be a writer only and level your character with writing alone.
Mora
October 17, 2015 at 10:43 pm
Brilliant place to write with very talented, encouraging writers. Grid is well designed. Community is friendly and always willing to talk to new players! Come check us out!
mordechai
October 17, 2015 at 09:40 pm
Well designed grid play and active role play community. Always new updates, and an interactive storyline, come join us and affect the future.