Peloton
Peloton is a free browser-based text game about cycling management. Create your team and get ready for a great adventure in the cycling world. Before tough training you must hire a trainer who you can also fire anytime you want. Your team consists different cyclists with each having various skills and weekly wage. You can take a look at upcoming races. However, you can also check out the results of races that are in the past and view their strategies.





(116 votes, average: 4.6 out of 5)
Rate it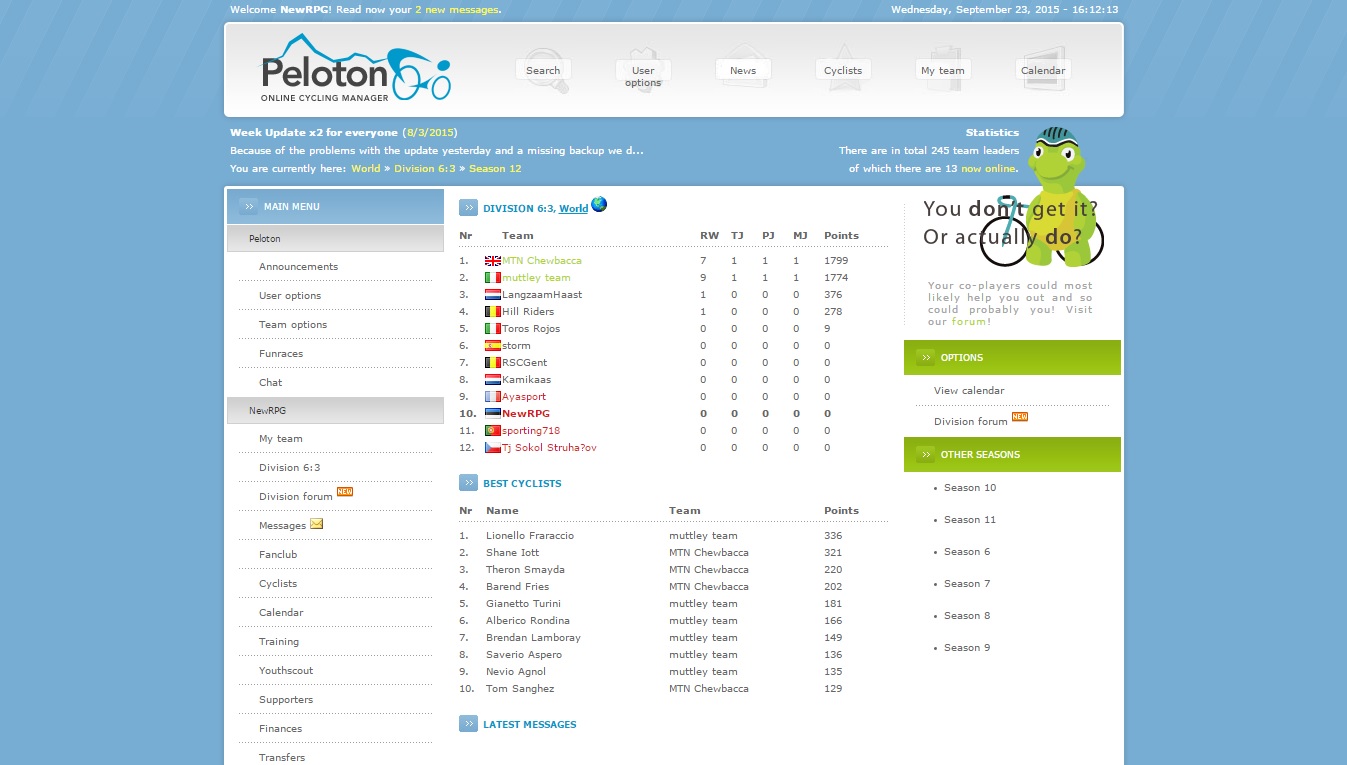 16

comments on

"Peloton"
Michael Jones
December 09, 2019 at 12:07 am
Played this game for 2 weeks so far, very balanced economy, can start half way through the season with no problems, forum and wiki gives you all the help you need. Can't recommend enough!
DeRodeLantaarn
February 21, 2019 at 11:45 pm
Great game!
Try it out.
The new season will start in about 4 weeks.
A good moment to start with a few weeks of practise before the new season begins.:)
sevenbellies
July 14, 2018 at 03:12 pm
give it a go great game
juanval
January 04, 2016 at 01:25 am
Great game for cycling fans who enjoy watching the Tour, the Giro etc on TV ;D
CrazyCanuck
December 20, 2015 at 01:48 pm
Fun and addictive. Interesting community of players...
Join the Peloton!
Dimitri
December 15, 2015 at 02:03 am
If you're into cycling, numbers and managergames, this is the best.
Helder
December 06, 2015 at 05:30 pm
Fantastic game with lot of options. People from all parts of the world play it ;)
Slayer772004
September 29, 2015 at 10:36 pm
Easy to start, and when you think you know the game, then you keep finding new important in-dept aspects. Challenging, exciting and oops: addictive !
Apart from Peloton, I tried some other cycling games too, but I quit them soon cos there is no game like Peloton.
Quiller
September 29, 2015 at 06:18 pm
Best cyclingmanager game on the net. You can play it free. Premium is very cheap (and is for supporting the game (no play to win!!!!)). Not a lot of players until now but enormous potential!!!
Headcase
September 29, 2015 at 09:24 am
I really love this game. It's easy to step in, but also for experienced players there are a lot of coll challenges. This game is a must for those who love cycling and games!!
cirao83
September 28, 2015 at 10:24 am
The best cycling manager game!!!
Bosko
September 24, 2015 at 02:21 pm
Great and very addictive game!
Tossboom
September 24, 2015 at 01:15 pm
The best cycling manager game there is. Easy to learn and a very active community. It gets fun fast when you start, which isn't always the case in manager games.
Neo 2:1
September 24, 2015 at 08:45 am
I really enjoy this game. Every day a race, every week an update and progress of your riders. The game keeps you going.
One of the only manager games I can keep playing.
The connection with your riders becomes huge!
maxz
September 23, 2015 at 10:29 pm
best manager game ever.
Ab Normaal
September 23, 2015 at 06:03 pm
Peloton is a fantastic game. A lot of variety. You have to manage finances, training, a lot of different skills, buying and selling of riders, youthscout, supporters and of course a lot of tactics to play this game.
For active players this is a briljant game!