The Phoenix Tales (OFFLINE)
The Phoenix Tales is an old-school looking text based browser game. Medium paced. Create your own clan, complete dungeons, gain levels and advance further with auto-battles. Lots of quests and events. Features like: City bank, Casino, Market, Building district, post office. There's a scavenging system which means you can scavenge for food, wood, iron and stone. There are challenge dungeons where you can go kill enemies, bosses and Elites and obtain loot from them.





(56 votes, average: 3.93 out of 5)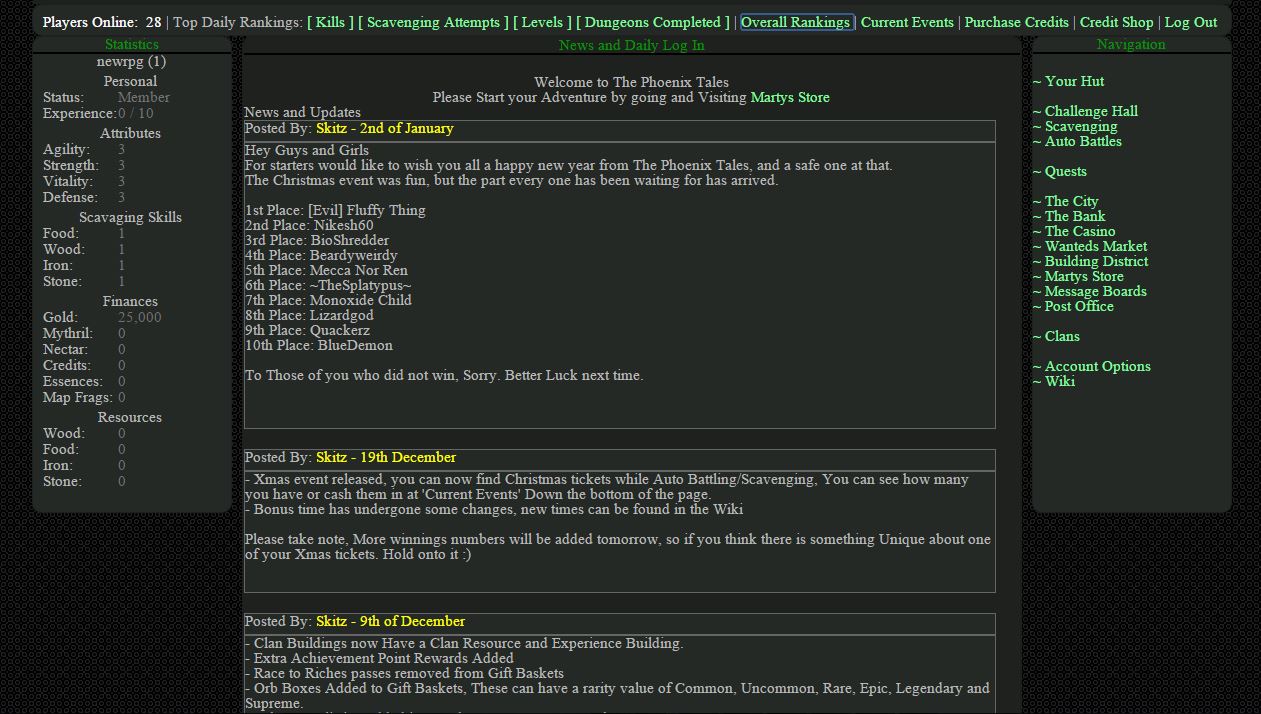 10

comments on

"The Phoenix Tales"
DONALD TRUMP
March 24, 2020 at 02:01 am
Did Crow shut this down or what?
Pepper
June 19, 2019 at 12:04 pm
Yea is this really the remake of the phoenix tales??? Cause if so do i need to redo my account or will i still have it
Wicky
August 10, 2017 at 04:28 pm
This game is now online... =)
DoraHep
April 08, 2017 at 08:42 am
hi!
player
September 20, 2015 at 06:37 am
The game has actually changed their web address whichis tpt-rpg.com now. Please update it.
encinoman
May 03, 2015 at 07:33 pm
been with the owner of this game for awhile now all the people are friendly except for Mashiara lol just kidding great game great things to come for it as
well
Sheldor
February 08, 2015 at 05:11 pm
This game is great, it has lots of features and an amazing community.
YourWickedness
January 15, 2015 at 08:33 am
only had to play for a little bit to know this game really isn't all that great, it's an exact copy of another game, what a rip off
Mashiara
January 16, 2015 at 11:53 pm
alot of the games are similar but gotta look at the differences as well... Gotta give games some time especially if one is still developing..
Quackerz
January 14, 2015 at 06:01 pm
A rather new game and is slightly different to most other text-based RPGs. The market is the opposite way around, meaning you have to have money in your bank to buy and sell things, but you can only put up a request to buy things and wait for people to sell them to you.

It's a rather good game, pretty fast levelling until you start hitting those higher levels and it also has a great community too.

Why not pop your little nuggets online and login? I'll see you there. ;)
Mashiara
January 13, 2015 at 06:37 pm
I have been playing this game for practically the while time its been out and have seen great things and know of great things to come.. It has a small but great community as of now but will hopefully grow. It is still under production with great things to come.. come join us and enjoy.. One of the good things is you can auto and do RL things if need be. Its great, hope to see you there..
mashiara
January 22, 2015 at 05:27 am
just letting everyone know the layout has changed :) dont look like this anymore.