PipsTycoon (OFFLINE)
PipsTycoon is a financial simulation browser game. Take a look at the available jobs listing and make your decision based on the daily wage. Visit the market and buy food to increase your energy. Trading area allows you to access the currency market where you can find all active forex pairs. Become a shareholder as every time a business owner withdraws money from the company, every shareholder will receive a percent from the amount. Purchase cars to be able to increase your energy and rent them to other players. You can also buy weapons, clothes, jewelry, wine, metals and houses. Work hard and make your financial dreams come true.





(140 votes, average: 4.8 out of 5)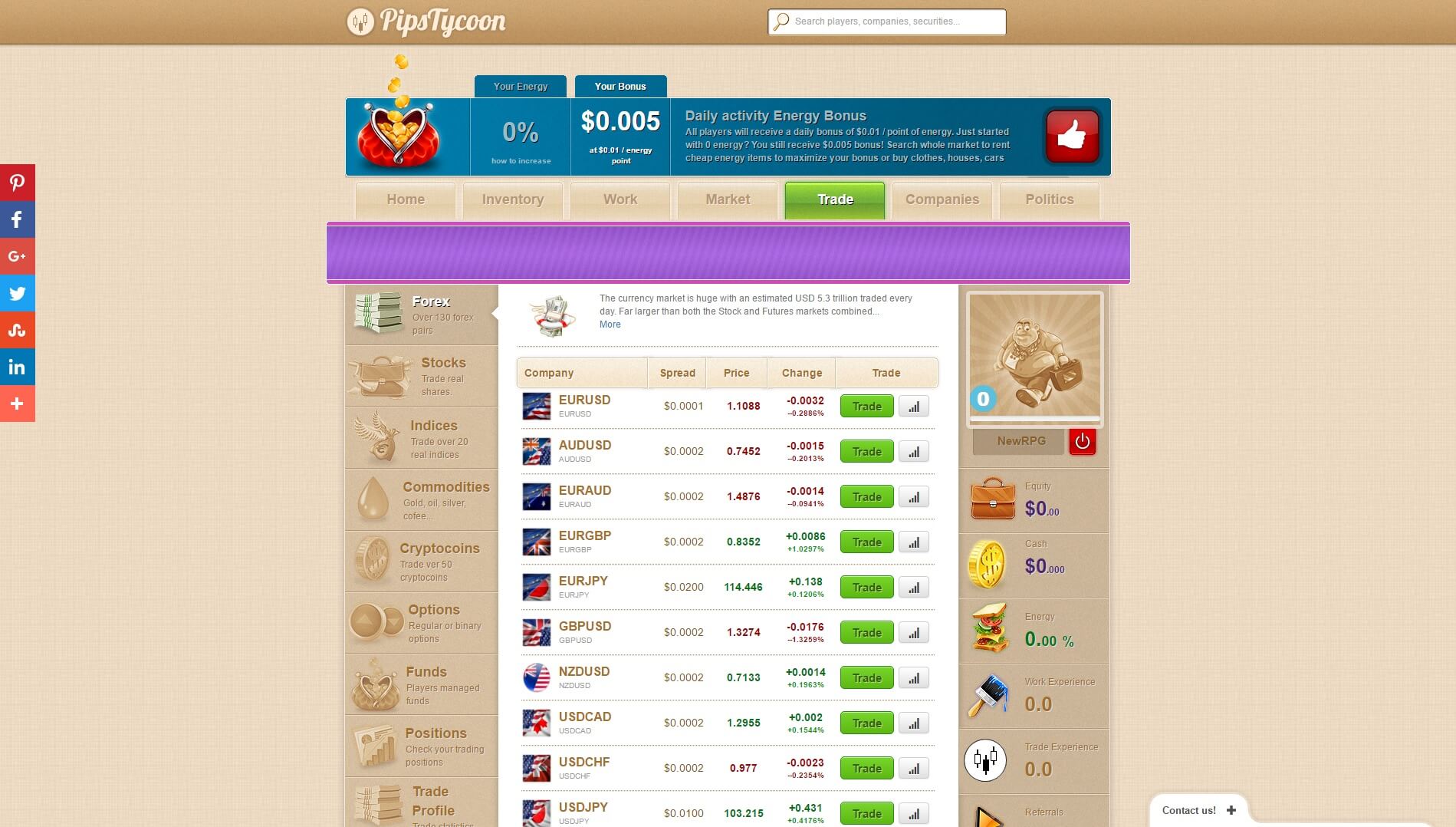 45

comments on

"PipsTycoon"
Pipsy
September 21, 2020 at 11:33 am
"Maintainance in progress. Try again in a few hours"
It's taking way longer than a few hours...
Will
September 19, 2020 at 12:21 am
I have tried playing numerous times. Every time the website is down. Very disappointing.
Blagoje
July 28, 2017 at 05:17 pm
hello frends
Negash
July 25, 2017 at 04:12 am
I just joined and already I like it. There's lots of incentive to come back.
truongdat
July 10, 2017 at 10:39 am
The best game. Is funny.
darini
July 02, 2017 at 09:06 pm
Join us - YOU can do it!!!
crisp99
July 01, 2017 at 05:36 am
PipsTycoon is an excellent game if you're interested on how an economy works, plus you can earn real money from it! Highly recommended to play!
Rick
June 26, 2017 at 01:39 am
Love this game!! You can earn real money in real time. Highly recommended!!!
re4lce
June 19, 2017 at 06:13 pm
Excellent Pipstycoon
bullitswag12
June 16, 2017 at 10:57 am
Nice game
Aaron Castle
June 13, 2017 at 12:42 am
Pipstycoon is so fun! I enjoy the feel of a game while learning about trading stocks and what not. Right now I started off with nothing and am working my way up to earning free money!
marioalvarez
June 12, 2017 at 11:03 pm
buena pagina agradable para checeaela.
s4pta
June 07, 2017 at 07:12 pm
Pipstycoon is great..... because it can generate dollars that can be made for side income....
Deron
June 06, 2017 at 06:14 pm
This is a fun way to learn how to trade Forex, Stocks, and commodities.
Andi kriswan
June 04, 2017 at 02:15 pm
Saya masih baru bagaimana caranya mohon bantuannya
anang36
June 02, 2017 at 04:33 am
first time playing, i don't know what to do, after send message to other player, i got some hint, and now its become more interesting, just need to waiting for next round....
RavingMadman
May 29, 2017 at 03:58 pm
Cool service, everyone will find something interesting for themselves.
aegon
May 29, 2017 at 01:51 am
I just started the game and I'm having a lot of fun. I already made some cash, it's amazing
genkai88
May 19, 2017 at 02:13 pm
The best game. Is funny.
kunip
May 18, 2017 at 11:25 am
Nice game. It might be slow in the start but you will grow on it even further. and it gets better every day
tonquocson
May 16, 2017 at 01:56 pm
What I like about PipsTycoon, is the variety of possible investments ways, which will bring return. Patient and strategy is required and you also will be satisfied. Pips tycoon is not "Have to".
cicero augusto de lima warken
May 15, 2017 at 01:21 am
the best game.
navingo
May 15, 2017 at 12:48 am
great game that encourages my brain to think well giving me some cash as well highly recommended
Dof1017
May 15, 2017 at 04:37 am
Excelente. Recién comienza y es muy claro. No veo la hora de seguir trabajando y buscar un rumbo en este juego.
Slimython
May 14, 2017 at 07:03 pm
Supergame.. Love it to Death!
Morilla
May 14, 2017 at 06:22 pm
Started of slow, now surely getting the hang of it.
Consistency is the key in everything.
Big thanks to the devs!
Zergyu
May 13, 2017 at 05:31 pm
This game is the best.
I play it every day and I make money.
Ps: is very easy.
Rfwolf
May 13, 2017 at 11:37 am
Good game but with a slow start.
Kai
May 12, 2017 at 04:06 pm
So far seems like a good use of time. Easy to earn some small amounts of cash.
firejvr
May 12, 2017 at 03:52 pm
This is a nice game and little by little my work is turning to real cash. come and join us.
Atomos
May 12, 2017 at 03:07 pm
It might be slow in the start but you will grow on it even further. With few investments you'll get it back and profit more
Zergyu
May 12, 2017 at 02:28 pm
The best game.
I play everyday.
jmrc125
May 12, 2017 at 01:57 pm
Nice game and constantly renewing. Very interesting =)
Drakerolita
May 12, 2017 at 10:18 am
Its a really funny game where you can obtain prices. plus is really complicated so is not so easy to learn.
thanhlh
May 12, 2017 at 04:49 am
it's very good game.
jmrc125
May 12, 2017 at 02:41 am
Nice Strategy Game, with constantly renewal. Very interesting =)
speedtuning
May 12, 2017 at 02:11 am
very good game but need more upgrade for interest news players
pablo
May 11, 2017 at 07:26 pm
its very good game but waiting for new take alot of months
OldDeath
May 12, 2017 at 12:40 pm
Well I must admit it took a while to roll-out new things , little things as security improves or recover password are not "releases" but also you can notice that in the meantime since last comment here, Player vs Mobs feature with rewards and drops from mobs is released and functional, near Artifact Machine for weapons and shields upgrades.
Also a very cool Micro-jobs module was launched in the Work menu, allowing more income for players and allowing business people to launch their own real-world jobs. We will try to add faster more novelties, but such mentioned module is actually a separated site as complexity embedded in the Pipstycoon.
Join me
August 07, 2016 at 04:03 pm
E-sim strategy game, bonus 2 gold
Lorena
July 23, 2016 at 11:03 pm
Hi,
i read the reproaches of some users and i must say it is not the fault of the new owner Olddeath, the old owner ( Christian Vlad ) is the Person who have sell the Game as he saw that all is getting worst.
And olddeath bought the Game for Money where i must say `` I never going to bought a game for this much Money in such Stadium Pipstycoon was at the End of the Year 2015``. But he bought it because he has a Vision . But to bring the Game up there where so many Things to solve and Modifications to do and sure there are Problems to solve with Actions which not always are funny in our Eyes. But these Actions are needed to bring the Game from 1.01.2016 to Now.
And when ever he could he has told in the skype Channel about the Changes to hear what for opinions the Player have. The Game is always in Beta-Stadium therefore he can make chances without talking about. But olddeath is every time in Channel to ask about opinions. He spend Thousands of dollars ervery month only to keep the Game running and i spend him Respect that he stay to the Game and continue the Working to bring Pips on the right way. It is very importand that Both Sides take Advantage in the Game ( Gamer and Owner) and he try to do this.
I think most of the Player have the same opinion like me and i can only say come in and find out!!!
The next new implemented Section is coming soon!!! Battles Battles ( Open weapons Factory sell Weapons use Weapons in Battles against other Players) something like that. I think it is fun poor!!
Join this Greate Game, Simulation, Buisness, Fun Community( Pips is alltogether).
See you
goldminer
July 07, 2016 at 12:37 pm
fake! / lost 450 dollars
Antypodish
July 07, 2016 at 07:58 pm
Your name is not even in a game.
Is anybody can come here and post whatever?
Where did you lost your $$$. Because your statement is barely valid.
I can say I earned 10k within a week. Actually is true, but that is not a point.
Please give a description of the issue, how you lost it and when?
PipePe
July 07, 2016 at 03:59 am
What I like about PipsTycoon, is the variety of possible investments ways, which will bring return. Patient and strategy is required and you also will be satisfied. Pips tycoon is not "Have to". Hence it is up to you, how you play it and gain benefits.

One more important part, is the dev team commitment to the project, which was completely missing in 2015. Hence so many changes for good. And more yet to come.

Just be patient and you will get your reward.
olduser
July 05, 2016 at 08:23 pm
scam! / do not invest here! they changing spread and settings everyday to minimalize your profit! do not waste your time!
Alexc
July 06, 2016 at 12:07 pm
Lol. Spreads, margins, and leverages are changes all over the world in high volatility situations. Like Brxit. It's not made to decrease your profit, is made to protect the users and the system.

Scam means that the game takes your money and does not pay the users. That is not the case. You are not forced to trade. You can easily work and take the bonus and use other mechanisms of the system.

Also... i think you are a scammer that did not even played the game, since i can not find your username there.
olduser
July 06, 2016 at 08:54 pm
,,Scam means that the game takes your money and does not pay the users."

I buy set of jewelery q3 and when i was buying it was no degradation. Now is under degradation ?
spend for it around 150gbp, now i cannot receive back 50% of my investment becouse is impossible. And you still not minimalize my profit ?

Also im using admiral markets for trading and they didnt change spread for brexit... + cool down 10min is a joke.

Also i have opened some companies in this game but was completly waste of money and time. You couldnt rent/buy licence for production/trading etc.
I spend around 100usd for companies which are not working properly.
When i was asking you guys when it will be fixed. Always old have now birthday, old wife have birthday, kids have a birthdays always no time to do it. Always busy, busy. After 60days i give up!

ONE MORE TIME MY ADVICE:

DO NOT INVEST HERE ITS A SCAM!
Antypodish
July 07, 2016 at 07:48 pm
Dear Olduser, or whatever is your name.
Joining pips tycoon in 2015 was very different than today.
If you have noticed, game was and still is at the beta stage. And carry lot of bad rabbits since then.
Yet indeed, hundreds of addressed issues has been resolved already in 2016 since changing ownership.
But in fact, when you joined the game, you joined broken market.
Myself I have addressed in 2015 around 50+ bugs. Only these to "cover real issues" were fixed, which was barely hand full.
And if you would read and investigate before you blindly invest, you would see, that other products of previous owner had exactly same problems. Broken markets. Unfinished games. Bug on bug.
Did you actually noticed effect of artificially inflated market (2015)?
Realistically how that could last?
Previous market system is the past. And good, no more infinity items.
If you speak with many investors and traders, when you invest, ensure you can afford the lose, in case something goes wrong. And again, you investigate the market, do business plan and then invest.
10 min cooldown is typically applied for numerous of trade systems, to prevent from fraud and money laundry.
By what you are saying, you have either misjudged you capabilities and market situation, or believed in ferry tails, of easy money within short time.
All can be achieved, but need a time and strategy.
And I haven't observed myself any recent unresolved issues with payouts requests.
alexc
July 07, 2016 at 07:08 pm
Well... since i started playing, 2 things are happening continuously:

1. Stuff are getting fixed. Of course you will mind when taxes are fixed. Were you upset when user deletion was fixed and you got bonuses?

2. People are getting their money. The withdraw limit was decreased with 40%, and there were payed over $1000 in the last month.

It's nobody's fault that you can not manage your companies. I bet that you login daily to get that free bonus and to work. What is your ingame nickname?

Cheers.
OldDeath
July 06, 2016 at 12:18 am
Scam does not apply at all as definition, admin should remove such non-realistic comments. The spread settings changes were needed due to Brexit volatility, were previously announced in insiders and were applied by all forex companies in the world, mostly needed to protect traders not to "minimize profits". Trade does not mean Russian roulette. Smaller profits means also smaller loose.
Lorena
July 02, 2016 at 11:01 pm
In this "Game" you have multiple choises for earning Money having Fun and Meet nice Poeple.
And the Owner works hard for optimizing Pips. He gives always Support, talks with the Players about all what have to do with the Game. He has an open Eye for suggestions.
You can Trade Asssets ( Forex, Commodities, Stocks etc)
Open a Company in different classes ( Carfactory, Oil Company, Brocker, Jewlery.........)
and many other things. I can only say have a look perhaps you are surprised.
Antypodish
July 01, 2016 at 05:13 pm
PipsTycoon is much more than just financial simulation.
While game is indeed highly focused around trading, this is not only way, how you can play it.
Antypodish
July 07, 2016 at 11:08 pm
– I don't have $$$, but can I earn?
Sure you can, hence join us. How you can earn otherwise without initial $$$. You can go to work every day, earning wages offered by the companies. Within few days, you should be able to find some profitable energy products, and make some profit on these. Also, you can write ingame articles, which are relevant to the PipsTycoon. Soon you will see some $. Game encourage to be systematic to get most of it. That brings extra bonuses. But that is not all, please red further.
– Affiliates
This is another way. where you don't need to invest $$$ and you can earn.
Promote and share your referral link, which is available in the game. Having many referrals, will bring profit very soon. You earn tax from theirs earnings and trading. And if your referral invests, then you have extra bonus.
Additionally you can buy, sell and rent affiliates, to increase your profit.
– Investment
Playing PipsTycoon, you can think about investment online platform. But since this is a game, it can be both fun and rewarding. And rewards can be claimed in real $$$. How you going to approach your investment, is entirely up to you. Just be smart doing it.
– So, if you have few $$$ to start from
By invest in trading, you can turn your trading skills into profit in easy way, if you know how.
Choose to trade with major Forex currencies pairs, Commodities, or crypto-currencies.
If you feel you got control over trading, why not to find some investors?
This can be simply done, by opening ingame Investment Fund company. You trade in similar fashion as normally do and while you company perform well, you attract investors, who bring money in the company. Hence you can trade for more $$$.
– Companies
You can open many other companies as well. Some of them pressures metals mines, food, wine, clothing, jewelry, cars, houses, etc., Produced raw materials and goods are sold at ingame market. Players can use them, to generate energy, required to gain more profit, from number activities.
– Shares
Game offers shares for sale. Buying in the right time, can bring nice profit in near future.
Also, you can buy and sell shares, of individual companies.
Owning shares, will bring also profit from dividends, and from selling later on.
– Advertising space
You can use offered advertising space, which is visible for both players and visitors. With thousands of visitors, it can bring desired effect for you own web.
– Energy
Amount of energy is similar like your real life energy. You can work, or do other things. You have limited time in a day etc. More energy, you become more proficient. For example you can gain more from working at companies, getting profit from referrals, and daily energy bonus.
– Transparency
Pipstycoon's philosophy is to be transparent as much as possible. What this mean, that if anybody trades, sells, runs company etc, all transactions, profti, loss and taxes are visible to anyone. This is great for planning the strategy, marketting, your businees plan, or if to buy/rent/sell reffereals.
– Game Development
As game is still in its beta, it undergoes number of modifications. Last few months, there were numerous of major and minor improvements. Including focusing security and balancing whole system. Nearest plans are to bring battle system, where players will be able to fight with each other and mobs. This will create new military industry and bring more fun to the community of PipsTycoon.
This will create much higher demand on goods. Also there is much more to come along with it.
– Market
Thing that was lacking before, was a healthy market. This is one amongst other goals, to create healthy market and not artificially inflated bursting bubble. Thought is approached carefully, hence it takes a time. But average wages have already increased since last three months by around 60%.
– Myself
I am investor and I do own ingame companies, shares affiliates and do trading.
You can find me, by searching ingame player name
Antypodish
– So why not joining?
Bringing either $$$, your various skills, or your time and you can make good investment.
Specially starting early.
And of course bring your friends with you. If you don't want to invest $$$, you can simply spend few clicks per day and you will be already on +. There is also Skype community, where all your question can be answered regarding to PipsTycoon.
So join us yet today, by clicking/copying to the browser link below
http://www.pipstycoon.com/?i=21077
Hope to see you soon and I shall answer your questions, if you have any.
Alexc
June 30, 2016 at 10:33 pm
When i first started the game, it was kinda boring and i did not that if it is worthed to be played. Now, after months and hundreds of dollars of investment, it gets better every day.