Pokemon Battle Quest
Pokemon Battle Quest is a free browser game where no downloads are required. You can become a trainer and own a little pokemon creature. Gym battling is a cool feature that allows you to pick out any gym leader and attack. NPC battles give you a possibility to fight against another players. Under trainer battles and elemental trainers, you can see a list of attackable team members. These battles vary between easy, medium, hard, tough and intense.





(16 votes, average: 4.69 out of 5)
Rate it
Pokemon Battle Quest images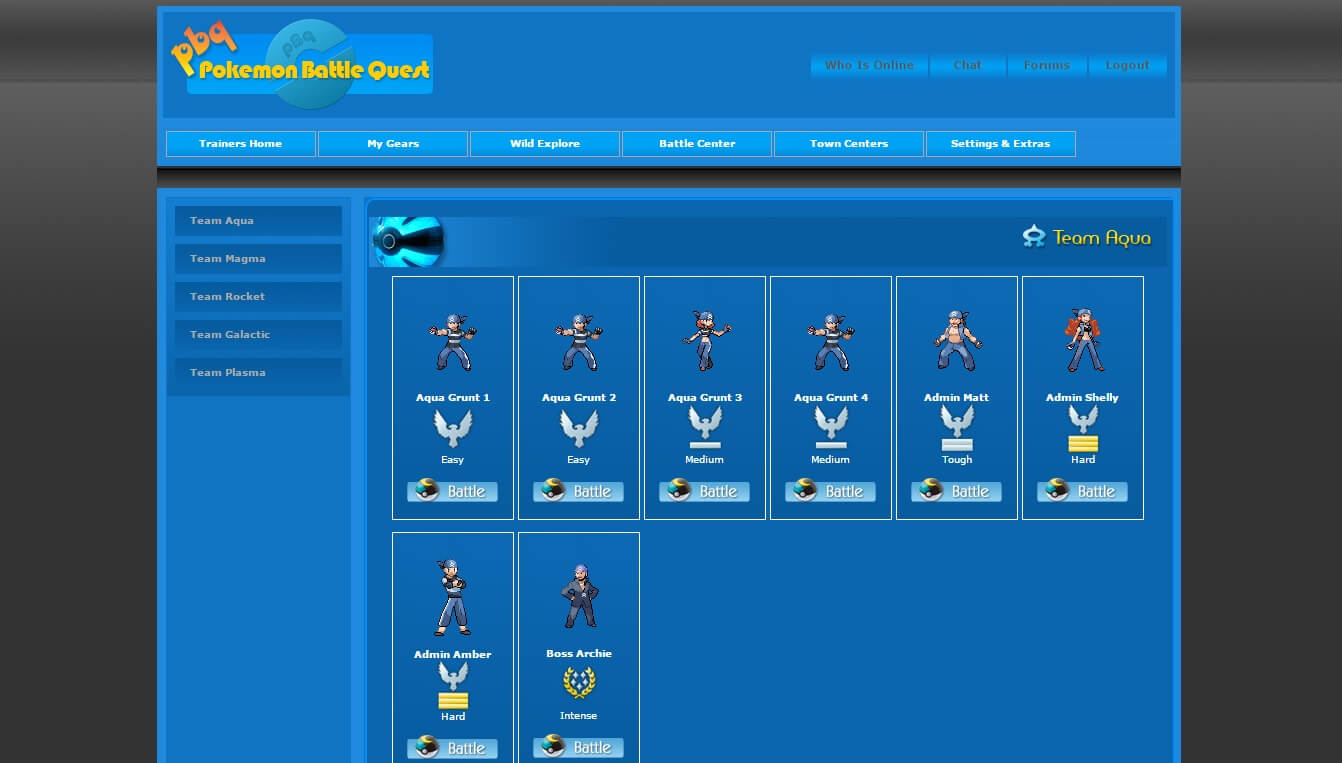 18

comments on

"Pokemon Battle Quest"
Harshil bhargava
January 24, 2023 at 07:19 am
cant open the game
Aditya Anand Singh
August 29, 2022 at 12:21 am
Can't open the game now can anyone help me to open it.
SAGAR
November 11, 2022 at 06:41 pm
LET ME KNOW WHEN U GET IT BRO
daksh1234
May 02, 2020 at 03:41 pm
best game
AYUSH
March 20, 2020 at 07:45 pm
Love to POKEMON games
Dragonmasta11
April 21, 2017 at 02:39 pm
I love it but I can't get legendary pokemon.do you need credits?
BHARTI SHARMA
March 18, 2017 at 08:32 am
I LOVE POKÉMON GAMES
ankit stiker
August 19, 2016 at 08:52 pm
Verry beautyfull game
dragon world
June 23, 2016 at 06:23 pm
its awesome game
kolabittu
June 22, 2016 at 07:05 pm
Super excellent games no1 game In online
Deoxys123
March 06, 2016 at 11:10 am
Great Game
The_viper
February 17, 2016 at 08:37 am
haha surprize the viper is here
guys this site boo it has no update from 4 years
it was best
AmeyGAZ
February 15, 2016 at 07:22 am
Best Pokemon RPG game
I have played many RPGs but this, PBQ is awesome
kabirali2
November 27, 2015 at 05:23 pm
me too its an awsome game
mohan25
November 26, 2015 at 05:53 pm
amazing guys
mohan25
November 26, 2015 at 05:52 pm
my favourite game.its awesome
vismay
November 26, 2015 at 02:34 pm
doesn't require a comment at all!!!, just marvelous. no one who plays the game will set up a bad word on this, see that!!!!!!!
JosephAK
November 24, 2015 at 05:55 pm
Its a best game I have ever played in my life
JosephAK
November 24, 2015 at 04:11 pm
The Best Online Game ever played.