Relics of Avabur
Relics of Avabur is a browser game with fantasy setting. You start your journey in The Glendell Glade. Go fishing, cut wood/stone and go mining. Fight against monsters in The Living Forest to gain experience and earn gold. The variety of monsters includes Forest Troll, Giant Wasp, Amarok, Pinebrush, Ibex and lots of other creatures. In Training Center you can train battle skills, base power and harvesting skills. Complete battle quests, buy crystals, join/create a clan and purchase great equipment. Verifying your email address is optional, but it gives you 25 crystals. In-game chat with other players is very active!





(27 votes, average: 4.22 out of 5)
Rate it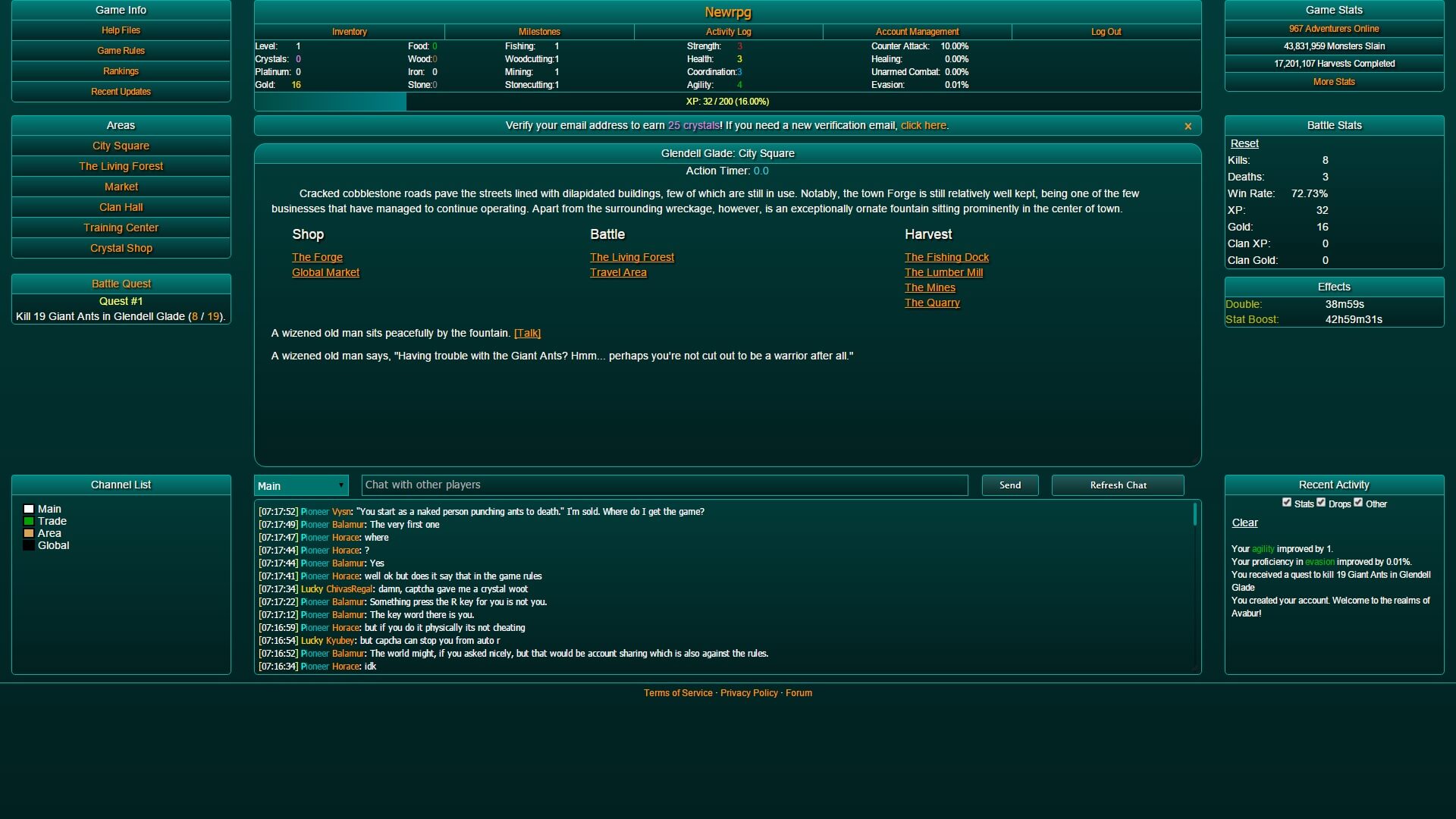 4

comments on

"Relics of Avabur"
Balthazar
April 21, 2018 at 08:48 pm
Started playing recently, great game so far. Nice to play in the background or while bored at work :P. Active and helpful community, and several different activities between battling, tradeskilling, crafting and housing. Play as much or as little as you want, the game isn't that limiting in either regard.
Just to warn you
January 03, 2017 at 02:09 am
Game started out fun, been playing since February of 2016.
Recently tho, my account was banned due to "cross trading"
something that is stated in the rules as being allowed.
I received zero warnings, nothing to indicate that my account was in trouble.
After spending money on the game, the admins refuse to even respond to messages about their vague policies that contradict one another.
Just another game where all the devs care about is $$$
Rareish
February 27, 2016 at 03:50 pm
Its a great idle mmo, and you don't even need to use your email if you just want to try it. The other players are always helpful.
Awesome
January 24, 2016 at 06:00 pm
It's a nicely done text based idle game with good community.