Rise of Mythos
Rise of Mythos is a free browser game that's a combination of strategy and fighting. Rise of Mythos includes cards. In a fight you can use your magic cards by placing cards in certain positions to get more fighters. So collect lots of cards, because it has a huge advantage in combat. After winning the battle, you can win new cards as a reward. In addition, you can gain experience and earn silver as a reward. Use your own strategy and reach the top as the best attacker.





(28 votes, average: 3.5 out of 5)
Rate it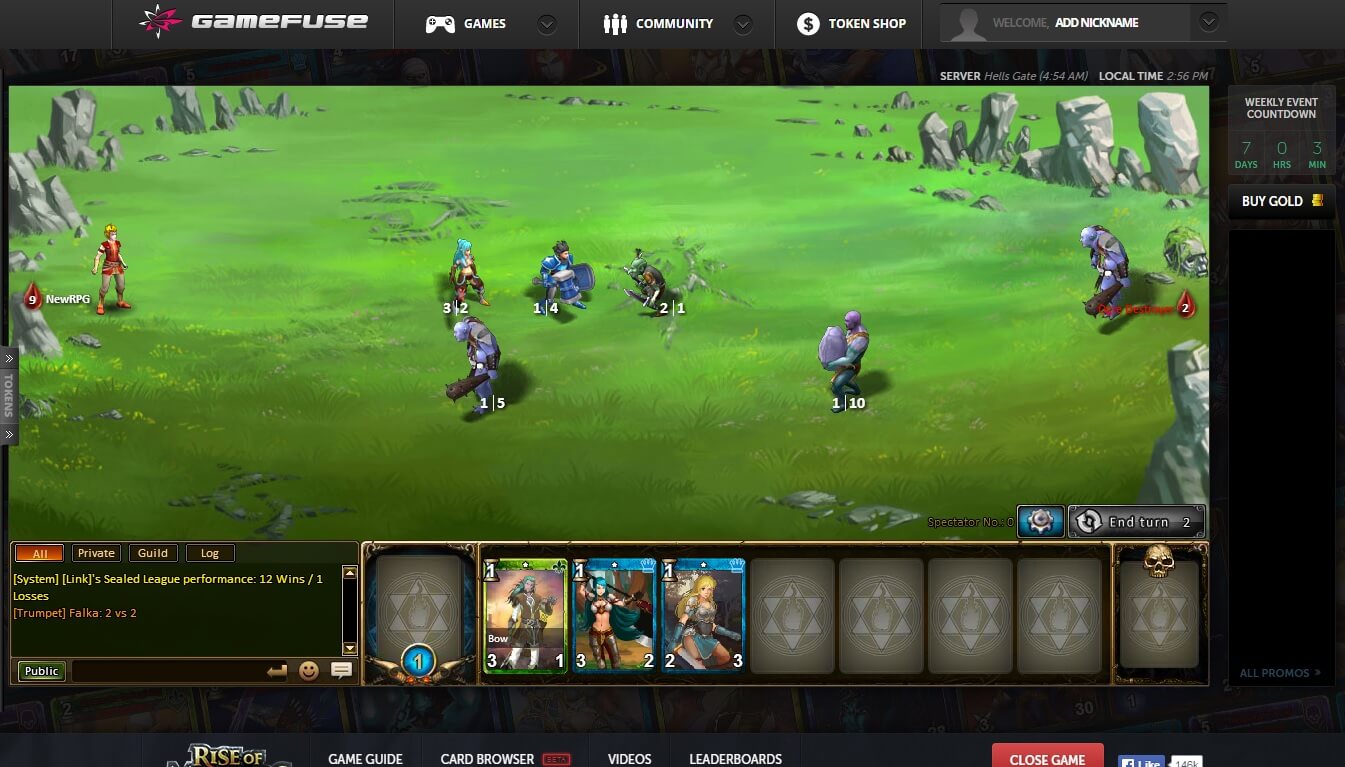 2

comments on

"Rise of Mythos"
cycozar
November 20, 2015 at 05:27 am
I have spent quite a bit of money on this site. The game is fun, the players are fun, but the ones who spend hundreds upon thousands per month are called "Whales". The "Whales" stomp us little people. There is no fair pairing, there is NO support, the site is down a LOT, if you have an issue or get ripped off you are lucky if you get a reply and you won the lottery if you get it fixed! I would have to say PLAY AT YOUR OWN RISK! I bought into the game this week, there was suppose to be a bonus boost, the boost didn't happen, the site is down, the weekly "daily check in bonuses" are not accessible, so not only will I not get the bonus gold for the buy in, I will lose the weekly bonuses, the regular bonuses and a special bonus of a God Gem. There have been people contacting the developers all day regarding the site being down, not one reply from the developers! In fact, the players have found a work around, but you have to open up your port and I am not willing to do that. They won't acknowledge there is an issue with connectivity. I would say the ONLY way the rating is as high as it is would be because either they bought reviews or they have reviewed the game themselves with all 5's. There is NO WAY that all players would give it this high of a rating, especially considering the people running Windows can't access it right now. I would give it a 2.5 ONLY because I love the game and the players so much.....NOT because of the support or quality of the game itself as there's glitches and so on. BUYER BEWARE UNLESS THEY GET THINGS FIXED.
fyre
November 19, 2015 at 04:36 pm
ive spent over $15,000 in 3 months on this game. the game itself is awesome, but the staff, both forum and support, are useless. the game will die because even if you give them enough to buy a car, they still don't help you in any way. as much as id like to see new ppl to face on pvp, I cant in good conscience recommend this game. if you come, enjoy the game, but don't spend your money here, its made to get you to spend more and more, which I wouldn't have a problem with, except they wont fix things even if they mess you up.they banned me for half a day for no reason, one of my payments was accepted but I didn't get what I payed for, they are just really really terrible service wise. also they are asking us to give them 5/5 reviews, but are too cheap to even give anything for them. be wary pplz, that's all I have to say