Roboid
Roboid is currently in a beta state. Responsive design, meaning that it is mobile friendly, including tablets. No large images that could slow down loading time. Simple tick/time-based strategy role playing game. Engaging player community. Progressive mission system and a rich world and story. Player vs Player robot combat functionality. Appropriate for all ages and both genders. Earn money, train your own unique Roboid!





(104 votes, average: 4.41 out of 5)
Rate it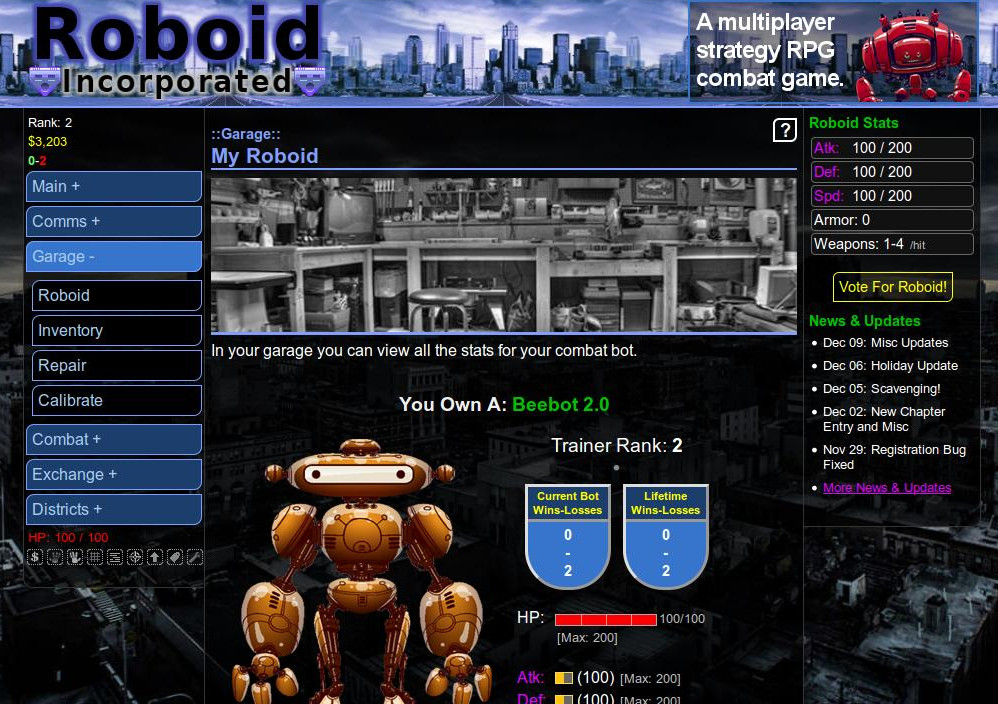 17

comments on

"Roboid"
Sk1tzFr3n1k
February 04, 2020 at 12:53 am
This game's schway. It's simple. Fun. Cyberpunk. Browser-based. Fits my wants. Also? It's woman-developed. Female software developers? Hell yes. More.
Noel Bass
February 03, 2020 at 04:00 pm
For a text based game, this is by far the most creative I've seen. There is a hacking feature that feels a lot like the old game Mastermind, allowing you to go in and pull money from the evil dictator company. Scavenging (minigame kinda like MineSweeper) helps players get new parts that they can engineer and upgrade their robots. The storyline is well thought out and immersive. Unfortunately, there are very few people playing the game, which makes it difficult to complete dueling quests, totally kills player trading markets, and team competitions. That being said, the developer said she'd be kicking things up a notch later this year so hopefully this gem of a game will get the credit it deserves.
Nexus2Supreme
December 10, 2018 at 12:57 pm
Good game so far, theres a lot you can do in game between tagging, hacking, scavenging and working on your robot.
Jon
January 26, 2016 at 02:05 pm
Today's strategy games seem to have the gameplay a little limited, especially when it comes to browser based or mobile ones. But it doesn't really have to be that way...
dam
July 17, 2015 at 06:30 am
I was hoping it has a lot of robot tuning, like visually change the elements and details (including colors), but it was far from that. Maybe they are adding more features, dunno.
Merac
May 28, 2015 at 11:27 pm
I hope they can do better than that. Sorry but it looks like it was made 20 years ago and the interface is a bit confusing not to mention the slow progress.
Sherri
May 30, 2015 at 04:14 am
Sorry you found it slow, most players can unlock all areas in a couple weeks of playing. It's a long term & challenging game!

Indeed the design is "retro" to put it nicely. But I'm a programmer not a designer. I'll be paying an artist to make it prettier once I can afford.
MoonRune
April 20, 2015 at 06:45 pm
Really nice game. I have been enjoying it for a while now. It has a rich story and the devs are working hard. Give it a go.
SKG
April 20, 2015 at 12:17 am
Today we launched Teams on Roboid! A new major feature which adds competitive and cooperative play! Come join or create a team and get in on the action!
shadow
April 09, 2015 at 11:46 am
The developer keeps improving the game which is good. Mobile friendly for a web game is also cool. Overall a fun, casual, and slightly tough game. Takes work to unlock things though so not for players who like to be hand held.
Sam
March 22, 2015 at 09:00 pm
Nice new text RPG. Different than the others and new features keep rolling out. Mobile friendly too. Keep up the good work!
vanquish
January 26, 2015 at 12:47 pm
I found the game slow at first because the jobs took a while. Once scavenging was added, there was a much more fun way to make additional money. Later in the game there is a hacking mini game and it is a lot of fun.
SW
January 16, 2015 at 12:46 pm
The timers are staggered such that once you unlock most of the features, there is something to do most of the time. It's a casual game played over the course of a day, usually while I'm doing something else- I find it nice that I can pick it up or drop it on a dime: doesn't force me to play longer than I want. :)
Argroww
January 16, 2015 at 08:42 am
I've been playing this for a couple of weeks now and whilst some timers are fairly long I don't feel that this is an impediment to the game. Many games work perfectly well by encouraging players to only log in a few times a day. However with patience you unlock an interesting story and several different skills/mini-games which each have different timers. The shortest of which is the tagging which itself is an interesting faction control game where players pick one of 2 sides and then try to ensure that their side holds as much of the city as possible in order to receive perks in other areas of the game. This is a game that playing for only a few minutes will reveal very little of it's potential, but give it a few days and it starts opening up much more. Unlockables, I do love unlockables :D
Darkknight
January 15, 2015 at 08:48 am
honestly while it took a bit even with the newbie guide to get started the timers were insane from very early in the game. After i had played out the first mission i got to the 2nd and after just one fight (which i lost) i had several long timers to wait thru. If that is how the game starts off then the rest would just be a no go as it is way to long to wait beginning game.
Gryzor
January 13, 2015 at 09:20 pm
Awesome game very nice and a lot of things to do, 5stars!
Elsereth
January 13, 2015 at 01:58 pm
We're sorry you found it hard to understand! We do have a new player guide under Help, and... yesterday we launched the forum! Roboid is a game where features are unlocked while you play, and discovering what can be done is part of the storyline. There are in game mods & admins (like me) who are happy to answer any questions. :)
Sk1tzFr3n1k
February 04, 2020 at 12:54 am
Your game rules. 'Nuff said. Screw the haters.
YourWickedness
January 11, 2015 at 08:31 pm
I only played this for a few minutes because honestly it was at least for me, hard to understand and the timers were a bit too much for me- but it is cute