Rogue Vampires
Rogue Vampires is a web-based vampire text game with killing and survival. The city has many various possibilities so wander around and get to know the city better. Train your stats to become even more successful vampire and stay alive in this cruel world. Take into consideration the course type, difficulty, price and pick out necessary courses to get education. Very friendly community and quite active forum where you can find answers to your questions.





(14 votes, average: 3.57 out of 5)
Rate it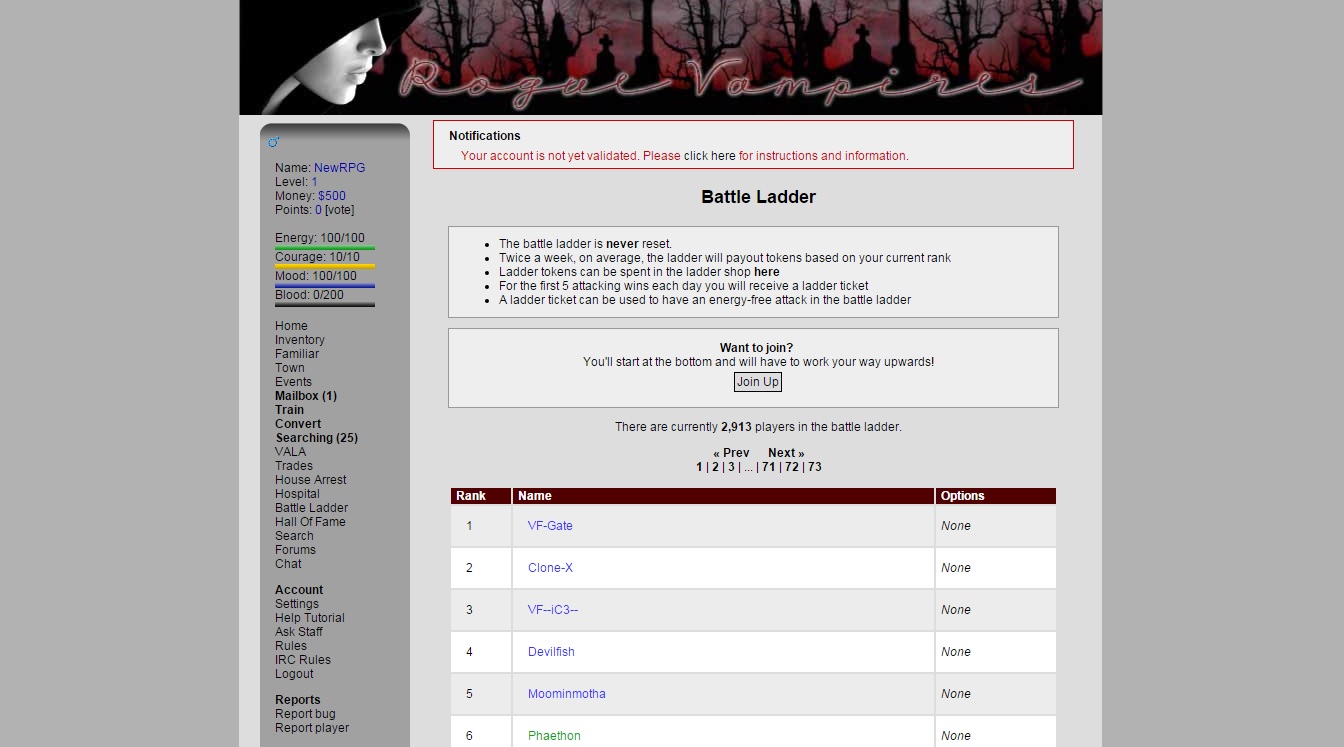 5

comments on

"Rogue Vampires"
Leanne Purnell
April 10, 2021 at 09:24 am
Hi Tattoo

Leezannz from way back, hey apart from RV being a dead duck I do wonder why i cant log on any ideas?
Someone
March 29, 2021 at 05:48 pm
Game is dead.Mark it as offline
Leanne Purnell
April 10, 2021 at 09:28 am
Hello Someone

Can you tell me why I cant even log in or has Jez just gone into oblivion and spat the dummy left us all in limbo as it appears he has let the domain name go 4 months ago
Any thoughts?
Leezannz from RV
May Linn
December 28, 2020 at 08:00 am
I like this game
29064
January 18, 2018 at 03:38 am
The game is on it's "last leg". The coding is so outdated and abandoned by the owner, Jez. The admins and secretaries do not have access to the site's codes, so fixing the bugs and glitches in the game are futile. However, my account was deleted because my brother and I being teenagers and living under the same roof... he (30489) was also deleted (even though we never traded, gave money or anything because of the IP conflict. Still, some female Secretary had us both deleted as muli-accounts.)
Tattoo
September 20, 2015 at 01:27 am
not worth the effort of playing anymore the owner has not been on the game in well over a year and there is little hope of him returning to do updates or special holiday events like there used to be