Rugby Mania
Rugby Mania is an online rugby management game. Your team members can train only if you've hired a coach. You can pick out a color for your jersey. Expand your stadium by constructing new seats for terrace, grandstand, opposite stand and visitors terrace. Tactics section allows you to choose an attacking style and many other attacking instructions. Take a look at your income and expenses to calculate the profit. Search for matches, participate in tournaments and let your team win.





(20 votes, average: 4.15 out of 5)
Rate it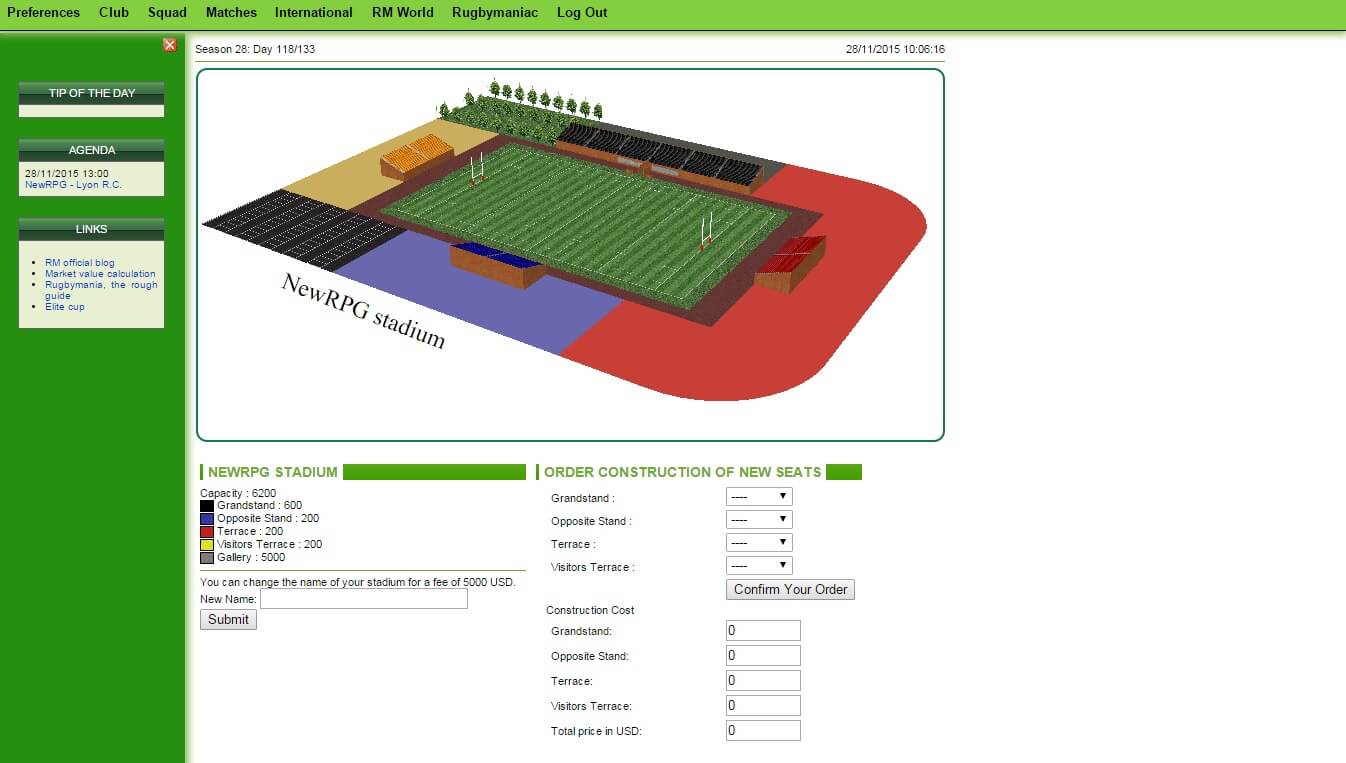 1

comments on

"Rugby Mania"
BW101
December 02, 2015 at 10:18 pm
Rugbymania is one of the few games of its kind that allows you to invest as much or as little time as you like and still be competitive within all the competition formats that it has to offer (the main attraction for me). More of a classic online managerial browser game than the usual 2 clicks mindless fun, RM is made for and by rugby fans. You start with a random generated team and develop step-by-step a sustainable squad by investing in your youth academy, defining your training and engaging into its transfers market, all while financially supporting your team by attracting crowds during your home matches and sponsors through your results. In the later stages, you can even get involved in managing or training for international squads (32 national teams, including the undisputed Tier 1 teams as well as mixed teams such as the Vikings and World Barbarians, that play for the ultimate glory of winning the world cup) or push hard for winning the ultimate club-level competition - Elite Cup.
3 levels of club-level competitions: The Championship
The season lasts 19 weeks and it covers 3 degrees of club-level competitions: The Championship, The Cup (national or Elite) and friendly matches/tournaments with plenty of action on the international stage as well.
The forums are not as lively as they used to be, but I guess an inflow of new users can change all that.
All in all, the perfect game for someone that doesn't want to overspend in terms of time but still wants to be close to the rugby managerial world, as well as for some that want to dig deeper into the secrets of Rugbymania.