Ruin and Revenge
Ruin and Revenge is a crime based online RPG. Do crimes to get your hands on some easy money. Visit city and player shops to equip yourself with deadly weapons. Train yourself at the gym and start making yourself a name. Join or create a gang to survive long term. Go to school and take courses to educate yourself. Explore the streets and try staying out of jail. Gain experience to level up and climb the rankings.





(16 votes, average: 3.69 out of 5)
Rate it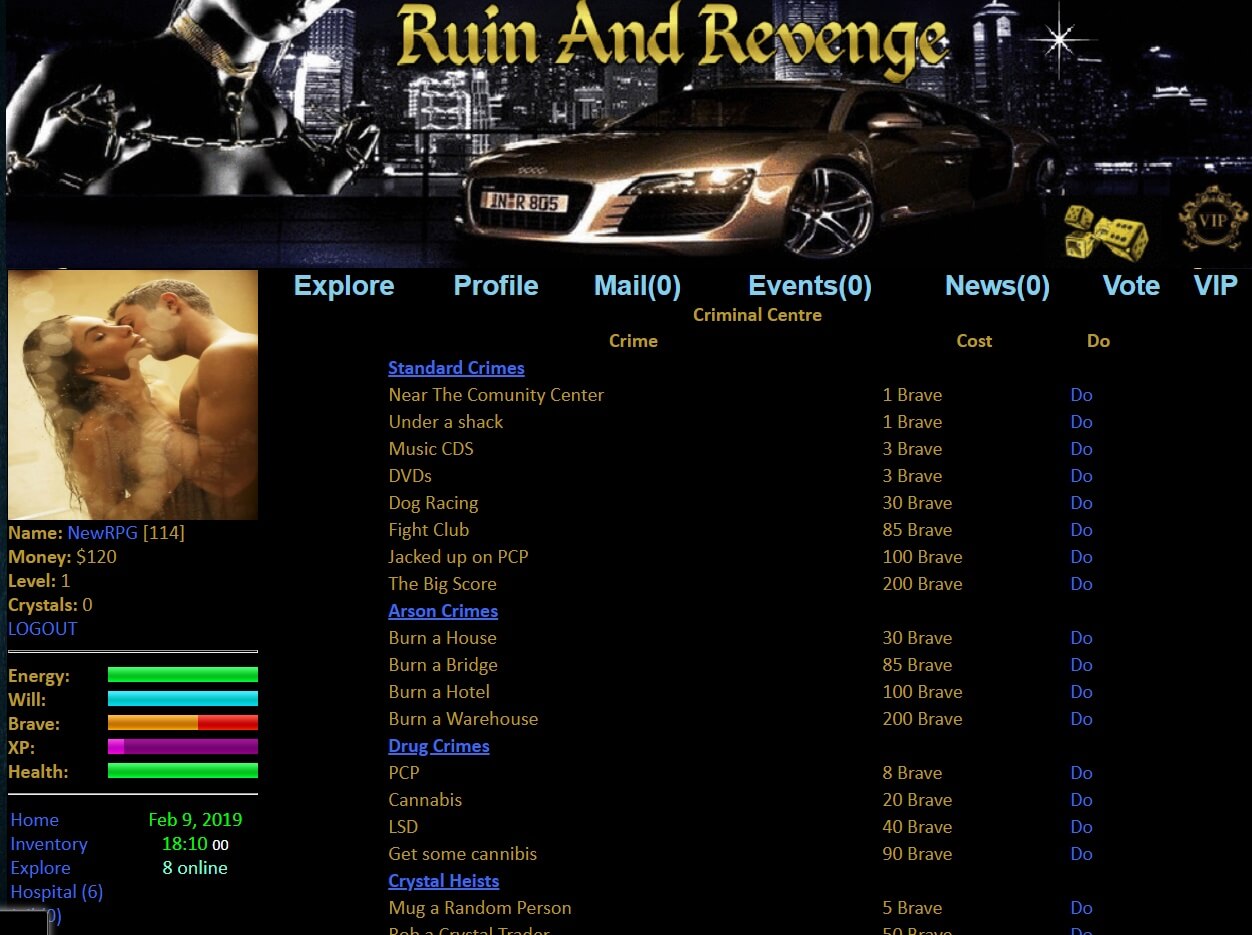 4

comments on

"Ruin and Revenge"
himiko
August 07, 2023 at 04:24 pm
This game was great until they put the Citizenship crap in, then thats where the game fell downhill
shian
June 16, 2023 at 12:11 am
how come the website isn't up any longer
Wendy Steele
June 04, 2021 at 08:13 pm
It's a wonderful game. I really love it. It has a warm wonderful Charming community. You can own a mansion and own properties and businesses. You can pretend that you were living during the time of the Great Depression in the flapper era. It has a battle system and weapon system. The role-playing is first-rate and what you can do with your profile is just amazing. It's a place where you can remake yourself and you can be anyone you want to be in fantasy or real world. I would give it a try you're going to love it.
Margaret Lane
June 30, 2021 at 02:50 am
Terrible game. Staff and admin play favorites. Your private mail is read and discussed by staff members. I had absolute proof of this as another player told me a personal problem she was having in private mail. A staff member then mailed me and asked me about the situation. Players staff do not like have a million dollar bounty placed on them. This means they get constantly hit so they can not play the game. If they pay off the bounty there is one for ten million placed on them and it escalates from there. Players are hooked into completing a huge list of tasks to become a citizen. Female players are harrassed constantly for sexual roleplay by male players.
laurence paget
February 23, 2021 at 06:46 pm
ruin and revenge great game can level easy and climb stats at your own will. build your own empire weapons armor and ammo to go with it. all players need a crib build your own from a shack to a palace furnish it by building your own furniture. join a gang or make your own war with other gangs if you choose to. all in all this game will keep you busy and wanting more every time you log in.check it out you wont be disappointed .