Rule the Seas
Rule the Seas is an online browser-based text role playing game. It's about adventures in the world travelling to exotic areas. Your goal is to become a captain. You can commit crimes, mug and kill other pirates to get better and more skilled. Train yourself, set Sail or write your notes into a Black Book. Put your ship ready to battle your enemies in the ocean because there is no mercy!





(61 votes, average: 4.23 out of 5)
Rate it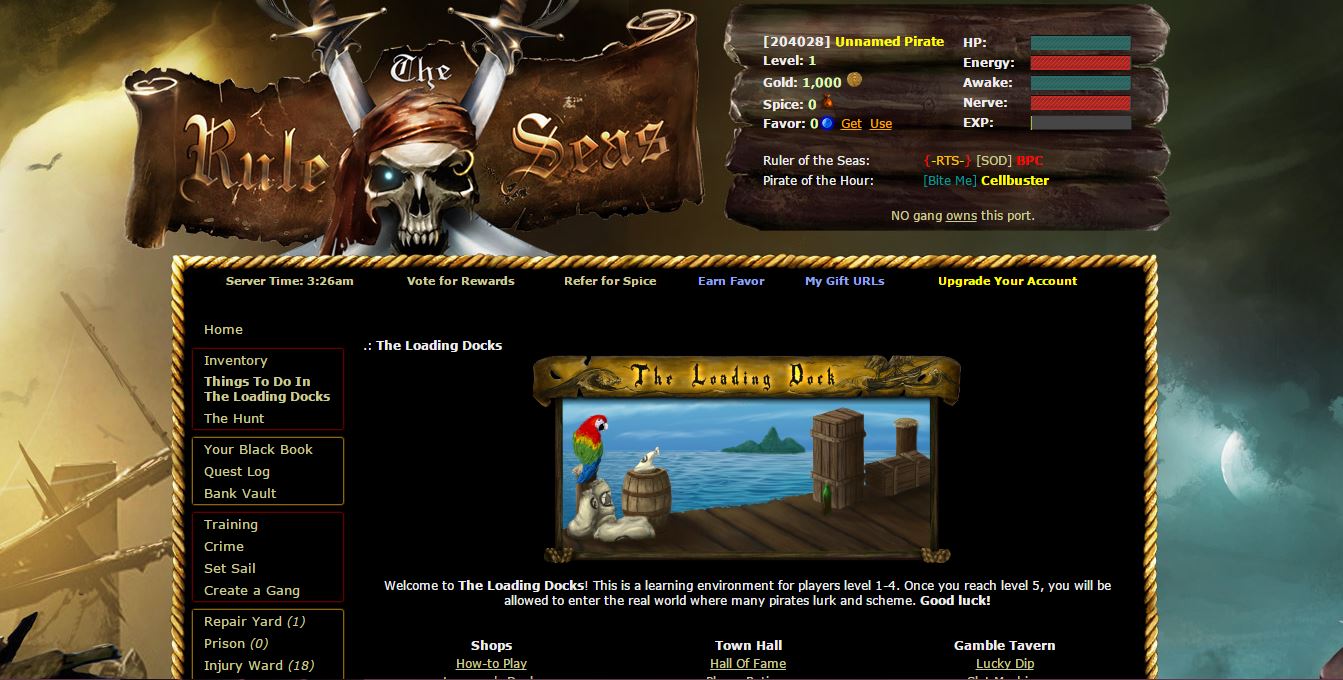 13

comments on

"Rule the Seas"
Capt Rouge
April 06, 2022 at 03:44 am
Loved this game, miss it and would love to see it back
The hound
April 22, 2022 at 04:29 am
It's in beta right now
Mike
August 22, 2021 at 03:12 am
If you find yourself missing this game just look up Pirate Quest, the mods from RTS originally stole the coding from PQ and made their own game so you should pay homage to the original!
DARK
January 04, 2020 at 11:51 pm
How about let's get this game back online
Marie Smoyer Anne Black
June 24, 2021 at 09:25 pm
I miss this game, spent way too much, but made some great friends. Bring it back
Victor Gill
May 18, 2021 at 12:16 am
Would be nice to be able to play the game but won't even connect keeps telling me to check my connection or reboot my router.
Rainman
January 31, 2020 at 12:27 pm
I told you what would happen, I also told you that you was wrong, after thinking and much debating with myself, make things right I'll help. otherwise leave it Dead!!!
Capt.JackSparrow
May 25, 2021 at 04:30 am
What happened to the game man? I used to play regularly from 2007 to 2010 and would try and check in the decade since. Was sad to see it gone.
Rainman
January 31, 2020 at 12:30 pm
you have my phone number and email, I wont wait long.
Rainman
January 17, 2020 at 04:32 am
No
leave it dead!
TwiZted
May 27, 2019 at 04:43 am
Interesting themed game
Lonestarwolf
May 03, 2017 at 07:06 pm
Always been an awesome game
Flowme911
April 01, 2017 at 05:45 am
Very fun, and improvements to gameplay add to the overall player experience...the more I play the more I enjoy Rule The Seas!
DARKKKKK
January 16, 2017 at 11:53 pm
Definitely a fun game! Friendly people especially those in DARK
Black Azmodan
November 01, 2016 at 06:05 pm
A game of prostitution and degenerates on every corner. Not friendly at all.
Patrick Ryan
June 14, 2016 at 11:26 pm
Great Game
Peter
May 15, 2016 at 10:59 pm
Cool game, but corrupt admins who favour certain players. Full of hoes happy to give for gear.
Kevin
April 04, 2016 at 02:04 pm
This is an okay game, would be a lot better if ya couldn't have multis...
Greg
April 01, 2016 at 06:06 am
This is a cool game- get to be a pirate and dig up treasures, set sail in your ship for other places, and maximizing profit off of your cargo are just a few of the features on this neat game! Come have a blast!
Jack
March 31, 2016 at 05:05 am
Nice game