Samurai of Legend
Samurai of Legend is a free online samurai game set in Japan. Your goal is to get to Greatness, although the way isn't an easy one. You start your journey in a small city where are terrorists. As you have lived in a constant fear, you decide to change it. You must train your character to become stronger so you would be able to fight against your enemies. Learn how to defend yourself and conquer your opponents. It's a game where you take a control of your destiny. Will you be good enough to get to the top?





(15 votes, average: 3.87 out of 5)
Rate it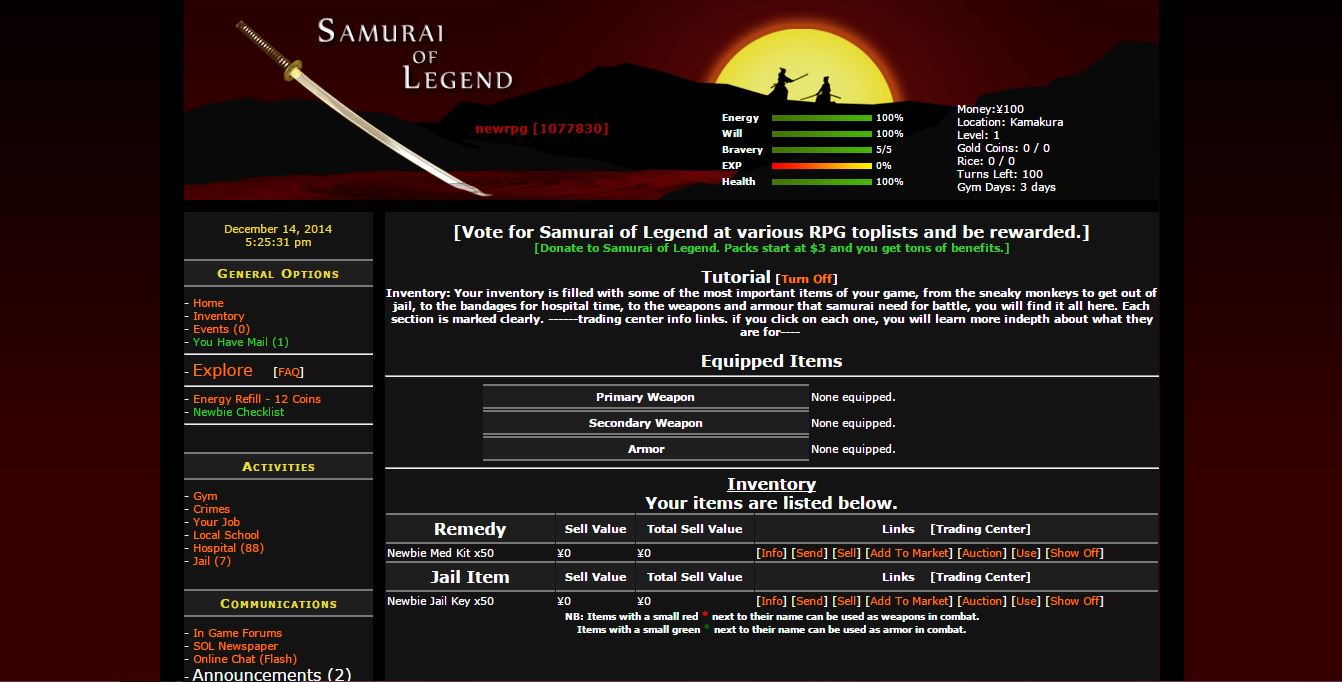 6

comments on

"Samurai of Legend"
DS
September 17, 2021 at 07:05 pm
Definitely worth checking out. I've been playing for 12+ years and although the community isn't what it used to be, it is still alive with regularly active players. Level 1000+ players are not interested in attacking newbies unless you make enemies with someone. The game is a grind if youre into that and there are dailies to earn yourself money not a pay to win game.
The Kiwi
July 14, 2021 at 06:44 am
Not worth your time. Game isn't inviting to new players. Once you're past level fifteen, all protections are off and you are regularly hit by any active players who are in the 1000+ levels. The admin's inability to properly maintain his game has scared away his partner, assistants, and any remaining players.
foggy
April 27, 2018 at 02:20 am
great game, easy to play easy to learn, good community base with friendly staff, definitely worth a visit! :D
Megan
April 27, 2018 at 01:42 am
Great game and community. Lots to keep you coming back. This is my 7th year and I hope it keeps growing. Stop by and check it out!
Pein-Loves-Lust
April 27, 2018 at 12:31 am
Greatest text based RPG I've ever play. It doesn't overwhelm you like most others ones. It's simple yet satisfying to play. I've play it since release and am still active on it today :) JOIN NOW
Teriyaki Sandwhiches
March 12, 2016 at 03:12 pm
A dedicated, mostly friendly community, solid game mechanics and easy to get yourself going. Worth having a pop in. Its kept players entertained for near a decade. Could do with some new names though, sorta feels like everyone knows everyone.