SIM Horse Racing
SIM Horse Racing is a free text-based browser game with virtual horse races. You can buy horses and also bid on horses at auction. A horse needs to be at least two years old to breed. There are lots of different tracks and you can race your horse at any track. Don't forget that shipping a horse around the world takes time so you have to make sure that your horse will arrive at the destination by race time. You can create a horse, build a farm, create a race, lease horses and keep an eye on the financial summary.





(42 votes, average: 3.93 out of 5)
Rate it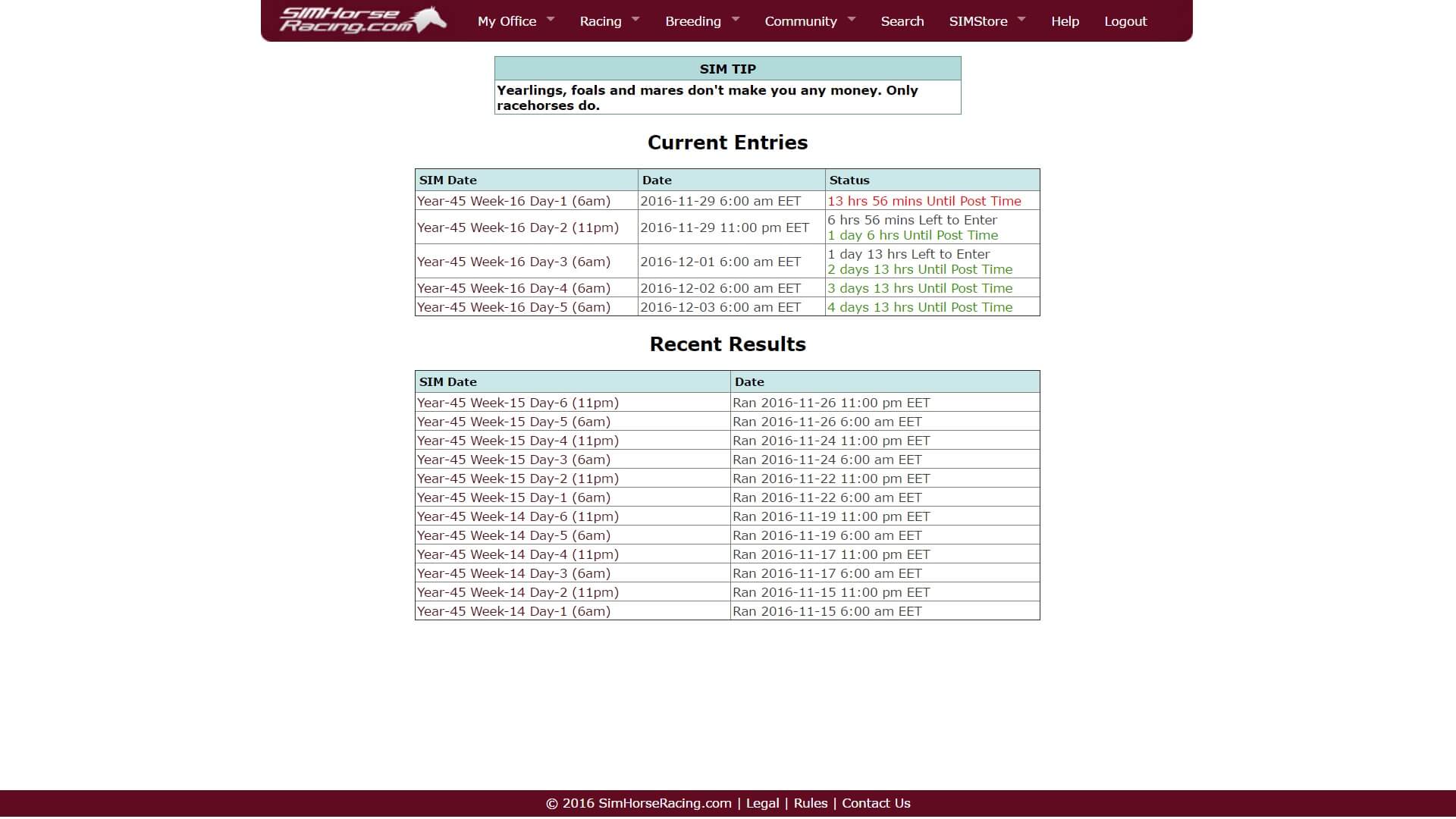 12

comments on

"SIM Horse Racing"
Jim Dandy
January 29, 2023 at 03:06 am
Are you all on crack cocaine 🤣
Jim Dandy
January 29, 2023 at 03:05 am
Are u all on crack cocaine

" Best game , real simulation 🤣

It's too plain & cartoonish
T.M.
September 10, 2022 at 07:17 am
I played this game for two years. Mandy Pope's review is on the nose. It's all cliques and an admin who sells top-tier horses for a lot of money. Each horse she creates sells for hundreds of dollars worth of the game currency. There is a fake <=> real money exchange. The admin also nickle-and-dimes smaller players with too many fees to keep them strapped for game money.
Alana
January 10, 2023 at 04:12 pm
This game is rigged for the owner's friends, and it's disgusting. After spending hundreds of dollars on it, I decided to quit after five or more years of play. It's not worth it. If you're one of the owner's favorites, you can cheat your way through. I believe everything about the game is absolutely rigged, and the star players are the owner's besties. The Sim is a waste of time and money unless you're in the clique.
Mandy Pope
January 09, 2020 at 08:32 am
I have been an avid player of this game for many years, but recently it has started to lose its shine. The community is EXTREMELY rude.. you don't feel safe to discuss anything, and you don't feel like you can voice concerns/opinions without people jumping on you.
The administrator actively plays the game, which I also think is not appropriate. No other online game I play has an admin that participates in game play. She not only breeds horses, she also races them. She does not race her horses herself, but she employs players to race them for her which is essentially the same thing. Since she has access to all of the code, her horses are far superior to player-bred horses and therefore you're basically always going to lose to horses she's bred unless you have MILLIONS in game money to spend buying horses she's bred at her special "TBS" Auctions each season. She also plays favorites; she keeps certain belligerent, abusive players in the game and defends their actions, yet will waste no time banning others for similar offenses. It feels like the rules just don't apply to a certain clicky group of people in the game, and that said clicky group happens to be some of the most elite... Coincidence? I think not.
Don't waste your time on simhorseracing.com. It's nothing but disappointment and drama.
Paul
September 26, 2019 at 03:08 pm
I played this game for about 3 months then stopped playing. The setup is very good and the best thing I liked was the graphics. Watching the horse racing. The one thing I hated about this game was guessing which equipment was right for the horse.

The Jockey will tell you after the race "you did not use the right equipment" and won't even give you a hint of what the horse needs. I'm playing another horse racing game where I don't have to worry about this.
Kathlene Dyer
December 17, 2016 at 12:29 am
Love this game. I've been playing for about 4 years now and I have to say it is not a game you are going to jump right into and compete with the top players. It will take time, and a lot of patience. But it is such a thrill to log on to watch the races and seeing your horse cross that finish line first. This game deals with all different aspects of horse racing, from the training, to getting the equipment correct, finding a jockey, breeding and selling.
Lily Wilkins
December 07, 2016 at 02:17 am
This is truly a fantastic horse racing simulation. I have played pretty much every horse racing game on the internet, and this is the only one that has kept my interest. It is the most user friendly, has the best community, and is by FAR the MOST fun! If you like horses, or horse racing, do yourself the ultimate favor and join the game <3 It's 100% FREE!
Rob Dee
December 06, 2016 at 09:19 pm
I've played most of the online horse racing games and this is by far the best.
No other game compares with the complexity and realism of Simhorseracing.
Breed, buy, sell, train and race your horse and then enjoy the disappointments and euphoria as your horse runs a poor race or surprises you with a big race win.
Non stop fun whether you're racing horses over flat or jumps and if you get a decent horse then there are big races at the end of the season to look forward to.
Lori Hamill
November 28, 2016 at 11:57 pm
I've been playing SIMhorseracing.com for over 8 years now, no other Internet game has held my interest for this amount of time. The very best thing is it is totally FREE to play. You have your own stable and barns, you can race Thorougbreds, Steeplechasers, Appaloosa's, Quarter Horses, Paints, Trotters, Pacers and Arabians. There are races every day except Sundays. You equip and train your horses to run their very best. Lots of Graded and listed stakes. Steward Cup races at the end of each year for the Best of the Best. You are breeder, owner, trainer and every single horse has its own attributes and failings. Thanks to a random factor (just like real life) you can never be sure how each race will play out or what breeding will give you a Superstar or a claimer. By far the most interesting and challenging game I've ever come across.
Paul
November 28, 2016 at 10:04 pm
been playing 6 weeks and enjoying it so far,so much to learn, a challenge indeed
John nicholson
November 28, 2016 at 08:37 pm
The most realistic horse racing game you will find.
Dan Kauffman
November 28, 2016 at 07:17 pm
One of the most in-depth sports simulations you will ever find. Covers the whole gamut of horse racing. Breed foals, train them as yearlings and 2-year-olds, race them, buy them in claiming races, sales and auctions, then retire them to start the breeding cycle again. Thoroughbred, Quarter Horse, Standardbred, Arabian, Appaloosa and Paint divisions. If you enjoy horse racing, you will LOVE this game!