SimpleMMO
(Online since

2018

)
SimpleMMO is a simple, lightweight, text-based MMORPG that aims to redefine the text-based RPG genre. It consolidates and streamlines all of your favourite and quintessential MMORPG features into a simple bite-sized game.
With over 500,000 registered players that span across the entire globe, the community remains at the very core. The social aspects of SimpleMMO are deep and it allows you to work and trade with other players to reach your goals.
There is so much to do in the world of Simpletopia. You can battle world bosses, travel across many different lands, join giant guilds, craft items, hunt for materials, become a bounty hunter, trade on the marketplace, and so much more!
It can be as simple or as deep as you want it to be. It can be played for 5 minutes, or a few hours. It has been built to cater both sets of players. The choice is entirely yours!
The game is playable on both desktop and mobile devices. You can seamlessly access your character wherever you go.
Join SimpleMMO today and start your journey with the simple press of a button!





(10 votes, average: 4.2 out of 5)
Rate it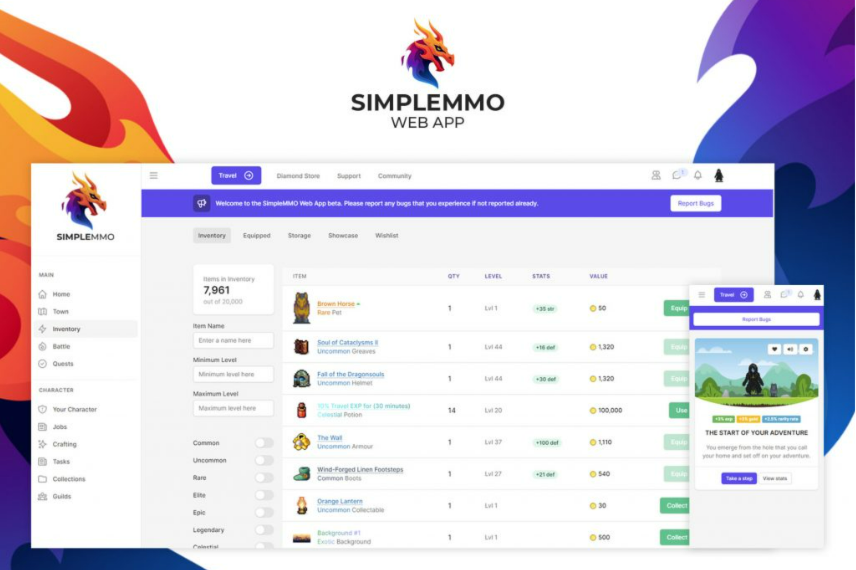 1

comments on

"SimpleMMO"
Sin
May 24, 2023 at 08:26 am
DON'T BOTHER playing this game. The game itself is pretty nice and fun, BUT devs will ban you FOR NO REASON. I registered an account and played for just 2 days before they unjustly banned me accusing me of "automation/macroing/autoclicking", which I did NOT. More than that, they added the ban wasn't disputable, so an user can't even get an explaination or anything. I pressed further and they told me "my browser was sending something malicious", and didn't add anything else. I DIDN'T use any cheat or program, so maybe it was an extension or something else in the browser causing problems, but it wasn't intentional and I can't see how browser extension could touch the website at all. Community was unfriendly too in my opinion - apart from a few exceptions - when I tried to ask for help, disappointed and confused, they just assumed I cheated without questioning it and started to downvote me even though I posted politely. TERRIBLE way to deal with users and playerbase, and searching around I saw many other cases of users being banned for my same reason and not understanding why so, trust me, DON'T BOTHER. In my opinion, a game needs heart and respect towards its users, and this game SHOWED ME NONE. Why would anyone want to play for a few days, like it, and then be banned for no real reason? Just play something else, hopefully managed with a little more honesty...

I'll add that I never felt the urge to write a negative review. NEVER. If I didn't like a game I just left it to others that could appreciated it more, but If there's a thing I can't and will never understand, is this. Ban without a reason, an explaination, seeing something beautiful with so much potential, that for 2 days healed my whole soul, turning into... this. A punishment for something I didn't even do. This was just plain cruel and unreasonable... more than not being able to play it, it hurts more the way I was put aside without a reason or explaination. No player would deserve this.