Socceracy
Socceracy is a free MMO football game, view from top. As each player is controlling one person, the teamwork is the key to scoring. It is recommended that you invite your buddies to play this game with you and team up against others. As a new player with no experience in the game, it helps if you watch how others play first. Then you can make a practice match to test kicking the ball around as well as the overall movements. After you feel comfortable with moving and controlling the ball, pick a match and start playing against other players.





(35 votes, average: 3.91 out of 5)
Rate it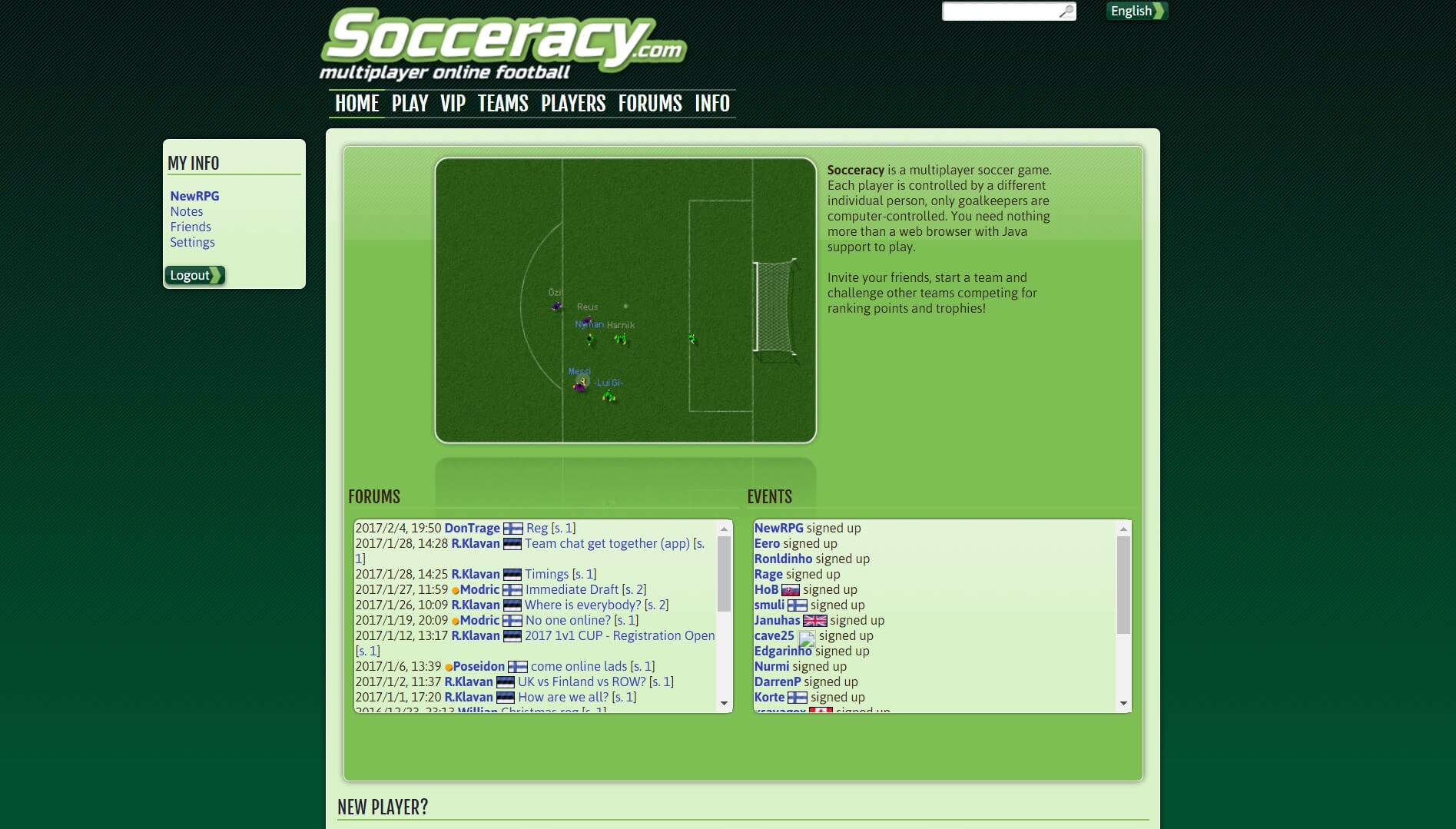 9

comments on

"Socceracy"
me mate
March 07, 2017 at 05:52 pm
sick game
Jouko
March 06, 2017 at 04:13 pm
Great game. Have been playing it for years. The makers must be some kind of geniuses. Just love it.
Ken
February 17, 2017 at 01:32 pm
One of the best games I've ever played. Although I was on and off at first because I must admit it isn't an easy game to master. But I eventually got the hang of it after staying simply because of friends and I slowly started enjoying it! Yes, I was one of them that would roast the game and the people playing it but found out its actually decent.
Idrissz The Turk
February 17, 2017 at 11:55 am
Quality game! My childhood in a nutshell
Adam
February 16, 2017 at 07:49 pm
Awesome gameplay, endless and hours of fun. Built a team, design kits, or just join a team. Invite friends, play private matches or play public ones. Pit your team againsed some of the best teams and try to reach the top of the team table. Play this game, you wont regret it. IT is dead at the moment as most people don't know about it, but it used to have 100+ regular players. 10/10
Izzadin abdullahi
February 15, 2017 at 06:56 pm
Best game I hope it will come back to the average player online 100-150 daily this is when the game becomes addictive so watch out
misterispeakthetruth
February 14, 2017 at 03:43 pm
Best game ever but it is dead right now, hope many players come in fast
TheGame
February 09, 2017 at 05:49 pm
In overall it is a cute, good, fun little game which would deserve some attention. Some things great and some things not so great. Matches are usually intensive, fast-paced. Player can add spin on the ball which is great and brings some unpredictability to shots and passes. Game is easy and simple but most of the times it takes awhile single-training to adopt the simplicity of controls (only mouse needed). Stamina-bar brings some extra challenge to master the gameplay. Especially with football minded friends, it is great way to spend some time.
Josh
February 06, 2017 at 09:12 pm
Amazing team game endless hours of fun hard to master