Stellar Invictus (OFFLINE)
Stellar Invictus is a Sci-Fi browser game. You start by picking between 3 factions, choose between Attack, Defense or Storage bonus. Mining stations are needed to gather Ore which can be sold. You can complete missions to receive credits, simply warp to Mission Site and start completing your objectives. It's difficult to get credits at first, but once you can take down people from the Bounty list - you'll enjoy big rewards. Join a Corporation to get help from other players and take part of the community. Game is mobile friendly and even has an App in Google Play.





(19 votes, average: 4.74 out of 5)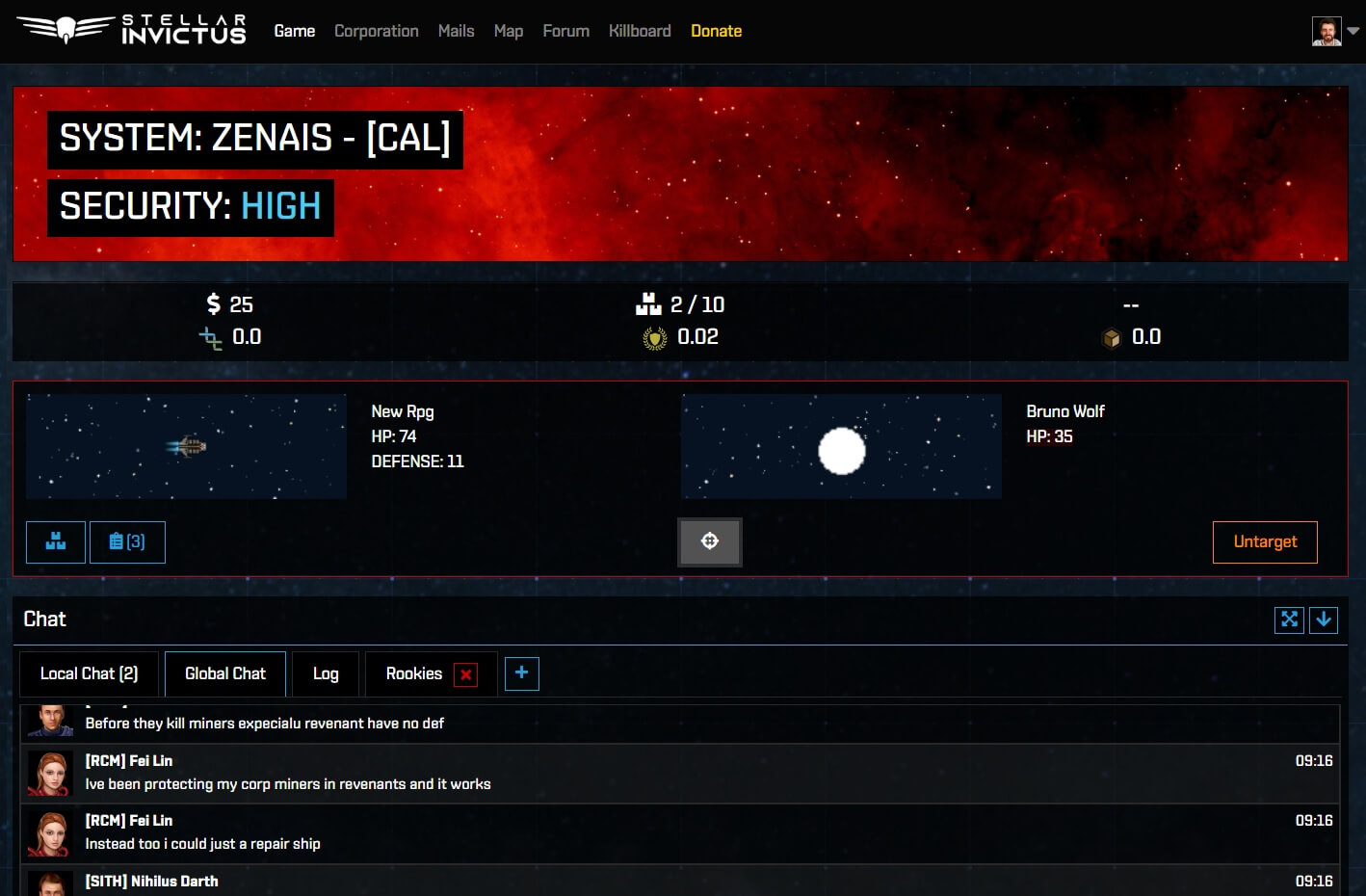 5

comments on

"Stellar Invictus"
T1grex
September 16, 2022 at 10:32 am
Hey. I remember that game very nice, played too, got much fun. Very sadly, that author closed game-it was nice, not ordinary, not fkn pops-casual shit, as so much now in playstore.
There are good news. Author maked nex gen SI. Now it -globap 4x space strategy, also very original, also not casual. Its similar to Hades Star, and very not similar. Its Game also in Eve-style - so hardcore, as old Eve....
Join, pls, I miss U all, "my space brosers&sisters".
Quinton Kelstrum
April 29, 2019 at 09:32 pm
I was lucky enough to find out about Stellar Invictus a couple weeks after it released and haven't looked back since. It's the best sci browser game I have ever played and the fact that its F2P and has zero microtransactions has kept me, happily, grinding away since release.

Come and join the party!
Padme Amidala
April 14, 2019 at 10:31 pm
Stellar Invictus is a tribute to some of the world's best Sci Fi mmo/rpg games such as Eve Online and Elite Dangerous. The responsive and dedicated developer has experienced great success in this goal and has produced a game worthy of recognition.

As with many games in this genre, it starts out with a bit of a learning curve. You are a lone pilot in a vast galaxy with a plethora of options to keep you entertained. These include building your mining and blueprint crafting empire, exploring wrecks or emergency beacons in the dark forgotten corners of space for valuable loot and supplies, or even applying to one of the many active and thriving corporations to join fleet expeditions and various PvP/PvE activities.

With a friendly and responsive community, Stellar Invictus has become one of the all-time favourite browser/mobile games for many of its players. It is absolutely a game worth investing time in!

If you have any questions please don't hesitate to contact me in game.
Name: Padme Amidala
Corporation: Coruscant
Tag: [CCJ]

We hope to see you in there!
Fei Lin
April 14, 2019 at 09:59 pm
I've been playing a week now, gotta so much help from such a wonderful community in the game, if you need help starting never be afraid to go on the rookie or global or to private message someone as they're always happy to help you and if you join a corporation then your likely to even get some funds towards a new ship thats better then the starting Nano, overall I recommend the game to all as there is a place for everyone from combat to a miner, to a manufacturer to an explorer.
JG
April 14, 2019 at 09:57 pm
This is a great game! The actual link is https://stellar-invictus.com - come say hi to us in space!