Street Racerz
Street Racerz is an established racing TBBG. Hit the streets, hi-jack cars and outrun cops. Join or create a crew, start doing missions and participate in events. Go to car show-offs, tournaments or start races against other players. Compete against other racerz and be social. Cart and part dealership as well as tuning shop. Hit the Casino or Lottery and store your money in a bank.





(59 votes, average: 4.51 out of 5)
Rate it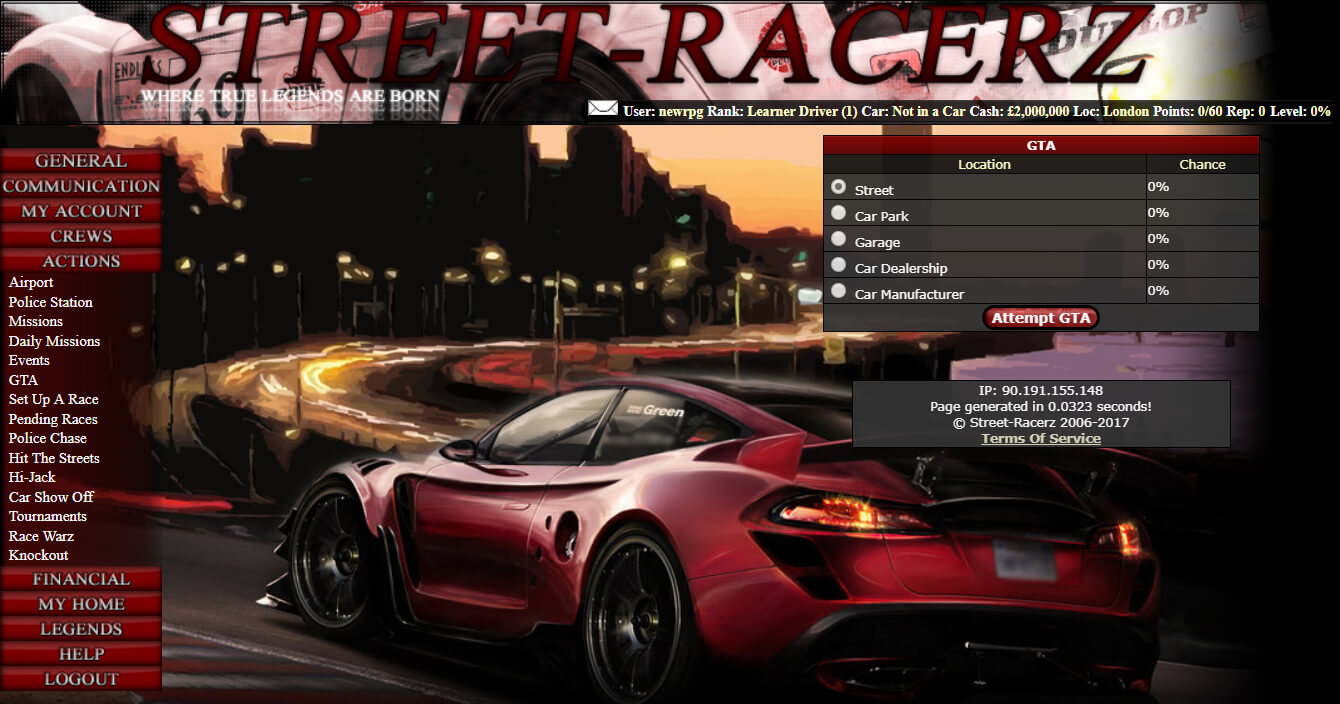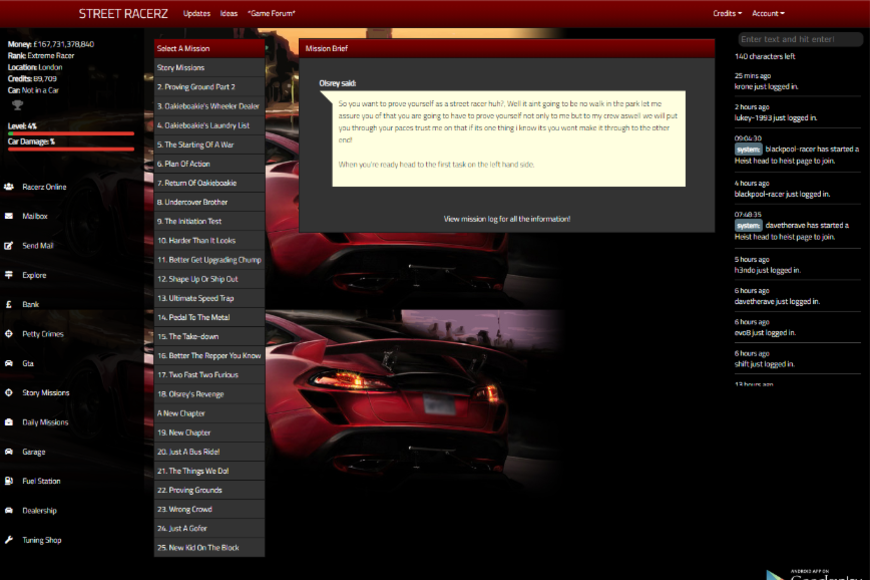 Story missions for street racerz.
20

comments on

"Street Racerz"
Krone
February 06, 2021 at 09:31 am
Just wanted to say thanks for the awesome reviews guys really is appreciated, if anyone is wishing to come visit us be sure to do so we have since made some massive changes to the design base now making it even easier to play on mobile and tablet devices.

Cheers mike
Greg
November 09, 2020 at 06:05 pm
Absolutely wicked and highly addictive game to play. Its a must!
danny-The-Viking
October 30, 2020 at 10:31 pm
This game is pretty addicted and the Banta through out people is pretty cool as well i never meet a player that not made me hate the game if anything everyone helps each other out and team work is the best man. defo need to try this game out guys :P what you waiting for get clicking
krone
October 30, 2020 at 01:10 pm
Just wanted to say a big thank you to all the people who have left such awesome reviews its really appreciated :) happy gaming guys.
Abysmal Mammoth
September 15, 2020 at 02:26 pm
great game to play great players to chat too always something to do on the game missions keep ya busy and so does the odd gamble on black jack ! 5/5 i rate

P.S. im not a Mammoth im an Abysmal Mammoth !
H
August 23, 2020 at 10:31 am
Great Game Played for over 10years much better now then it wasthen
platinum1
August 13, 2020 at 10:51 am
played this game around 10yr ago and became quickly addicted to it,it then seemed to decline once the original owner had to change ownership due to him not being able to put the time into it what hed have liked too,i thus lost interest,however since iv signed up again just 3 days ago the whole game has made such a huge step up and offers so much more than it once did,amazing people that welcome you with open arms,great banter,so much to explore with great story modes and challenges. def keep you entertained for hours!
Drifter
May 06, 2020 at 12:42 am
Brilliant game, played for years.
Smithy
April 26, 2020 at 01:59 am
proper decent game people are a laugh devs actually listen to suggestions
luke
April 18, 2020 at 12:04 pm
great game , great laugh in chat , by far the best racing game
Phase
April 16, 2020 at 10:13 pm
Played from day 1, best racing game (text based) on the Web.
Chris
April 14, 2020 at 10:28 am
Been a member since 2006, the game has changed over the years and its still a great game, would reccomend.
Sean
April 11, 2020 at 10:39 am
Absalout best racing rpg out there! So many things to do, some of the nicest people I know as well, staff very helpful! You can't help but get sucked into this game once you learn the ways.... Some of us have played that long the time and effort that goes into this game is unimaginable.... Why not see for yourself? You won't regret it!
Dylan
April 11, 2020 at 03:08 am
One of my favourite racing games by a long way! They are always introducing new things to make the game even more enjoywble
TheCrumpetLover
April 11, 2020 at 02:45 am
Been such a joy playing over the years. There's a reason the game has been surviving since 2006, it isn't going away any time soon. I know text based browser game's have seen a massive decline in popularity over the years but there's still a good time to be had here. Loyal players have remained and people tend to come back because they have strong nostalgia for this game. The game shines when there are a few people online, there's a great community here. With a game that has been running for this long there are some nuances that can be learned, which only strengthens peoples experiences. New people have no problem getting their foot in here and we're all happy to help. Sign up now and come say hi in chat :)
The one
August 15, 2018 at 06:39 pm
By far the best racing game there is always bringing new things into the game and weekend deals etc sometimes :)
Drifter
August 15, 2018 at 05:18 pm
Best RPG many years spent on here making great friends.

Drifter
Chris
August 07, 2018 at 09:44 pm
Hi there, i have registered but it wont send me a activation code :D
Craig
July 27, 2018 at 11:51 am
Best game on the road 12 years strong.... a lot of fakes around but non compare to this
jack
May 13, 2018 at 07:07 pm
App being built as i type this so head on over and get repping while you wait for the app to be finished :) number 1 racing game on the net.