Syrnia
(Online since

2005

)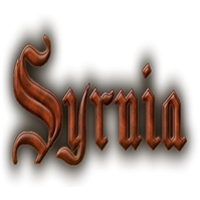 Syrnia is a game that has been around for more than 15 years now. It's an old-style text-based RPG. In the game you focus on choosing and training your skills. There are soon to be 17 skills, including farming, mining, fishing, smithing, combat and more.

Like in other games, there are specific Holiday events and frequently sent moderation events to spice up the game and bring the community together.

The dev team is created of current players looking to keep the game updated and enjoyable for everyone for years to come.

The main premise of the game is that it's not turn or tick based. It's timer based so there is no commitments to stay watching the screen. Which makes it a great game to kill time wherever and whenever it fits your lifestyle.





(149 votes, average: 2.4 out of 5)
Rate it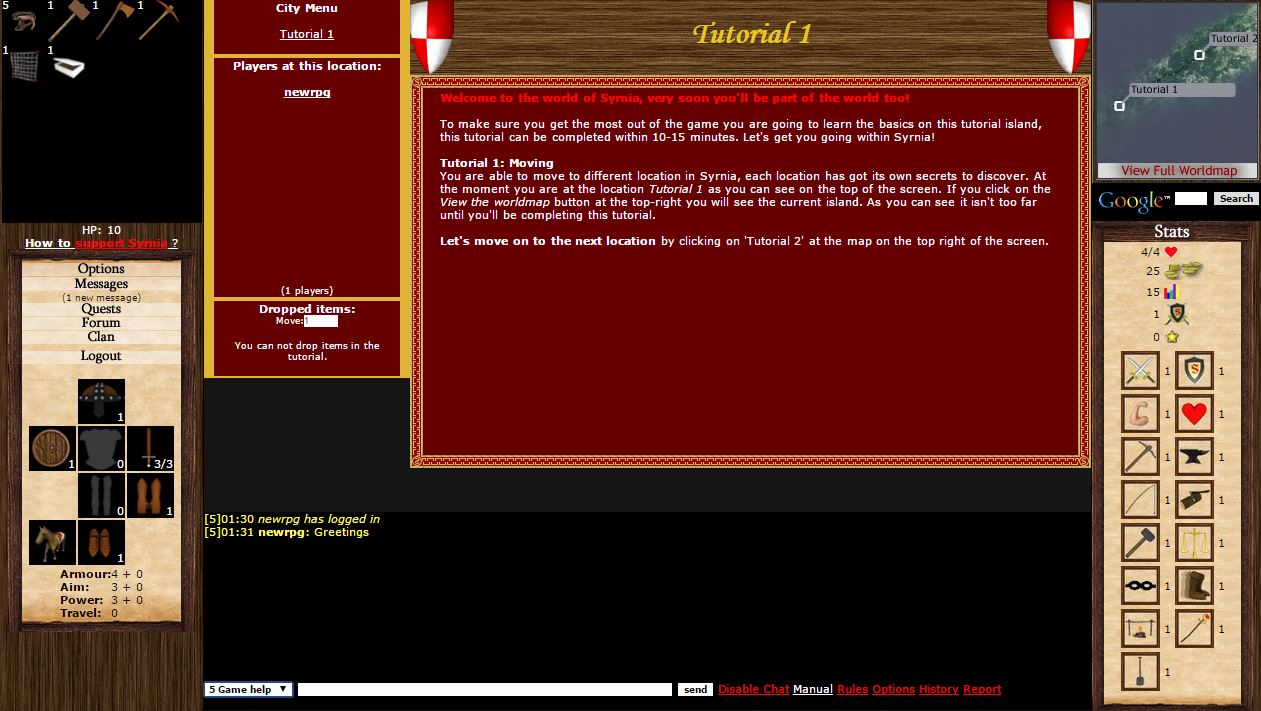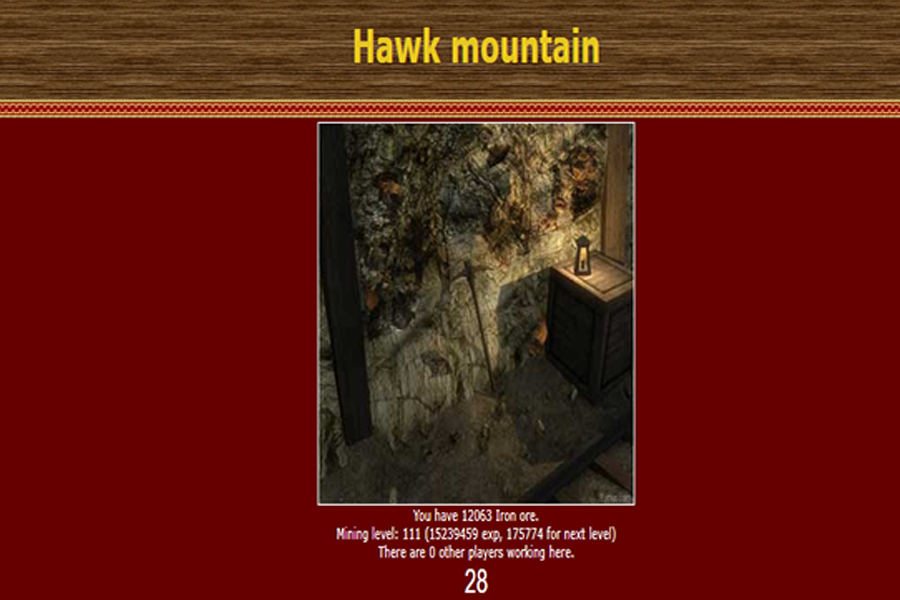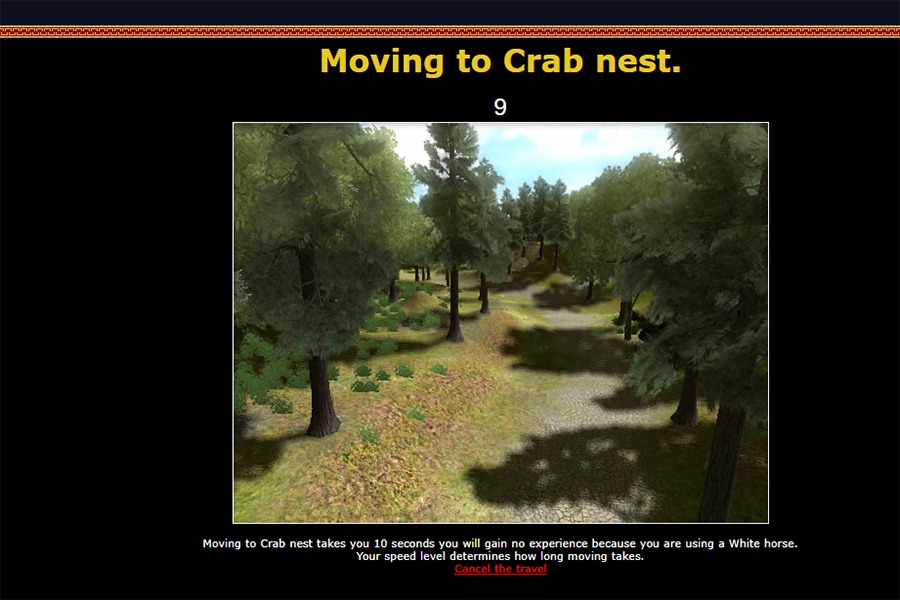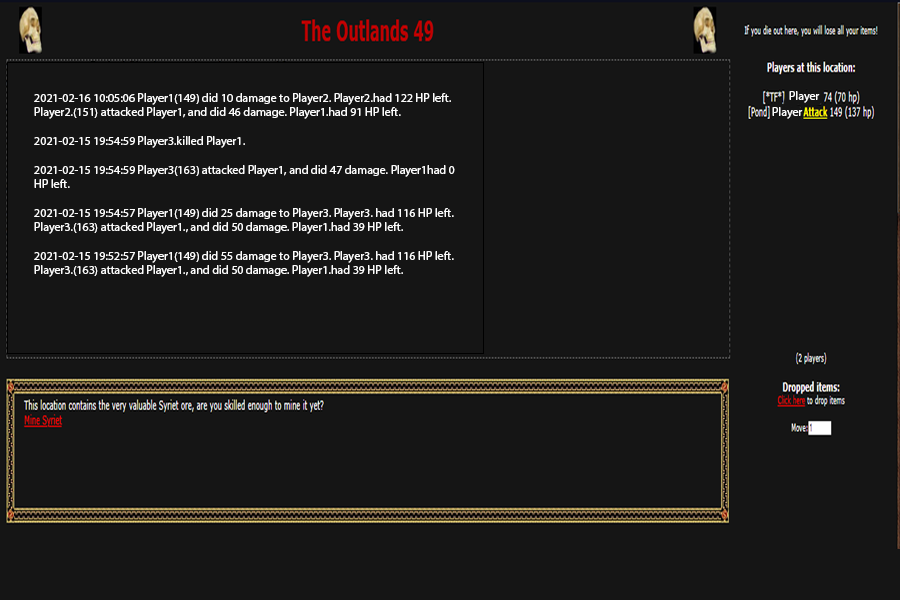 22

comments on

"Syrnia"
Salad
July 18, 2021 at 04:06 pm
I've been playing Syrnia for years and I have to say I'm deeply disappointed by how sluggishly the recent updates have dribbled through, not to mention their lack of creativity, originality and ambition. After years of waiting, we finally get (more) group fight 'Bosses' (in a medieval game...) with names like 'Emma', that have to be constantly tweaked because they are poorly balanced and badly thought-out. No animations, not even a picture, so just a few lines of code is all it takes to add these to the game and the monster database. So why does it take them so long - we're talking months - to do this, and even then they screw it up? Syrnia keeps boasting on its news page about its 'dedicated team of devs'. Perhaps they should be more honest and boast about their 'lackadaisical rabble of halfwits'. If you want a comparison, check out Game of Thrones: Winter is Coming, where updates of a WAY more sophisticated nature happen on an almost weekly basis. *That* is a dedicated team of devs, not a bunch of useless amateurs. I've thought a lot about this and I've made a decision to quit. There are so many better games out there to spend my leisure time on. House Targaryen - here I come!!
Jasmine
July 17, 2021 at 11:33 pm
Really bad game. The mods are bullies and the community makes fun of newbies who are just trying to find their feet and discover how things work. Worst timer game I've ever played.

It's also kinda funny to have Syrnia mods commenting below, denying they are mods and trying to whitewash how the game really is. But even they feel forced to admit there is *some* toxicity in the game... and that's in their infomercial for it!!!
Jaime
July 02, 2021 at 07:13 am
By 2021 standards the game is horribly dated and almost unplayable. Laughable graphics and repetitive timers for almost every action. Bullying moderators like Bex and her cronies have divided and ruined the community. Almost 400,000 players over 16 years have signed up to Syrnia and quit, leaving a player base of about 300. That's an awful attrition rate for any game.
Gumby
June 26, 2021 at 07:17 pm
Syrnia has become more and more toxic as the mods basically take advantage of the fact the owner/ admin is almost constantly away and abuse their powers and the community. Pendragon (below) knows this, as he is one of them. Players are getting banned just for politely questioning mod decisions and for expressing support for unfairly banned players in chat and forums. The game was always simple with limited appeal, but Syrnia used to have a fine community. Now, I'm sorry to say, it has gone down the drain. If you're looking for a good game of this type, with a decent community, try Varamexia or Camadia instead. Those games work because, for one thing, the owner/admin isn't on an almost permanent vacation.
Pendragon
June 27, 2021 at 05:23 pm
As people like Gumby are trying their hardest to bring down the game and make toxicity and deceit the first thing someone might read about it, I shall repost my review. :) (I'm not a mod. I help keep the manual updated ONLY. Lying brings nothing but a shallow life.)

V

Syrnia is a fun game. Rather poorly coded since it was created long ago by a teenager, but it runs fine enough, haha. At 26, been playing for almost half my life at this point.

Biggest downfall is a few toxic members in the community, but you can simply find a good clan full of cool people (there ARE many!) and disable world chat.

Come enjoy the game with us! We'd love to see more new people in this old online world. :)
Dark Neroxus
June 27, 2021 at 10:17 am
Also clear up another Miss Conception. The Admin has nothing to do with Updates, Syrnia receives them from a dedicated team of devs who are working to create something fun amongst the few issues syrnia has.

Again I stress to new players to keep an open mind as majority of the comments that are negative are based on egotistical ex players who got knocked off their pedestals. they dont know the workings or understandings of the game they try to claim they know too well. Once more you take the good with the Bad and we certainly do our best to update the game and create fun.
Dark Neroxus
June 27, 2021 at 10:09 am
So here is the 411 on the situation. yeah you get moderators a bit power trippy, yeah you got some toxic players, these comments prior seem to be absed on they have never travelled the internet or played a game in their lives.

Syrnia aint the best run ship in terms of moderation, the community can be abrasive, toxic, rude but there are portions of it that are fun and wonderful. you play any game nowadays you find these behaviours wherever you go it is not limited to Syrnia. play League of Legends, Sea of Thieves, Call of Duty, CS-GO and tell me about toxic communities haha.

If you want to try a fantasy RPG game that has survived 16+ years then give it a go and try it yourself, if you want to be a sheep and follow in the footsteps of the toxic comments below and surrounding the ratings of this game then you do that as well.

Syrnia is a game you take the good with the bad, dont be like the whiners and criers, make your own decisions and choices based on you not toxic ex players .
Pendragon
June 26, 2021 at 06:34 pm
Lots of people here breaking the rules then crying about getting punished. Classic. 🤡 (Specifically Lyssa—Karisade—who posted right before me. I'd advise you to take what he says with a molecule of salt, as he's not exactly mentally stable.

Syrnia is a fun game. Rather poorly coded since it was created long ago by a teenager, but it runs fine enough, haha. At 26, been playing for almost half my life at this point.

Biggest downfall is a few toxic members in the community, but you can simply find a good clan full of cool people (there ARE many!) and disable world chat.

Come enjoy the game with us! We'd love to see more new people in this old online world. :)
Maria
June 24, 2021 at 10:35 am
If you love toxic gossip, a nasty community and moderators that pick on newbies, this is the game for you. I was harassed and abused several times by players shortly after I first logged into the game and when I sent a ticket to the moderators to make a complaint, they muted me! I have two daughters (13 and 14) who enjoy online gaming and I wouldn't like to think they'd be subjected to the kind of abuse that was hurled at me during my (short) time here. Half of the chat lines in chat involved insulting some player or other (not just me), even players that had apparently left the game! I've been using the Internet since the late 1990s and I've never encountered an online community this vile.
Rauros
June 24, 2021 at 10:27 am
Feeble design, looks like a text game made for a 1980s 8-bit computer!

Rude, biased moderators who mute or even ban players they don't like without reason. Toxic community that is rude, haughty and dismissive of newcomers.

Hardly anything to do except watch timers count down. This is the worst game of its type that I have played.
Sam
February 20, 2021 at 03:47 am
I was linking the game so I invited my wife, then my son to play, next thing you know, my account got cancelled and the admins were straight out assholes about the situation, accusing me of cheating and giving me an attitude, as if i was not doing the a favor by playing their outdated game. Went over to Camadia which is a similar but way way better game with really nice admins and community.
Paul
October 20, 2019 at 03:37 pm
I'm currently playing this game and debating whether to continue. The higher your level of experience in mining or fishing or whatever you are doing, the more you need to get to the next level. If you start mining tin and you log off and come back maybe 2 hours later you will see you only mined 10 tin. You MUST be logged on to continue any activity. My biggest complaint is you constantly need to put in a 4 digit captcha code to continue seeing the game screen. To me that is so stupid to keep doing that. For that main reason I will probably stop playing.
VulpitzaRosie
June 11, 2018 at 12:11 pm
The game zucks! And all of this specially cause of the stuff members + some of their closer friends. A word for them all? Sure! Call them haters. All they know is to mute or ban you if they don't like you; depends on what night they had i suppose. Reasons? Well, they always find some to push the button. I do not recommend to lose time in this "friendly" community. Not worth it, really.
Sam
July 09, 2017 at 05:59 am
1 star. I played this game for years, until a moderator on a power trip froze my account because I had another account for my kid. I tried to reazon with him and the piece of shit mod gave me an attitude and so I sent them packing.
This is the risk when playing free games.
bump
December 09, 2015 at 11:15 pm
Been playing for around 8 years now - on and off but more on. If you like to have something in the background when you do stuff it's a perfect fit for you.
Darkknight
January 15, 2015 at 10:11 pm
The moderator team is not horrible , just the folks who break the rules and then cry about being in trouble. You sign up to this wonderful little game and that means you agree to the rules. The mod team which i know a few personally are generally wonderful people. who while doing their jobs don't truly want to have to punish people. This game has content to have you leveling for years on and plenty of things to do. Yes it needs a new creator but as of late the mod team has been given new powers to be able to launch invasions and the last 4-6 months have been like a brand new game full of random events like combination chest to try and unlock for a prize or just get thieving exp, random even for prizes , invasions all over the game world , etc. Come join the game and i promise you will have fun if this is your type of game.
Abomination
January 24, 2018 at 09:51 pm
i wonder who u are in game as i used to be Jett Darknight
Abyssify Nanhun Diablos
January 14, 2015 at 12:29 am
It is a little slow to begin with, but picks up relatively quickly... Just make sure to have something to do with when playing syrnia, as it does get old if you play it as a standalone
Affliction
January 12, 2015 at 05:38 pm
A great way to waste some time while at work or school. A word of warning however, it can become addicting.
YourWickedness
January 11, 2015 at 08:19 pm
I have a huge love for this game- no spells for minimum timer or anything of sorts, old style is what i think of it as and I love it... the skills are fun and the community(there are some that make it not fun), but for the most part the community is wonderful and what makes it syrnia, to me :)
Cheez
January 11, 2015 at 01:46 pm
It's a really good game. Unfortunately it has a bit of downtime, and it's been stated that it really doesn't receive updates anymore, which is true. However I can't see why that would deter someone new from joining. It's got plenty of content already in game. As it's been said there's players that have been playing for nearly a decade so obviously there's enough content there to keep them logging in. It's great for playing in the background while you play minecraft or whatever. If you do decide you want to play it's got a ton of active players still. Plenty of good clans to join, world chat is almost always active.

No level cap, no need to spend money on the game, works on pc and mobile. Just play it. Play it 16+ hours a day.
Arch Cave Roody
January 11, 2015 at 12:43 pm
Fun game but destroyed by the worst moderators and game staff on the net. Repetitive game of waiting for numbers to countdown and chatting while this happens. Community is a mix or nice people, weird and the truly disturbed people. The really mentally disturbed players progress to being moderators, hence why the modding is so bad.

Game author has pretty much abandoned the game so no updates and changes are likely to happen.
Bex
January 11, 2015 at 03:37 am
As mentioned Syrnia is entering it's 10th year and has a great bunch of people.
The community can be very welcoming and there are also clans around to help new players move forward in the game. You can also remain clanless and make your own way through with a fun range of skills and generally happy chat.
There are also random skill events and invasions that offer bonus experience if you choose to participate.

Come say hi and see if the game is a good fit for you!
__Gringo__[O.G.]
January 11, 2015 at 02:08 am
I've been playing Syrnia for a little over 7 years now and still find myself logging in almost every day. Love it, love the whole nostalgic feel only a text-based game can bring, no fancy graphics just a solid community(for the most part) and tons of things and quite a few skills to do and no level cap.
Serendibite
January 11, 2015 at 01:21 am
there are 15 skills to train from combat to resource gathering and processing skills, there are various islands to explore some safe some dangerous and some filled with rewards.

the game is entering its 10th year in march and has a loyal fan base of players from all time zones and ages, the game has a community always willing to help and assist when needed and we have fan made sites dedicated to information and guides to help new and old players alike.
Salad
January 11, 2015 at 12:37 am
You can change the colors and disable the pictures and lots of other stuff.