Tau Station
Tau Station is a F2P Sci-Fi browser game. Unique and modern futuristic-style artwork with mobile support. Train at gym, start doing small tasks to earn Credits and pick your career path. Learn skills and buy yourself equipment for increasing defense and offense. Explore the huge universe, there are quite a few space systems and space stations available. Player vs Player and Player vs Enemy features. Friendly community, as a new player you might receive gifts from other players as a warm welcome.





(102 votes, average: 4.73 out of 5)
Rate it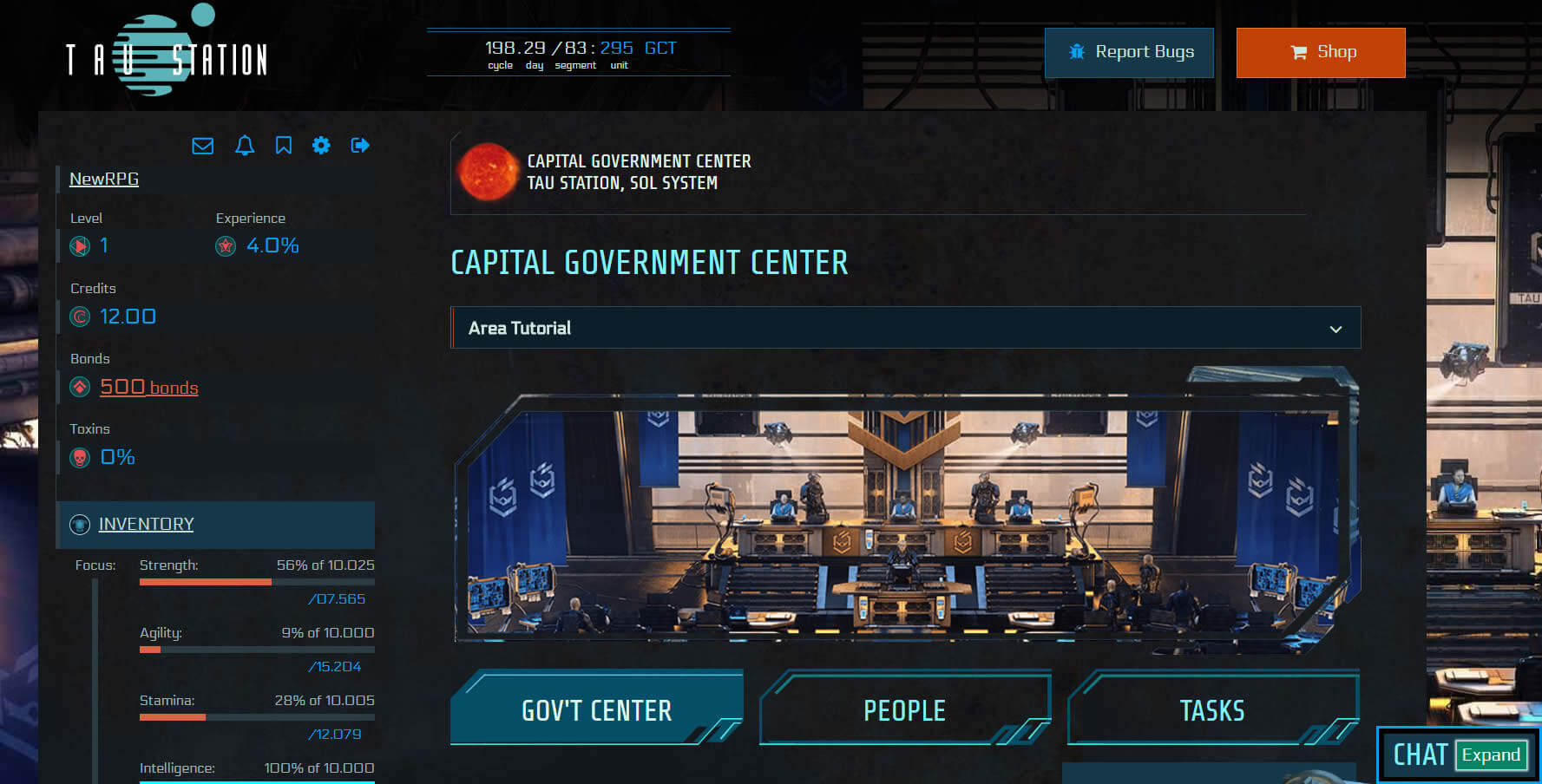 20

comments on

"Tau Station"
Robert Reynolds
October 10, 2020 at 07:56 am
Way way WAAAYYYYY better than TORN; backgrounds are awesome, updates are relatively consistent, UI is super intuitive and things tend to just make sense. The story is absolutely fantastic with very few spelling errors, and the characters actually have.....well.....character. A game you can play for a few minutes at a time and set down again; perfect for the casual player and the serious gamer. The community is also super chill; even now, i got a gift as a new player just for saying hi. Give it a try ðŸ˜Å
rdc46341
May 18, 2020 at 02:03 am
i like it I like it!
Anarchust
July 13, 2019 at 10:51 am
Torn? I have quited torn after two years of stupid sht. I knew this is somehow connected to torn. Damnit. And yes there a lots of ppl who do not like Torn.
Eh
January 18, 2019 at 07:55 pm
Space Torn. If you like Torn, great. If not, pass this by.
louc
August 12, 2018 at 01:43 am
Let's say that I was surprise. Very well written story and community. I have even got a present from a player just for saying hello in the chat.
Jaidan
June 12, 2018 at 07:19 am
I'm just two days in, and I can already tell I'll be playing this for years. It's clear that a lot of thought and time has gone into this game, and I think it has potential to be the #1 text-based browser game out there.
Praxibetel
May 26, 2018 at 09:24 pm
Honestly, one of the best games I have ever played. There's so much detail put into everything, from the missions, to the stations to the idea behind the game. Absolutely amazing!
Wendy
May 16, 2018 at 10:51 pm
Once every couple of years you will find an intelligent game, depth, good text-writing, intruiging stories, with beautiful graphics, and a universe full of expansion possibillities. A game that gives us a glimpse of some possible futures, a lot of which we would like to avoid, were it not that this game shows us how humanity will bounce back. And when I say "beautiful graphics", well, I mean gorgeous.
Twin
May 15, 2018 at 09:58 pm
Very interesting missions to play through.
They are all like short stories
Penn
May 15, 2018 at 11:59 am
Tau Station, while still in alpha, has been so much fun. It's been keeping me coming back every day and there's always something to do.
The lore and universe the game is set in is so rich and intriguing that every mission and new piece of information is a joy to read through.
James
May 15, 2018 at 10:26 am
Tau Station is a mature science-fiction online RPG. You can tell it was crafted by smart people with love for the genre.

I have been playing it for three weeks, and it hasn't slowed down since I picked it up.
JoeQuicksilver
May 15, 2018 at 03:45 am
If you like adventure in space in a futuristic sci-fi realm, give this a try. Fantastic storyline with various activities for many styles of play. The Big Bang is still happening here...
Ben
May 15, 2018 at 03:01 am
I'm having a lot of fun playing Tau Station. It's deep and engaging without requiring all my gaming time to feel progress. I'm really looking forward to seeing how the game evolves.
Jluis
May 14, 2018 at 08:52 pm
Great game wonderful mission scoreline
Dalton
May 14, 2018 at 08:45 pm
Haven't touched text based games in years, but this one has been one i truly enjoy. Super clean interface that actually works on my phone too is a huge plus. Lots of story and places to explore, only wish there was more ways to interact with other players.
GeneralPublic
May 14, 2018 at 07:48 pm
A compelling storyline, interesting missions and an absolutely rewarding gameplay experience.
Larthienn
May 14, 2018 at 06:56 pm
Definitely game of a lot of options to explore and a whole university!
Zoffix Znet
May 14, 2018 at 06:54 pm
Great game for those 5-minute breaks when you're working on a computer. And when you have a bit more time to spend on the game, you can do the main mission that have really immersive story writing.
Martin
May 12, 2018 at 02:59 pm
A fabulous game with an amazing atmosphere and an intuitive interface.
Tintiny
May 12, 2018 at 01:09 pm
This game is unlike any other game I've every played. It's brand new, but the depth of story and quality of the artwork is amazing!