Terra Dominium
(Online since

2021

)
Terra Dominium is a Geopolitical Social Strategy Game. You become a citizen of a country where you have the chance to compare your skills of economic, strategic and diplomatic thinking with other players.
You have the opportunitie to fight in wars, collect resources, create materials, build consumables, start a political party or newspaper. You can partake in government, congress and political party elections. In other words, you can be the next tycoon, country leader, war hero or maybe owner of the most famous newspaper. The world is entirely shaped by the players!
The game is being actively developed with many features in the pipeline. The developers are also active within the community and strive to stay away from p2w business models. So if you are looking for a Geopolitical Social Strategy Game that cares about its players, look no further and join Terra Dominium today!





(30 votes, average: 4.63 out of 5)
Rate it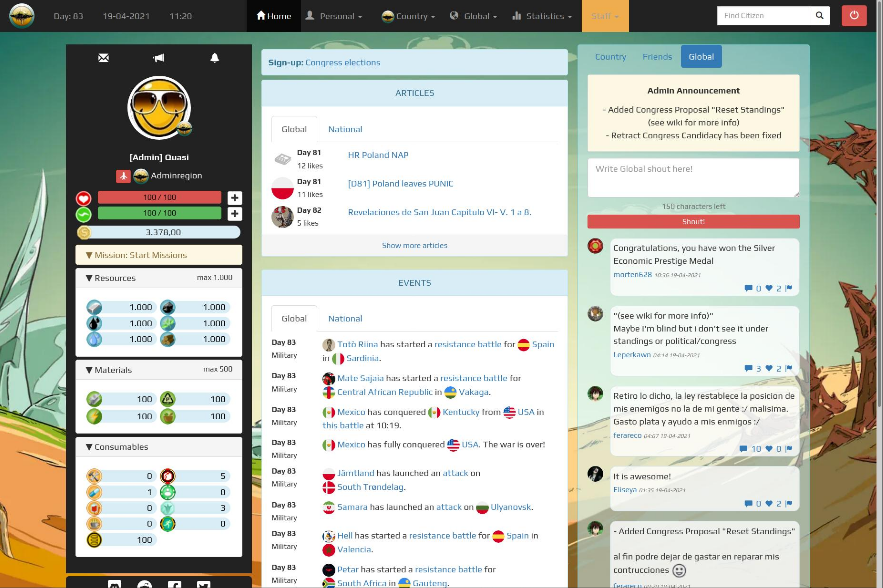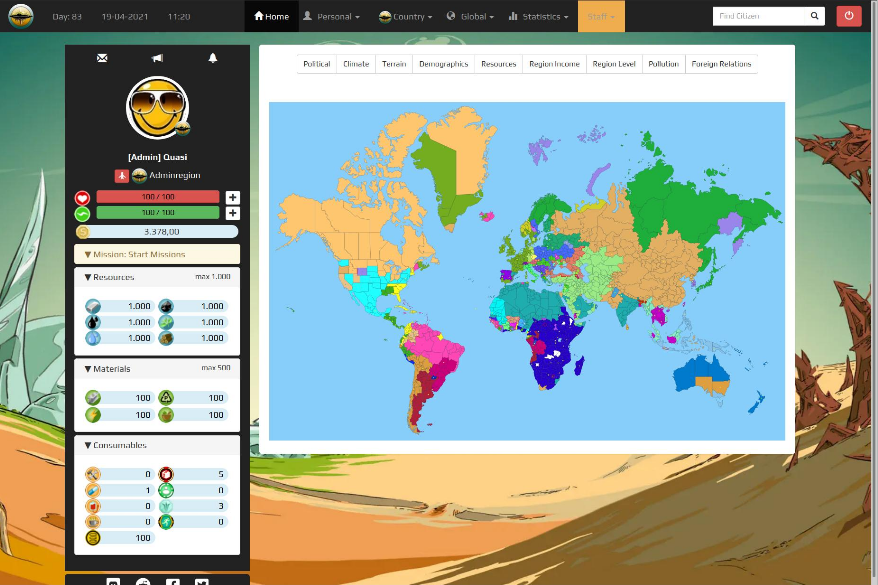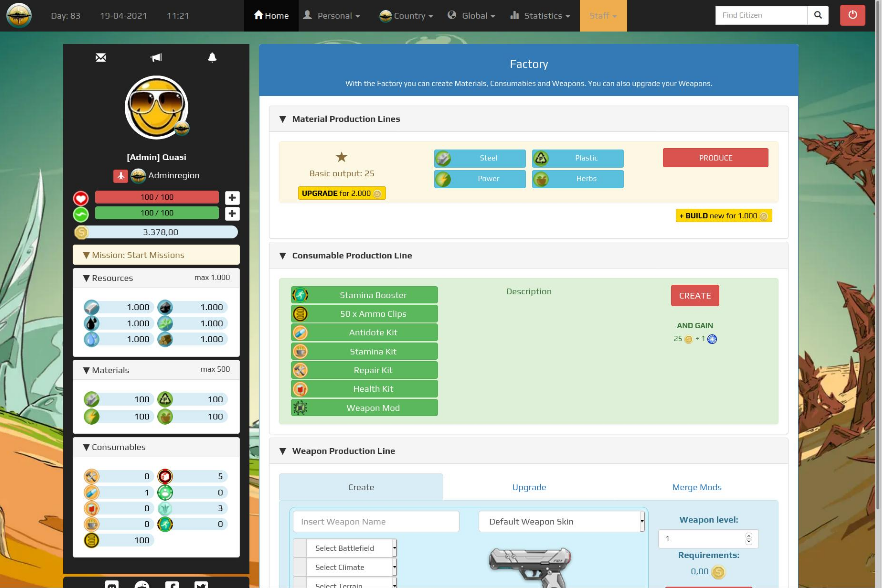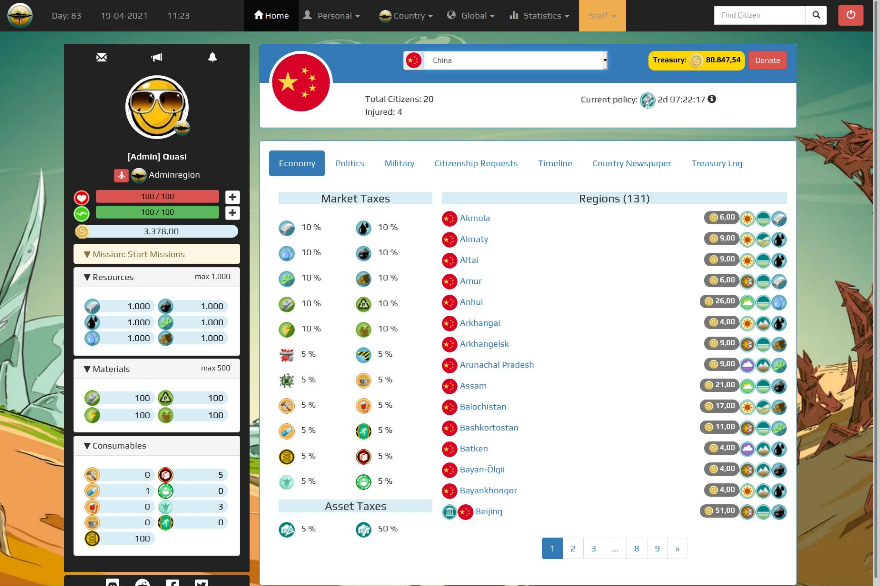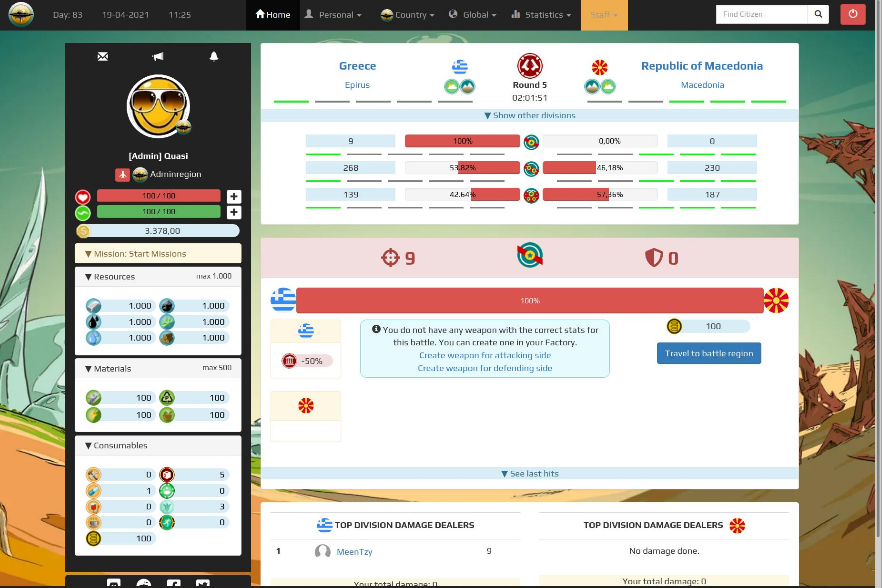 11

comments on

"Terra Dominium"
Never-ever
May 03, 2021 at 09:35 pm
Pay to win - Unfortunately!
Sharx
May 02, 2021 at 08:03 pm
Amazing game. ;)
BarathJoco
April 30, 2021 at 08:53 pm
I'm in the game from the Alpha stage, Beta was much more interesting, the actual game is fantastic!
NestorH
April 30, 2021 at 07:10 pm
This is one of the best games i have seen so far in its category :)
MichahelPlays
April 30, 2021 at 06:01 pm
Excellent game, quite good and very easy to play, plus the feedback with the admin is excellent.
Red John
April 30, 2021 at 05:51 pm
Best Geopolitical Simulator Ever
Nipeks
April 30, 2021 at 05:27 pm
Addicted from the first day. 2 months later and still not tired of it.
Moi
April 30, 2021 at 05:12 pm
90 days of play and I'm still not bored
ps: toy re fumado amio
Ninekocysp
April 30, 2021 at 05:09 pm
I came from other similar game, but TD brings more chances to develop you account and your conuntry and it is in a early phase, so is all about to happen!
Rantifusa
April 30, 2021 at 05:01 pm
I've played other similar games in the past and they all look kind of the same. TD came to break that patter and brings a lot of original ideas. Also the admins are very open to the community suggestions. Awesome game 10/10
Bennett_Zenazlog
April 30, 2021 at 04:53 pm
I've been playing it for 90 days, it's Unbelievable. And I like it a lot more than other RTS of the same style. It deserves more than one chance, especially for the active management.