The Godfather (OFFLINE)
The Godfather is a mafia-themed browser game. Start by building an apartment to increase your influence. Later you can also construct a restaurant, steel mill, hideout and cement. There are five families you can join. Each family includes different bonuses. Keep an eye on the job listing, complete activities and earn awards. Upgrade restaurants to produce food faster. In the main street station, you can collect cash. Train units, attack opponents, play lucky games, wander in your neighborhood, research and much more.





(62 votes, average: 2.39 out of 5)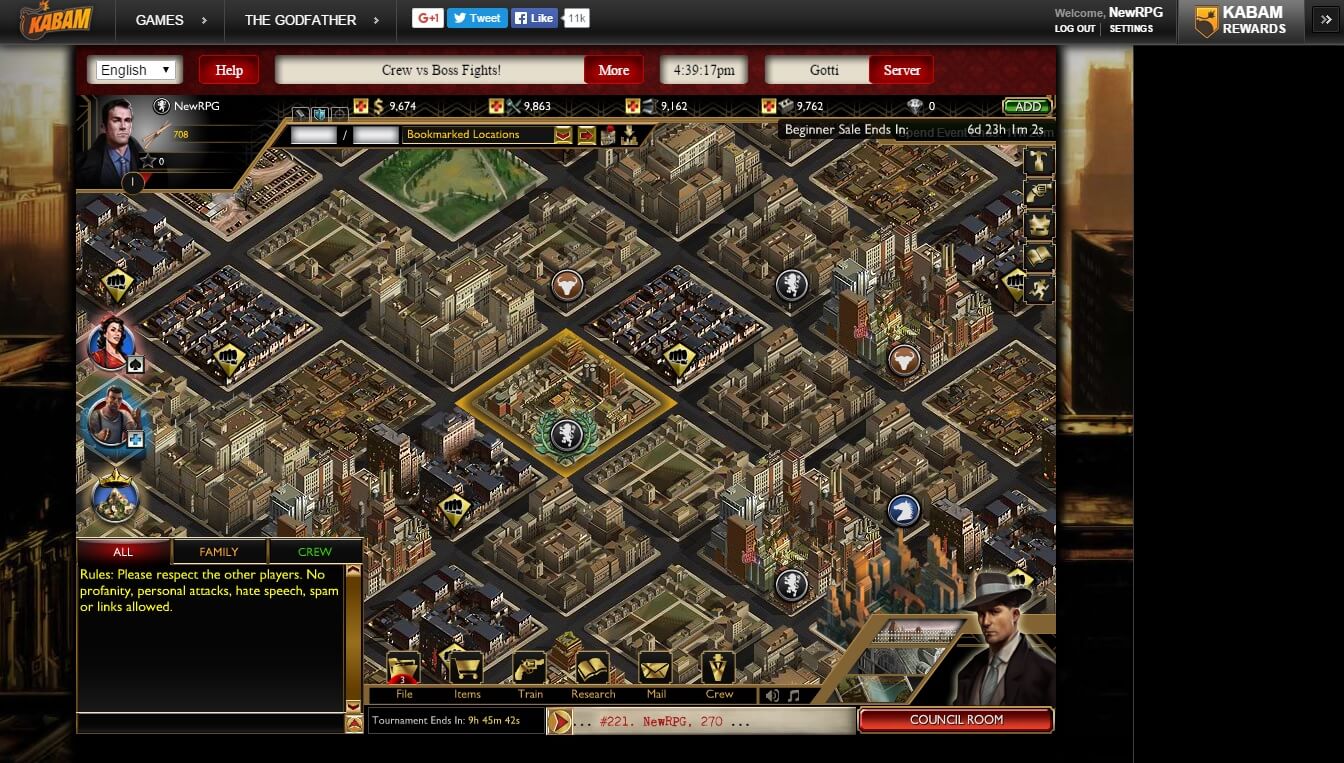 5

comments on

"The Godfather"
Joey
May 05, 2017 at 04:15 am
The moderators of the forums make antisemitic comments and defend one another so it that goes to show you this companies values. Stay away game is dead.
srobi
July 17, 2016 at 01:08 pm
I played this game about a year ago. This game is like many other strategy games, you need time. More time you spend there the better rank you can get, except you can buy time here. When I say time I mean speedups. And not just limited speedup for bulding, but training troops and even speed up army movement. Not recommend it at all.
BOURBON
December 01, 2015 at 10:25 pm
I do not recommend The Godfather. Please don't play this game. It's boring, with a lot of lag and bugs; also if because of the bugs and lag in the game, you loose troops, items or whatever, the developers don't take response of that. The game it's all about buying stuff with real money (a lot of them) for improve your power, respect, etc. Each week the developers introduce new "things" and that became a slow and problematic game. It really sucks. YOU BETTER SPEND YOUR MONEY IN A PS4 OR XBOX.
glenbot
December 01, 2015 at 07:56 pm
i like this game a lot, great artwork to it, simple and fun with strategy. making a crew is fun and working together as a team meeting players all over the world. cant go wrong with it.
jeremy
December 01, 2015 at 07:23 pm
don't start playing this game its soooo boring now and all they want is for you to spend thousands of dollars and get nothing would not recommend this game to anyone.