The Grail Lords
The Grail Lords is a free text-based browser game with medieval setting. Your character profile lets you to be aware of basic information like score, tokens, popularity, honour, level etc. Your residence is a room where you can eat/drink, look for clothes in the wardrobe or peek in the chest to find tools and items. Visit restaurant, go to blacksmith, purchase various items, take courses in the Academy or try to get a job. The Great Hall is the center of the city where you can pay taxes or make a donation.





(504 votes, average: 4.88 out of 5)
Rate it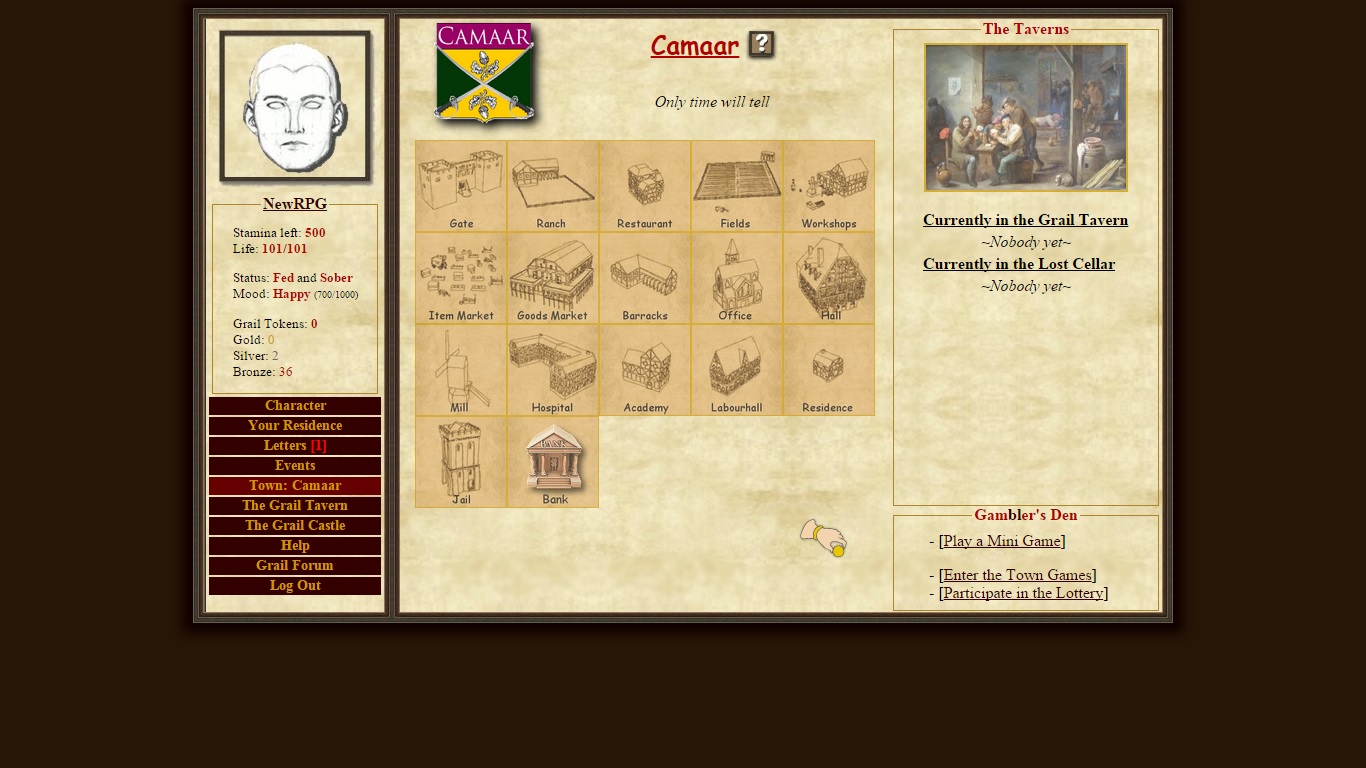 28

comments on

"The Grail Lords"
Richard R DeLuca
February 28, 2021 at 02:50 am
love it
Tormentus
January 28, 2021 at 09:57 pm
Deep game, tons of skills, a name to be forged... certainly, a nice game I recommend everybody to play. Feels like no other game, its just amazing how you improve yourself everyday and how it pays off, it makes you feel so acomplished and happy. I love this game, 11/10 recommended.
Pengembara
March 22, 2020 at 06:58 am
I am a screen reader user from Indonesia. I like the game The Grail Lords because the pages are user friendly screen reader. it's just that on my computer it feels heavy when opening every page. Maybe the developer can do more innovation so that when opening the page becomes lighter. Because many users from my country like this game, but are forced to leave because it feels heavy enough to open each page.
Dauner
August 20, 2019 at 04:24 am
Cool game
ChosenOne
August 17, 2019 at 03:37 pm
When I signed up, I quickly left again as the game does look confusing and overwhelming. Couple of days later, I got bored and gave it another try. Glad I did it! Ended up in their chat room met with few amazingly friendly people who took hours to help me out.
The game is amazingly well thought about and people there really care both about each other as about the game itself. I haven't met the dev but it seems to be one guy who does everything. From the artwork (which is more than decent) to the coding and player handling.

If you like a slow paced games that you can play when you feel like it and if you care about social interaction, than this is a must try! Just don't give up too fast and don't get fooled by the weird looks.
will
March 30, 2019 at 11:54 pm
great game, I enjoy it
Ryan
March 19, 2019 at 12:28 am
Neat little game. Slow but fun to progress. Just have to remember it, like watering a plant.
Terrai
March 22, 2019 at 11:03 am
Ha, I love the plant-watering analogy. It's spot on.
Kieran Whittaker
August 08, 2018 at 02:26 am
New user but so far it shows some promise. I'm hoping it helps fix the urge I've been having. I enjoy the pacing, nice and casual. You will need to make deliberate decisions, this isn't a game where you'll quickly do it all - which I enjoy :)
Krashmoss
July 19, 2018 at 08:19 pm
New to the game, but for the moment I really like the complexity of it. Yes, the graphics look outdated, but at the same time the art in each image creates a atmosphere. As a new player I've been welcomed by many other players who tried to help me. If you are looking for a very slow paced game centered on the players' community, give this game a try and try at least to stick to it a few days. The tutorial is king of long, but it shows every aspect of the game.
Drew
June 30, 2018 at 10:00 pm
A game with a large amount of content. It's based on a daily stamina reset so little time out of the day is needed. It has a nice community to keep people like me around so feel free to stop by the tavern and ask questions.
Daniel P Watters
March 20, 2018 at 11:55 pm
New to it. My first lesson is slowing down, don't try to do much at first
Dann Watters
March 20, 2018 at 02:38 am
Just started, but I think it's a game worthy of my time
nun
March 03, 2018 at 04:27 am
A quickly fulfilling RPG. Spend as little time as you want it's really fun.
oolivero45
February 08, 2018 at 12:11 am
The game looks OK at first, until you spot the gaping security holes.


The login and registration pages are served over HTTP, not HTTPS. This means that anyone who intercepts your requests going between the site and your browser can read your password.

The site emails your own password to you upon registration - this most likely means that they are storing passwords in plain text, which means that if anyone gains access to the database they are stored in, they will immediately have access to the passwords of everyone registered.

In the modern day, there is no excuse not to use HTTPS for situations like this, and there is DEFINITELY no excuse for storing passwords in plain text.

Be warned.
Arogandor
February 15, 2018 at 12:49 pm
Hello Oliver,

Thank you for your feedback and reaction.
We would like to add a few side notes on your reply.
- The passwords of the Seekers are encrypted and not stored in plain text like you wrongly assume.
- The Grail Lords both use HTTP as HTTPS. You can perfectly finish your registration using the HTTPS instead of HTTP. We will take measures that people using HTTP will now be redirected to the HTTPS version.

Yours Sincerely,

Arogandor
Onii chan
December 06, 2017 at 06:40 pm
Fun, detailed game. Play now before everyone starts to playing this awesome game!
Sweettea
December 02, 2017 at 12:13 am
I just started, But it seems Like my kinda game XD
Hannah
November 26, 2017 at 10:07 pm
A great game!
Do not be misleaded by the old fashioned look or the high learn-curve at the start. This game combines old-school browser game elements with a depth similar to the ones you can find in games as unreal world or rimworld. But unlike those games, you here can trade, talk and interact with other people. The community is small, but very friendly for no other reason then the interest they share in the game.

If you like a challenge, or want something new, then I highly advise this game.
Halcyon
September 23, 2017 at 03:02 pm
A very fun and addictive game, which you can spend as much time on as you please.
It has a tonne of skills to choose from to make your experience unique.
Terrai
March 14, 2017 at 03:11 pm
I'd absolutely recommend giving this game a shot! Exactly what I was looking for in a text-based RPG/adventure. It's fun, it's free, and the time commitment is low - I'd say less than half an hour a day.

I love the diversity of the in-game economy and professions too. You can fight monsters, go mining with your pickaxe, raise cows and pigs, heal fellow citizens in the hospital, and much more. The choices are yours, and so is the fun!
kloroplast
February 12, 2017 at 09:03 pm
nice game
Myrth
January 16, 2017 at 12:09 am
Fun daily game. Free. Interesting, but not a massive time commitment.
mosu
June 30, 2016 at 10:30 pm
the best
Robert
June 12, 2016 at 10:28 am
Great game easy to pick up with little commitments for time. The developer is a great guy and can be found in the chat often and responds to questions quickly and always listens to new ideas he could incorporate. I've been playing for over 5 years and still love this game.
Hadrian
February 10, 2016 at 11:23 pm
Choose One's Destiny
Endless Possibilities
The Grail Lords awaits

Also friendly people in the tavern !
Mikester Brau
January 29, 2016 at 06:57 pm
I love this game and have played it daily since September. I used to play and host a lot of BBS games and this captures a lot of the flavor and feel of some of the old games while also incorporating modern game play elements and mechanics. Easy to get started and really no wrong way to play. It works pretty well on my iPhone as well. You can do everything you need to in a few minutes a day but once the hooks kick in you will want to check it more often.
Axel
September 21, 2015 at 09:06 am
Cool game with a huge amount of content. Not everything is finished but is the dev actively adds depth and completes chapters. The best thing is its not P2W. There is a premium currency but its accessible to free users in a number of ways including buying them with in-game no restrictions. And the premium content has been nerfed over time to prevent abuse.
Garlic
September 21, 2015 at 04:00 am
Addicted to this game! Great community! Very helpful.
Cpt_Coot
September 02, 2015 at 02:36 pm
Great game. Limited commitment per day-- Complex yet easy to learn systems. Good community.