The Mafia Network (OFFLINE)
The Mafia Network is a free mafia-themed browser game. Pickpocket, rob, kill, sell illegal items, commit a fraud, steal cars and much more. Running a company is available as you reach the hitman ranking. You could add players to the most wanted list. Determine the reward for killing the target. Organized crime allows you to rob a casino or the national bank. Drugs transportation mission is a task between a commander and participant. There's a requirement that both players have to be in the same city. Select a drug type, complete the operation, earn money and gain experience.





(15 votes, average: 4.07 out of 5)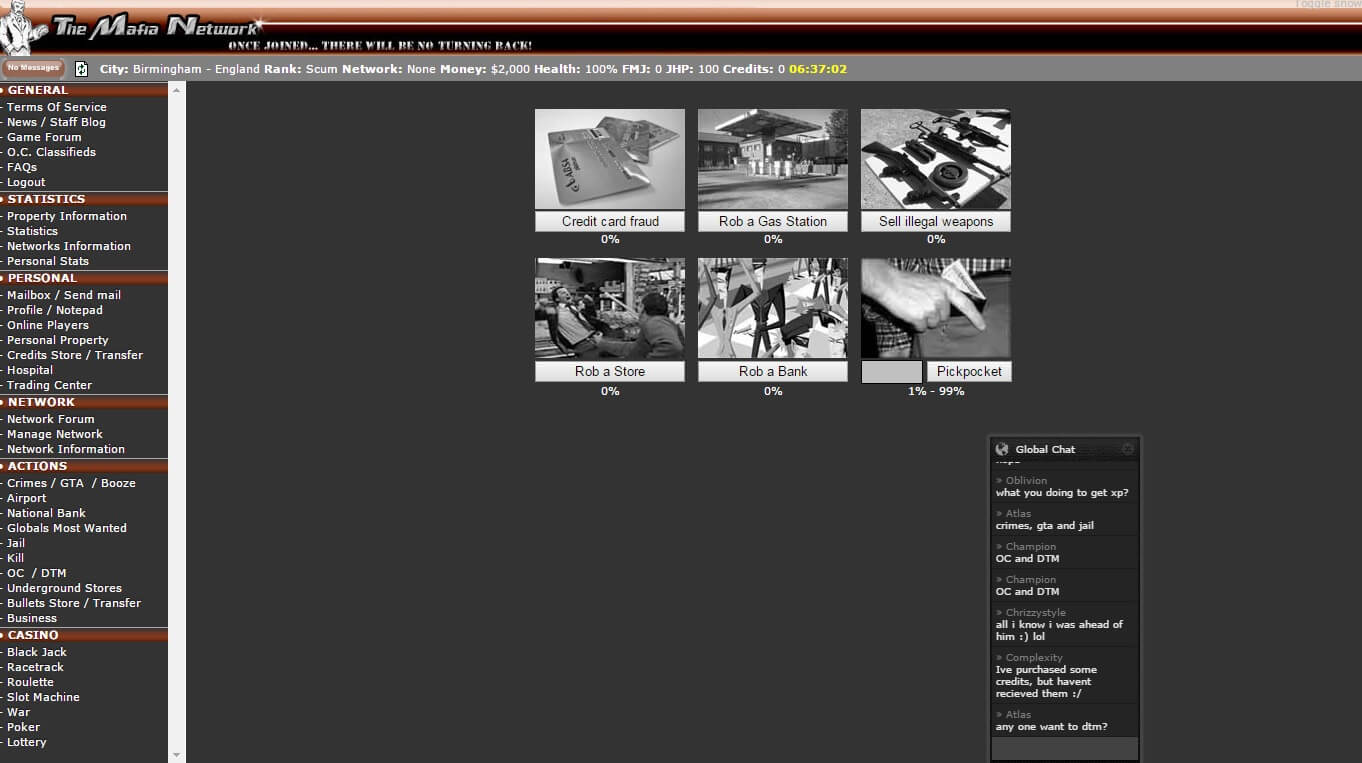 13

comments on

"The Mafia Network"
Blondie aka GSR
April 17, 2022 at 11:30 am
I used to play this game quite a bit and recognize some of the names above this was a great game. Hope you are all well.
Droppie
February 20, 2022 at 12:34 am
Played this when I was about 13-16 I'm now 30 .. it was rubbish but it was fun. I made some life long friends on here and I hope you're all well,
Droppie
X
AppleTheOneAndOnly
January 30, 2022 at 11:51 am
Such a long time. I turned 30 the other day and played this around 16 years ago. Hope you're all well and safe. Someone once said to me I 'd never gain anything from it…well I learnt how to code and how to use photoshop so not all bad!
fmj
January 20, 2022 at 09:29 am
Hey, I used to play this back in the mid-00s. I still can't believe it's been so long.
N3vulsum
January 17, 2022 at 08:59 pm
To anybody that read this

Hello everybody so many years have gone by since we all played this we are all grown up now I hope everybody is all well and safe

Take care N3vulsum
X
Mem
October 16, 2016 at 11:51 am
This game is and always will be a huge disappointment. The complete lack of care for its players and the unreliability still astounds me. The game is nortorious for keeping players waiting and giving a poor service as can be displayed by how long the game is taking to come back online now. I have been visiting the site one a day or so only to be presented with a countdown of around 20 hours. The timer has never reached 0, more time is just added. It's a display of what was and what is to come. Unreliable and inconsiderable. How the lesson hasn't been learned is beyond me. Why not put a message up stating the delay? Why not add the amount of time you actually need? Don't bother!
Mkdonz
January 31, 2017 at 12:37 am
This isn't even the real TMN!! Marc has a TMN which is hosted at tmn2010.net. This version is a botched up copy run by a child
FBI
December 13, 2015 at 09:34 pm
Amazing game, brigns up so many memories! finally its back!
randomcritiqueq
December 13, 2015 at 06:24 pm
10//10 start now
Flash
December 13, 2015 at 03:21 pm
Its back cant wait :D
ChrizzyStyle
December 13, 2015 at 12:34 am
Great game adn massive laugh with the players on there.
Champion
December 12, 2015 at 11:50 pm
goodgood
Oblivion
December 12, 2015 at 11:49 pm
100credits :P
Kronos
December 12, 2015 at 11:40 pm
Awesome game ,good people ,great game The best of times ! I can't get enough I stay logged in for hours and visit several times a day.I would recommend this game to anyone who loves RPGS
Jake
March 03, 2020 at 12:12 am
Yo you know any games similar that are up and running now?
Hay
November 05, 2021 at 03:48 pm
Great game with a long time player base. Admins and mods now listening to players more than ever.
Mike
November 05, 2021 at 06:55 pm
Thats nice but what does that have to do with a completely different game?