The Reborn
Enter the interesting world of The Reborn with lots of different features. You can visit blacksmith and do volunteer work by cleaning streets. Take a look at the list of various clans, select a suitable clan and apply for it. Marketplace is a right place for buying/selling weapons, food, armour, tools and rare items. The game gives you a possibility to purchase a house or build it on your own. You can take a look at shops that belong to other players and buy your own shop.





(17 votes, average: 4.71 out of 5)
Rate it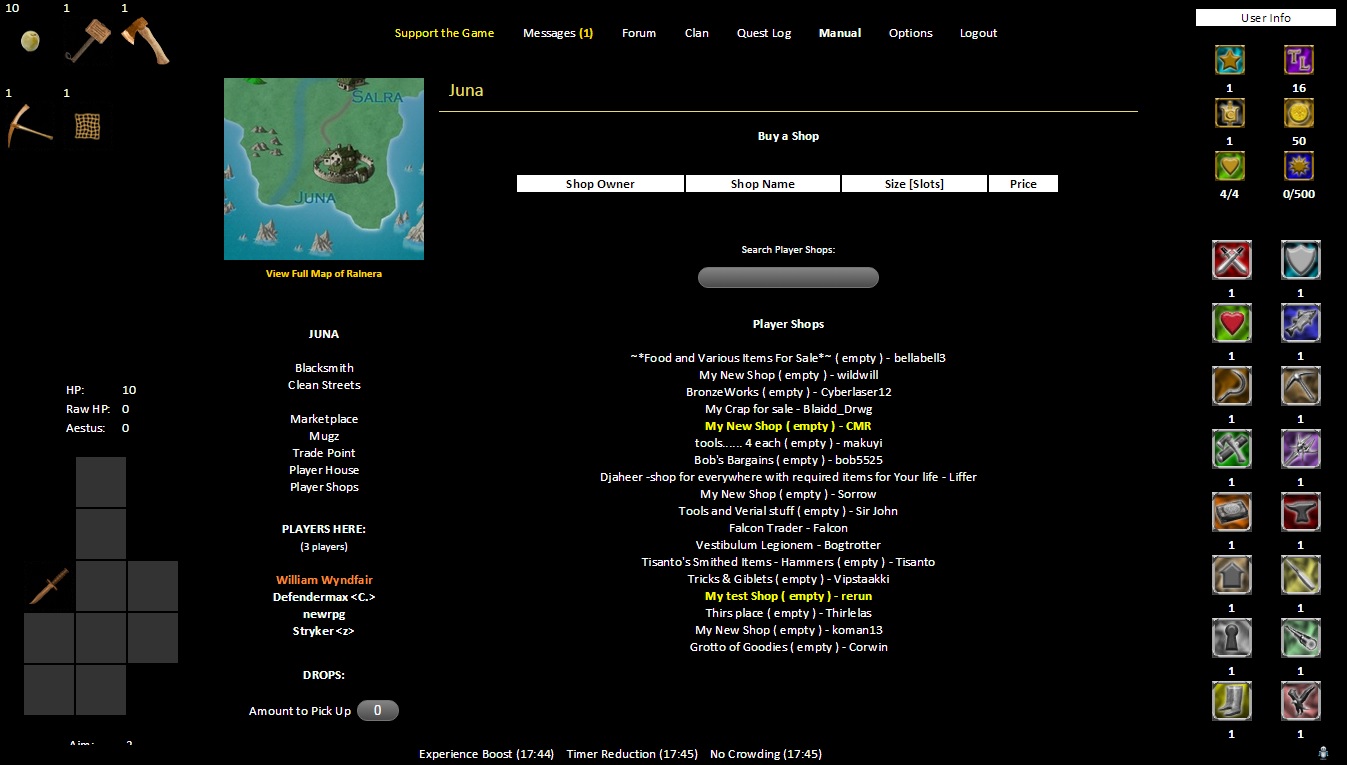 5

comments on

"The Reborn"
John Smith
December 18, 2015 at 12:42 pm
I like the game. I only play about an hour a day before work. I mostly just enjoy gathering my own resources and creating my own crafted items. I haven't joined a clan yet, and I don't know if I ever will. Most of my enjoyment comes from doing everything myself. It's a lot like Syrnia if you want to compare it to other games.
SirRod
December 05, 2015 at 03:03 pm
Nice game, updates often, and never down. What else can you ask of a free game?
Stryker
September 16, 2015 at 03:35 pm
Ooo, I see my name ;)
Cheez
September 16, 2015 at 02:32 pm
I love this game :) It has become a bit more inactive as of late, but there are still plenty of players around to help you out if you have any trouble. It's a pretty straight-forward text based RPG played in your browser. A majority of the player base is a lot further into the game so that can be good and bad. Good because there's tons of people who can help you with just about everything. Bad because, well you might not ever be #1 in anything. That's ok though. It's definitely worth giving a try if you're into text based rpg's. I would highly recommend joining a clan after a few days of just playing around learning the game. You might find a little more chat to be had in a clan. On that, I should remind you that the chat isn't the most active which is why it would be great to see some new faces around there :)

I'll post some stats real quick for the game. It has been up for a little more than 3 years. It has roughly 230-250 weekly unique logins and around 50-70 online at a time. There has been over 2700 account sign ups since the games release. It is still in beta, and while it hasn't got much attention from the games admin lately we do expect that to change in the future.

I really hope to see some new players there! Best of luck if you join us! :)

-Cheez
tiggerlicious196
September 16, 2015 at 02:09 pm
Decent game, just miss the updates we used to get...It's great for someone starting out though, great players and awesome things to do :)