Track King
Track King is a free text-based browser game about horse racing. Your stable informs you with a scheduled calendar, earned trophies, upcoming events etc. Train your horse to perform better at short sprints, swimming, walking trail, beach gallops etc. You can visit vet, hire admin staff, search for a jockey and build new facilities. Keep an eye on horse races, win trophies and manage your horse to the hall of fame. You also must take control of your finances by analyzing the income and expenditures.





(83 votes, average: 4.65 out of 5)
Rate it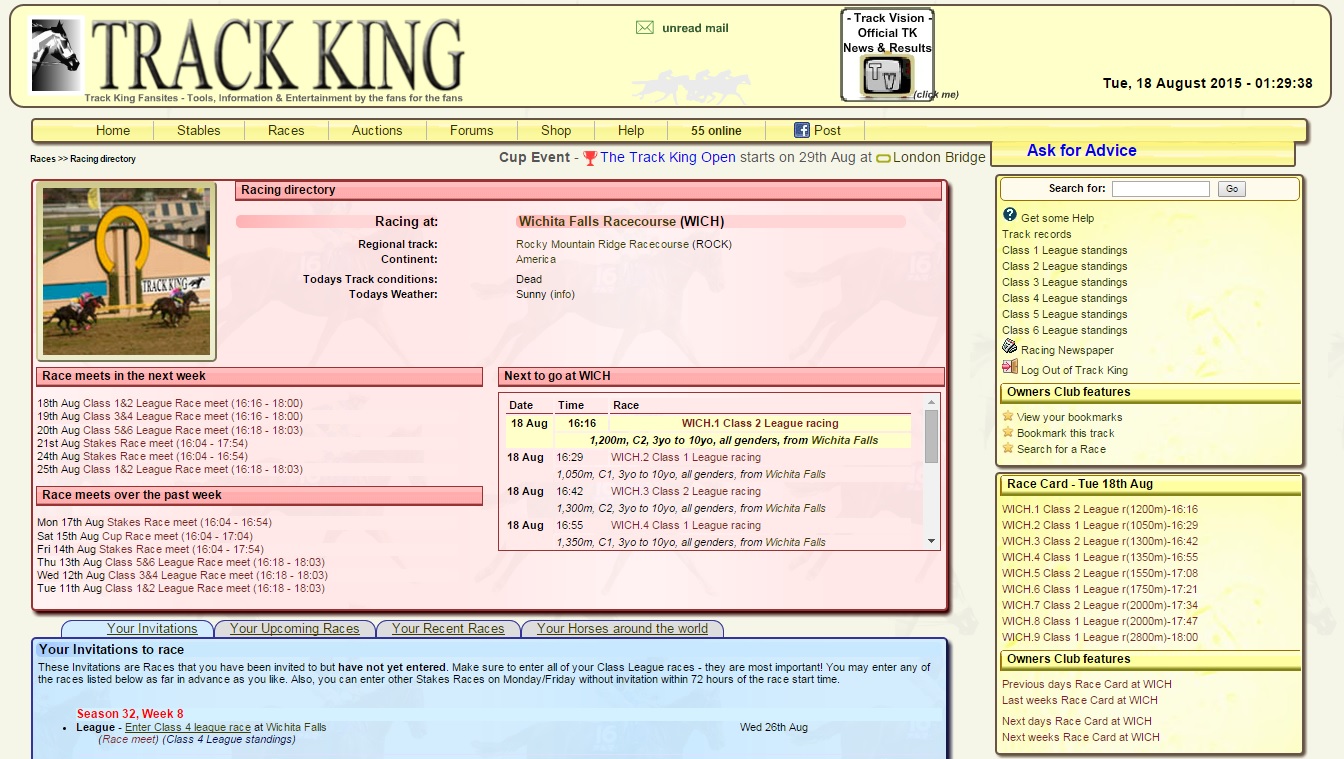 8

comments on

"Track King"
Dudley
March 27, 2022 at 12:58 am
Track King is still, by far, the best Horse Racing game out there. In all the other games its a real struggle to keep from going broke. In TK you will make a profit in your first week. This gives you confidence to keep going. You build your stable, you build your horses, you build your jockeys.

If you want to become a Top player, it can be very complex and you will have to bide your time as you accumulate knowledge. But the cream will rise to the top as always. If you just prefer to play simple, you can do that too. Race, train, buy, sell, breed. Almost any horse of any ability can be used to race in appropriate classes and earning the stable money.

The hardest part I guess is acquiring new horses. Not impossible by any means, but you have to take part in the auction like everyone else, and plenty of stables have A LOT more funds than a new player. So just stick to your budget and keep slowly building.

Without a doubt the best horse racing sim I have seen.
Paul
October 20, 2019 at 03:19 pm
Been playing for awhile and I love it. When you first start out it will be kind of hard to understand but there is a forum that is fantastic. Go to Hints & Tips and here you can learn step by step what to do in the game. Your Stable starts off with 4 horses and once you start making money you can buy more.

You will be racing once a week in a Class race but there are other races you can enter and you can actually watch the race when it's finished. I'm glad I found this game. I see myself playing it for years to come.
BARNESY
August 22, 2017 at 01:59 pm
Great game, have been playing for 6 years and am still learning. Have won some Class and World Cups and if you like horses or horse racing it is an ideal game to play, but it does take time to learn how to master it. Fortunately it is class rated so you don't start at the top, you have to start in Class 4 or 5 and work your way up. Highly recommend it and you don't have to pay to play, but for just over $1 a month it is worth paying for the extra features which make it easier to play.
dicksy
August 19, 2015 at 08:52 am
Fantastic ....if your looking for something that takes a bit of time and planning....this is the game for you. Not instant success but can be very rewarding when a plan comes to hand. 7 years of playing and still far from conquered.

cheers
geoff
August 19, 2015 at 06:11 am
I have been playing Trackking since its opening and I find it absolutely engrossing, you
can play it full on or when it pleases you. If you are in to horse racing anyway this game will stop you wasting money at bookies.
Rachael
August 19, 2015 at 05:53 am
A very addictive game aimed at people looking for a well thought out, intricate management game. Do not need to know anything about horse racing but can take a while to get to grips with all the ins and outs of the game, so not really for those looking for instant gratification. Having said this, there is a good system for new players (mentors, help on both forum and chat) so this can easily be negotiated if looking for something a little more challenging. Highly recommended.
Michelle
August 18, 2015 at 10:21 am
I love this game, I've stuck with it now for 4 years, that's the longest I've ever stuck with a browser game. It can be easy to play, or difficult to play depending on what your goals are, and they are totally personal, you can shoot for richest stable, compete for cups, go for league wins or work on prestige.... or all of them! Breed, train, buy and sell, bet..... there's not much you can't do!
nick graham
August 18, 2015 at 09:28 am
Easily the best on line game I have ever played. The racing is great and, not only exciting, but really satisfying when your planning and training leads to a good result on race day.

As well as racing, you run the finances of your stable, can buy and sell horses, breed (including genetics), hire and fire or train jockeys and plan your strategy to increase your prestige and become a track king.