Trenton Made
Trenton Made is a text-based browser mafia game where you can enter the world of mafia. Defend yourself and kill others. Visit the market to buy items, be a boss in a mafia family and rule with power and energy. Participate in missions, burn down houses or bribe the police. Take a control of your territory and defend it. Join this game to be a part of this community. Do you have what it takes to be one of the best players? Find out now!





(21 votes, average: 2.33 out of 5)
Rate it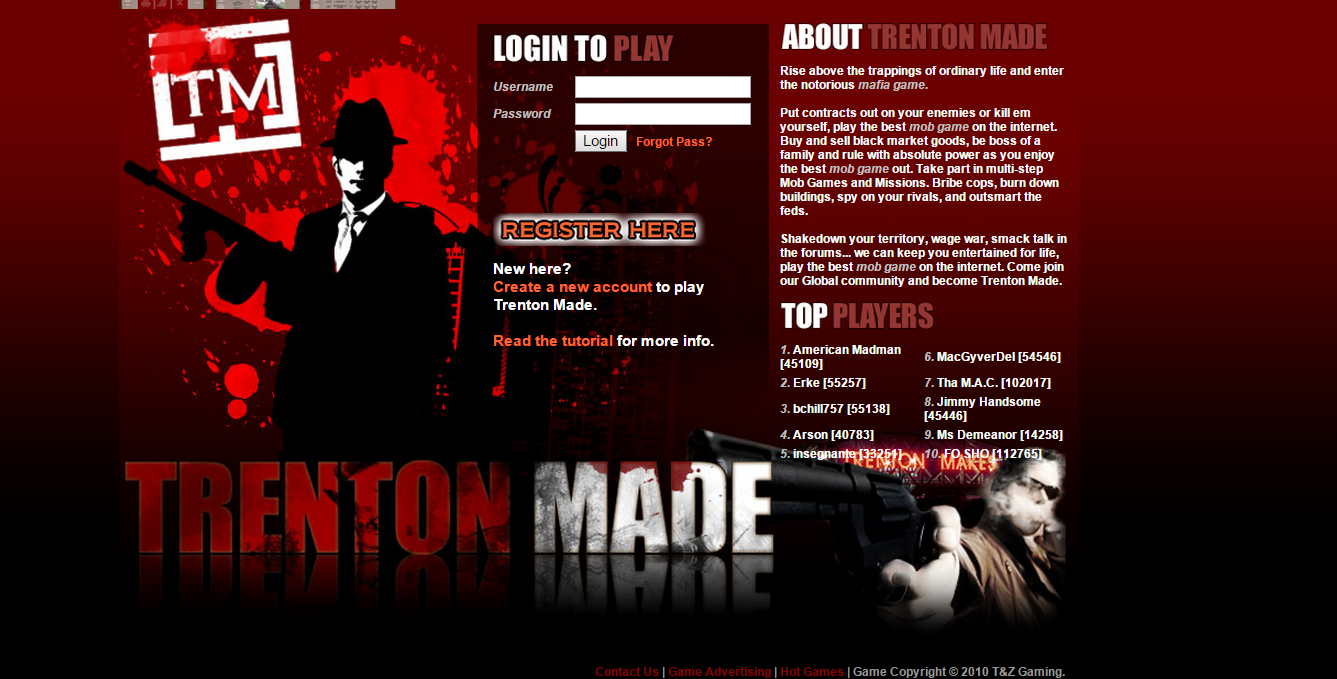 14

comments on

"Trenton Made"
TheMan is a cuck
August 11, 2022 at 03:26 pm
Like another commentor said - "toxic" is the best way to describe TrentonMade, and I whole-heartedly agree. The developer (TheMan) is lazy, uninterested, and panders to his sugar daddy donators. It's embarrassing. Calling yourself "TheMan" when you allow donators to bully you is... embarrassing.

This hideous little corner of the internet should have been closed down YEARS ago, but TheMan likes his passive income, and the few at the top love being one of the biggest fish in the puddle, so it won't disappear any time soon, sadly.

Play elsewhere bros.
The Man sucks
November 23, 2021 at 12:15 pm
*** AVOID THIS GAME AT ALL COSTS! ***

This game used to be great, and then Sway - one half of the Admin team quit (rumour has it, as a result of TheMan's ego and attitude).

Nowadays, TheMan considers TrentonMade as his own personal universe, and he genuinely considers himself a deity. He overlooks blatant cheating, provided the cheaters provide information about how they exploited his system, instead of actually doing his job and finding the bugs that are being exploited.

Any bugs that don't directly benefit the players is routinely ignored and the person reporting the bug is normally threatened with being banned for having the temerity to insist that the bug is investigated properly.

There haven't been updates or improvement made in 10+ years, and the footfall on the site is drastically reduced from the early years. This is as a direct result of TheMan's personality.

I won't be back, and I suggest you don't visit - ever.
YourNameHere
September 09, 2020 at 10:23 am
Avoid avoid avoid.
The 2 highest level players donating their life savings is the only reason this abysmal game is still online.
These 2 losers seem to spend their lives logged in.
Pretty sad to see, really.

Admin just collecting their money and providing zero updates or new features.
Apart from that, the game is full of cheats.
This is allowed to continue by an admin who has thrown the towel in long ago.

Don't waste your time or money on this utterly shit and toxic little game.

Less than 100 'players' worldwide.
Realistically it's 40 players and their multiple accounts!
Mr g
May 30, 2019 at 06:06 pm
What happend to sway an I just bin fed says same ip well it's going to if 2 people playing at same time in the same house hold still a top game tho wish all the old player like my self come back
Sneaker
December 15, 2020 at 09:33 pm
I recently came back to this game. I've played a few weeks and today the game has been down all day. I haven't been able to find a way to contact support. Is this the end? It could be.
Dr.House
May 12, 2018 at 12:09 am
Sorry if you could respond to me on here I would appreciate it. Im fedded and staff cut off communication with me. That is absolutely ridiculous. Someone needs to talk with them about this. I do not recommend that anyone sign up for or donate to this game. It is a giant waste of time and cash. I appreciate your time. Thank you.
Dr.House
May 11, 2018 at 09:03 am
The Man is running that game into the ground. He lets players slander each other and feds those being slandered. The real kicker is that TM used to be a great game. Its like they just dont care anymore. Maybe they should put it to bed already. Thanks.
Private
May 08, 2018 at 08:58 am
This game used to be fun but has been going downhill for quite some time. I have experienced the problems concerning the fed,while others go free for stupidity. Lately the admins don't even log on for weeks or months at a time. The Man needs to wake up and take control of this sinking ship.
Fck T.M
October 04, 2018 at 01:09 am
Played this game for years RealLoad Then D-M was my handle Must have put £1000s In2 the game and I gota say I regret spending fcking penny STAY WELL CLEAR!!! The rules suck and its all one sided unless ur sucking dick to the MAN
Fck T.M
October 04, 2018 at 01:40 am
And when the sever had crashed or when it was down (more times than I can count ) One time I had 1000s of my diamonds and half a bill cash in my bank (All from donating to the game) and it all disappeared When the server was back online after tweaking it I told the MAN about it and he said he couldn't see any evidence and was totally blarza about it WTF?? Yeah I agree it used to be a good game back in the day but you would have to be damm right stupid to continue or start playing this
Caroline Hicklin
December 21, 2017 at 08:02 pm
I want to know why my account has been fedded when the only player that i'm funding is myself.Quite honestly I'm disappointed in how i was treated and i'm never returning to trentonmade whether i get un fedded or not.
Kronic
November 28, 2016 at 06:04 am
The game has changed to many multis
Leon Borello is dead.
July 01, 2016 at 01:43 am
Can one of the staff hit me at this email here thanks
[email protected]
Leon Borello is dead.
June 29, 2016 at 01:33 am
Okay. I know I was an annoying mess here, and to the admins, the Westies, the Digulius family and a lot of other players, that's an understatement. But banning me for being Bam's multi. When we play from 2 different locations. Just wow. But I forgive them. And I wish to talk about coming back and making peace with the aforementioned players and their crews.
mr g
June 22, 2016 at 12:19 am
The owner will fed u after u put real cash in to the game from packs and give I no refund even tho u in fed it's not on they do not do eny thing to help just change the rules when they like they need to re think how to own a game how to be apart of the game and not just on the side lines
Fck T.M
October 04, 2018 at 01:42 am
Totally agree!!
BONE-BREAKER
April 06, 2019 at 07:43 pm
I'M GONNA HACK YOUR ACCOUNT TONIGHT =D-M= CUZ I CAN
Bone sucker
September 18, 2019 at 07:28 pm
Dont think so!! Your fedded!! Lmfao
jimmy soranto
May 03, 2016 at 10:19 pm
Not only will you have your account banned without notice, but trying to get a reasonable explanation from the moderators as to why this happened, only results in hyperbole and self-righteousness expressed on their part. The moderators even resort to childish name calling -- the slur directed my way, I really don't wish to share in mixed company.
DeadTake
October 31, 2015 at 08:34 pm
Apart from the economy of the game being completely rigged now you will also find you get your account banned with no warrant.