Ultimate Assassins
(Online since

2018

)
Ultimate Assassins is a Mafia themed fighting RPG. Rank against other players with the same goal in mind - to reach the TOP! Become powerful, rich and eliminate other players.

In the beginning start doing crimes for some each cash. You have certain money and bullets - but it can all be lost when you get hit by other player.!

Lots of features, some features will be unlocked as you progress through the game. The more you advance, the harder you are to kill, making it easier for you to attack others.





(195 votes, average: 4.79 out of 5)
Rate it
Ultimate Assassins images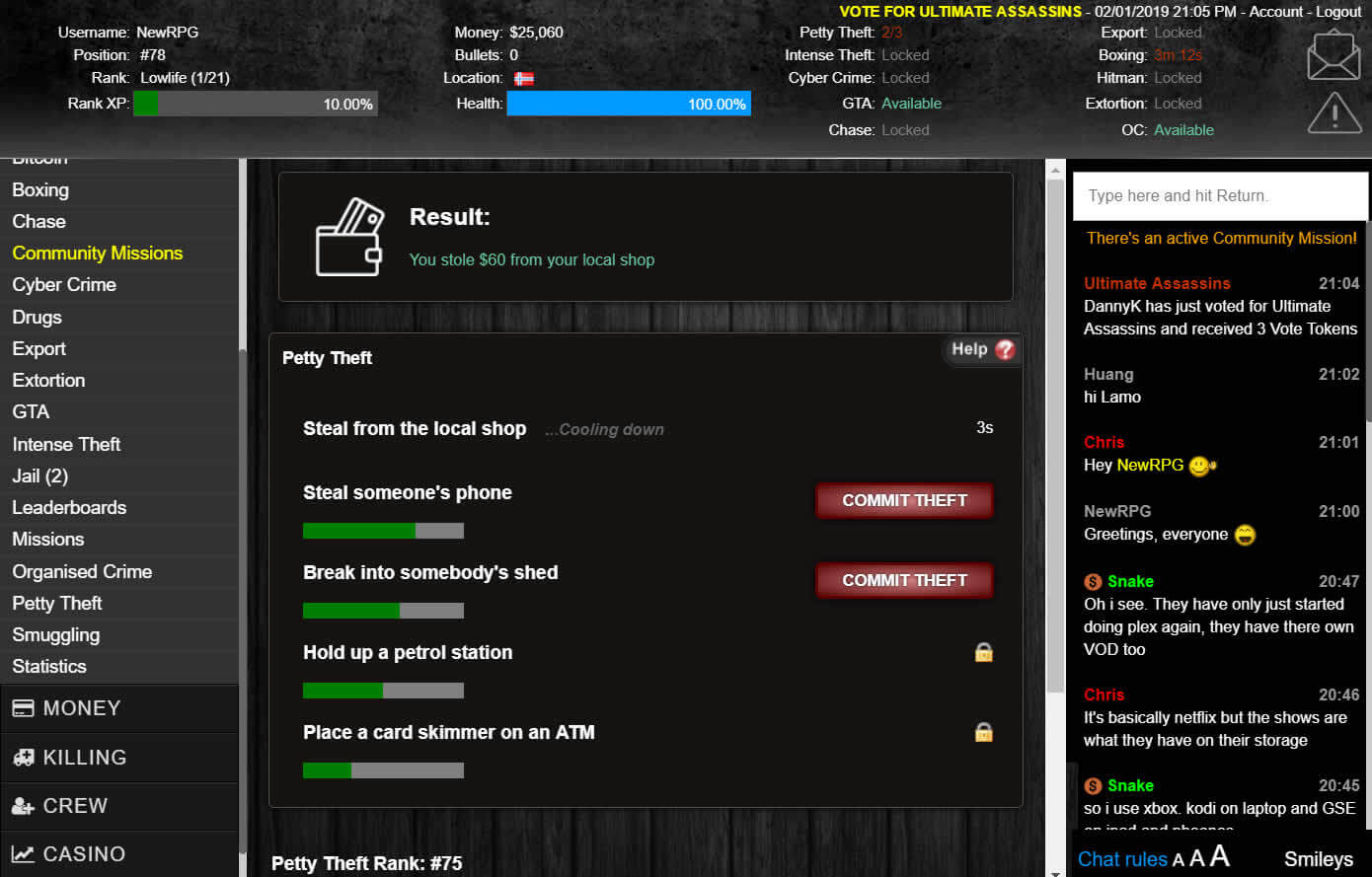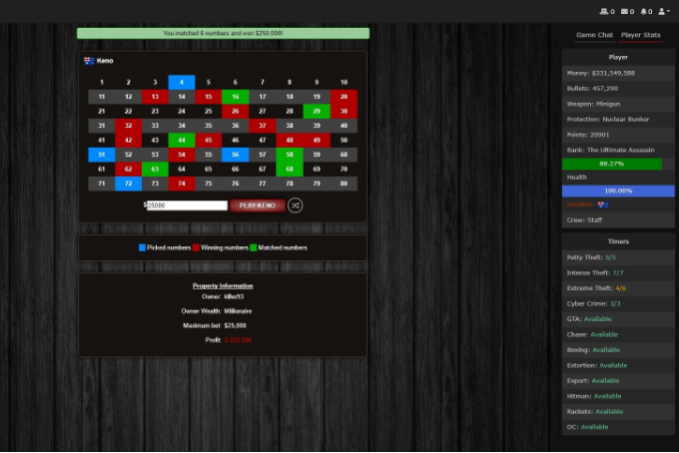 Try your luck in the casino
23

comments on

"Ultimate Assassins"
UltAssasin
January 11, 2020 at 08:35 am
Found about it by mistake, it's a very entertaining GAME.
dima
March 03, 2020 at 12:46 pm
same :D
Alex
December 13, 2019 at 03:21 am
Fun game, signed up to try it out and ended up playing for hours.
London
December 11, 2019 at 07:59 am
The game is the absolute bollox. Top quality stuff
Steven S
October 29, 2019 at 08:23 pm
Not bad at all a friend from themafiabusiness.com recommended this game. Now I play both.
Good game.
Tokyo
October 02, 2019 at 12:59 am
Great game, good mechanics worth checking it out.
Ben
August 23, 2019 at 09:39 pm
Cool game
GreenBeret
June 10, 2019 at 05:52 am
Really awesome game, many kills every day, active crews, friendly players, great and active staff! A fast growing game receptive to suggestions. My favorite game! Many crimes and ways to make money!
Kenny Mac
June 05, 2019 at 03:16 am
I have only been playing this game for a few hours and can't stop playing it. I think my wife will divorce me over this game.
Danny
April 21, 2019 at 08:18 am
Brilliant game plenty to do
mrtrig
April 04, 2019 at 06:12 pm
addictive, very nice community, friendly staff and loads to do i recommend to play
GuineaPig
April 02, 2019 at 06:33 pm
Great layout, easy to use, friendly community. Frequent updates, active admin. What else can you ask for?
Ep
March 24, 2019 at 03:36 am
Room for improvements, but they are updated constantly, so worth getting into now
Danny K
March 05, 2019 at 08:08 pm
So far so good, keep it up!
Jason
February 23, 2019 at 12:34 am
Great game!!! Highly recommend this game to everyone looking for a challenge
Smith
February 04, 2019 at 06:04 am
Pretty good and addictive game
Tamara
February 03, 2019 at 09:15 pm
pretty fun game. plenty of things to do. you can always click on something at all times. Very helpful community. Not a lot of bloodshed yet. I figure that will grow when the population grows!!!
Snow
January 25, 2019 at 12:50 am
Nice game, friendly and helpful players. Good friendly community. Worth a try :)
Connor Peverley
January 22, 2019 at 12:15 am
Come to Ultimate Assassins! Once you get there you won't want to leave...
Makaveli
January 18, 2019 at 07:52 pm
Great game, great staff, great players....glad I found this game...!!!!
GraveV3
January 05, 2019 at 04:01 am
Amazing game Great Active Staff!! New players hit me up GraveV3
Ill.help you anyway i can
Flamingo
January 04, 2019 at 05:21 pm
Good game, has a nice mobile layout that you can switch to, makes everything a lot easier.
Jameyson
January 04, 2019 at 08:39 am
Great game with a laid back atmosphere. I really enjoy the community spirit and participation. Lots of community events to keep things interesting.
Jon
January 03, 2019 at 03:39 pm
Very good game its only let down is the owner advertising it on other games, the game is good enough to get its own players without it,advertising it on other similar games makes it look cheap and desperate.