Utopia
Utopia is a free text-based browser strategy game. Don't need any downloads. Try to advance your power over other players. Use armies and the best equipment to reach your goal. Fight against your enemies and use the best strategy to defend yourself. You should also remember that teamwork is really important in this game. It's much easier to fight with a good team.





(116 votes, average: 4.47 out of 5)
Rate it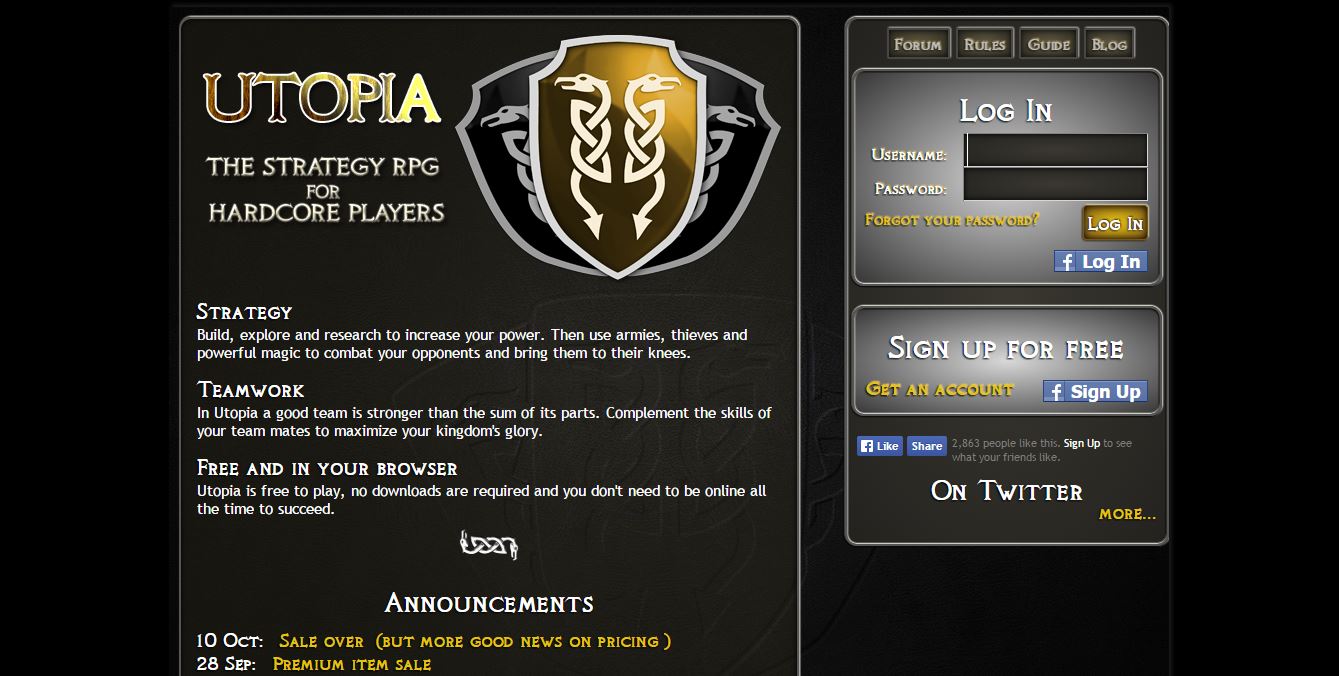 32

comments on

"Utopia"
Rich DeLuca
September 12, 2020 at 10:55 pm
been playing since 1998 awesome game
Joe
July 28, 2019 at 10:14 pm
i miss this game!!! feels nostalgic!!
HoneyBadger
April 12, 2018 at 06:16 pm
Have known about this game for about 12 years. Awesome game, still love it even after so many years. Finally we have new owners who are dedicated and making an effort to improve the game and increase player base again to its former glory. They will succeed for sure! Always good to have new players on board so jump in and bring a friend.

Although when joining be sure to check out recruitment threads in the forum and talk with some monarchs to find a good place to learn the game and then you can pwn! I will see you all in the battlefields!
abu
April 07, 2016 at 04:15 pm
It's a great game. Highly recommended! Main piece of advice I can give is visit IRC at irc.utonet.org #recruiting and #tactics #strategy to talk to some people and get tips. Also the forums. The game does take a bit of getting used to but it is a LOT easier with people explaining/helping out. Give it a go :D
abu
April 07, 2016 at 04:17 pm
Forgot one of the main draws to the game! It resets every 12 weeks or so. This means that everyone is put back on an even footing, you get to try out new races/personalities and can try for different things! Never the same game twice.
Golgogin
January 18, 2016 at 01:55 am
I love playing this game and team killing everyone on my team and posting it on youtube.
Nawinzon
December 18, 2015 at 07:06 am
I played this game 10 years ago . I want to play again but on my smartphone . Does it have utopia angel and utopia pimp that can be use on android phone ? I really miss this game so much ...
Sickey
June 23, 2016 at 02:29 am
Check out mythea, basically has Angel built in to it so it's really easy to play on your phone.
abu
April 07, 2016 at 04:16 pm
Hi! You can easily play on your phone, there is no angel for your phone, but there is an app! Also if you use munks tools it has all the utility of angel and then some extra features. I'd definitely say to pop by again :)
Nawinzon
April 08, 2016 at 10:41 am
thank you so much for your reply abu i greatly appreciate it ... Im thinking of checking the munks tools that you said by the way is it already built in the app of Utopia for android ?
Paul
August 20, 2015 at 01:21 am
Easy to play on your phone! I've been playing for about 15 years, almost since it first started. Great game today. If you haven't checked it out, your missing out. Follow the "visit utopia website" link, click on forums, and look for the "recruiting" thread to get a good start. You can find a kingdom that will teach you to play. It's all text and all numbers. No exciting graphics it's a game from the 1990's. On the up side, Very low on data usage.
Hurlin
July 29, 2015 at 03:00 pm
This is the original text based strategy game come find out why so many people who have commented here say "been playing ten years" ........
Niko
May 24, 2015 at 12:19 am
A small, but encouraging and entirely friendly community. Utopia has been a major part of my social life for over 10 years and has introduced me to dear friends from all over the world.
Overdosed
December 21, 2014 at 09:10 pm
Perhaps the best strategy game out there. At least if you are looking for the raw strategy element. Though the game is built around teams, it's your own choice whether to follow that predicament. It is highly advised that you work with your team though, at first anyway.

Choose from 8 races and combo them with 8 personalities to create different strengths and weaknesses for your province.
Then shove 20-25 of these into a team with provinces specializing in attacking thieving magic or a combination and you're beginning to see the many possibilities.

The game is high stakes, it does not cuddle you like most of the games this day and age, make a significant wrong move and you may come to pay for it, significantly.
It might be frustrating at first, but that's exactly what keeps the game exciting the second age and the one after and the next for over a decade.

An important thing is to find a Mid tier and above KD (team) as you join, fortunately there are always some of these looking for players. Just post in the in game forums under recruitment and you will likely find a match.
Markers
December 17, 2014 at 12:58 am
absolutely wonderful game! You build friendship, war amazing people and learn to improve your own kingdoms. I have been playing for over 10 years and it is fun to login and talk to my kingdom mates everyday
BEAR
December 17, 2014 at 12:25 am
It's a text based game. Simple as that, simple to learn if you give it a chance, impossible to master. The rng aspect of the game isn't backbreaking, but very fair. You'll never fail by any fault other then your own or a brilliant move by the opponent. That being said, this game is all about your kingdom. As most everyone has said, that will make or break your experience. I honestly think if new players did not have the option of randomly being placed, the retention rates would be significantly higher.
AmericanBadass
December 16, 2014 at 08:14 pm
Been playing on/off since 1998 and keep coming back. Highly addictive and competitive but has a steep learning curve but well worth it for all the highs/lows it provides. With 12 week rounds, make one mistake at 3am during a war and you can lose the war (and come on... who ISN'T going to make a mistake at 3am - note this is for the hard core gamers and not a requirement to actually play!) The only online game I've played whereby you actually WORK as a team! Live together, die alone!
Nadezjda
December 16, 2014 at 03:05 am
Awesome browser-based strategygame that offers a ton of flexibility for you as a user. You decide your own activity level, and interaction with other people. You serve as the leader of a province, which all is a part of a 25-province kingdom. You need to find the right build and strategy for your playstyle. As the age goes by, you go to war with other kingdoms and use your thieves, mages and military to cause damage and havoc. Coordination, mathematics and teamplay is essential to succeed. I just returned after not playing for 8 years, and I simply love it. It makes me use my brain in a good fashion, create lasting bonds with other players and tons of fun testing strategies for success.
Dumnorix
December 15, 2014 at 01:26 pm
I played this games for many years, on-off. It has a great playerbase that is willing the help out motivated new people.
Nightmare
December 14, 2014 at 06:34 pm
Lots of praise, so you won't need to hear that from me... If you find a good band of people to play with, it's fun and things change every few months so you can test new strategies.

Some criticisms to temper the high ratings:
1. Game's but a shadow of its former self - maybe ~3k actual players. A lot of players stick around because of the friendships and the nostalgia.
2. The developers are not too invested in this game, so don't expect it to change much
3. The learning curve is a bit steep (though rewarding), and you may find yourself lost and frustrated when you start out. As soon as you start playing, find a good mentor/kingdom by using the recruitment tab, recruitment forum, or use IRC. Find a good match for your activity (this game can either take up 20 minutes per day or 4+ hours depending on how competitive you want to be)
4. This game almost certainly requires the use of 3rd-party communication tools (such as IRC, Whatsapp, Groupme, Facebook, Skype, etc.) to communicate with your kingdom and applications developed specifically for the game itself for kingdom coordination. They're not too cumbersome though, for the most part, and you can choose to do without them if you're a casual gamer and don't play in a kingdom that requires it.
Abu
December 14, 2014 at 03:36 am
Like many others, been playing this for 10+ years on and off. Can play at many different levels with many different goals, there are no pay2win features and there never will be. Game resets every 3 months so everyone starts from scratch regularly. It is a great, flexible game that makes you think and meet new people. Give it a go and pop by IRC/the forums!
me
December 13, 2014 at 09:54 pm
Playing since Age 2 in all servers. Now there is only one, but i am still here.
Fire
December 13, 2014 at 03:01 am
Been playing for well over 10 years, very fun game and when and if i do stop always find my way back. You meet lots of people and have a lot of fun.
legality
December 12, 2014 at 09:23 pm
Best strategy game I have ever played! If you love hardcore strategy and a team environment where you can grow friendships with individuals all over the world, then this is the game for you! Myself and many others have played this game for 10+ years for a reason- come find out why!
happyjoe
December 12, 2014 at 04:48 am
Been playing this game for many years. Getting active with the right group of 20-25 players in a KD, and you'll learn pretty quickly. The game is really about coming together as a team and going to battle working as a group!
Universe
December 11, 2014 at 07:53 pm
Been playing this game on and off since 1999, it has a habit of dragging you back once you quit. Game is a bit complex, but there is a pretty comprehensive wiki for the game and the community is helpful to all who have questions (Swing by #strategy or #tactics on irc.utonet.org IRC server if you have them). There are many ways to play and many different "end-games" to strive for. A new round starts every ~3 months or so, but players can join in at any time. It may be hard to find a kingdom to play with at first, but there are plenty out there with different personalities, it's unlikely that you won't find one that fits you. The community aspect is great and, though text-based and without all those fancy graphics, the game is challenging and rewarding and its worth taking the time to learn and get involved with the community!
Nox
December 11, 2014 at 07:36 pm
Been playing this game since a few years. It's quite a challenge to learn it, but you start in a team and it's easy to get other players to teach you. Once you understand the game, it's a lot of fun and stays very challenging, even for the topplayers, since the strategy options all teams have available are endless. Also, you get to sociallize with people all over the world and you can make actual friends you'll be talking to for years to come. Compare the game to playing chess, but every player plays one piece and everything moves at the same time. Gave it 5 stars, because it's just a superfun strategy game.
leshrak
December 11, 2014 at 02:13 pm
I've been playing Utopia on and off since 1998, and while many people have come and gone, the game is still going strong. There is a fairly steep learning curve and you need to log on daily, but if you get active and involved with your kingdom-mates, the game is really fun and very rewarding. There is no cost to play and there are many people around that have been playing the game for north of a decade that are very willing to help new players out - all you need to do is ask.
Thunder
December 11, 2014 at 12:59 am
From teenagers to people in their 50 and older,Its a game that reaches across age groups,Been playing for almost 14 years now and still as fun as when i started. Time spent learning the game is well worth it .
Neanderthal
December 10, 2014 at 10:56 pm
It is an excellent strategy game. Player vs player and team vs team. It takes your friends that become like family from all over the world to excel. I have been playing on and off since 1998 and always find my way back. (More on then off it seems)
CannaWhoopazz
December 10, 2014 at 10:24 pm
There's a reason this game has been going non stop for over 15 years. There's also a reason I've been playing it for 10 of those years. It's because of the people and the strategy it takes to succeed! There is no tutorial to learn how to play Utopia. You have to learn from the members of your team. When played with a strong team, Utopia is the funnest game I've ever played. I set alarms to log in at odd times of the day to make an attack, or help the kingdom out with getting intel on the enemy. When war comes around, there's nothing else like it! If you're serious about playing the game, join irc and find a strong kingdom to play in. There's always a few kingdoms recruiting in #recruiting or you can join some of the public channels for top kingdoms!

See you on the battle field,
-CW
Benjamin
December 10, 2014 at 10:09 pm
I've played this game on and off for since 1999 and it's very fun and addictive!

Give it a go, get involved
Mike
December 10, 2014 at 09:47 pm
You Build, You Fight, You Cry, You Talk, You Love, You Hate, You just keep playing.
none
December 10, 2014 at 09:13 pm
Been there for 10 years. Might be only a text based game but it's the best because you can feel that what you do is important and somehow as some impact in real life. I had put more time in this then any other games. Why ? for the people you meet all around the world, make friends and bonds and the teamwork is incredible. If you wanna put time in it and join an active kingdom well Oh yes you can wake up at night at odd hours but have you ever get that sort of thrill ? Come by irc.utonet.org - #recruiting use mirc, mibbit, hexchat.... You who are reading our comments.. what are you waiting for ?
goodz
December 10, 2014 at 08:37 pm
Been over a decade. Game is from 100k players to 5k. Its fun but a steep learning curve. Jump into it get onto irc.utonet.org and find a KD that isn't a waste of time in #recruiting.
Anri
December 10, 2014 at 08:27 pm
Played the game for about 15 years or so, addictive! 5 stars rating