Vale
Vale RPG is a free fantasy-based browser game. Use arrows for moving, press C letter to talk to someone and X for fighting. You can train your stats like strength, guard, HP and MP. Keep an eye on your items in shop but you must buy a shop first. Send an application to join a clan, attack pets or work enough to reach rankings. Hall of Fame includes players who have highest level, highest mana, highest losses etc. Choose your class and upgrade him.





(237 votes, average: 4.8 out of 5)
Rate it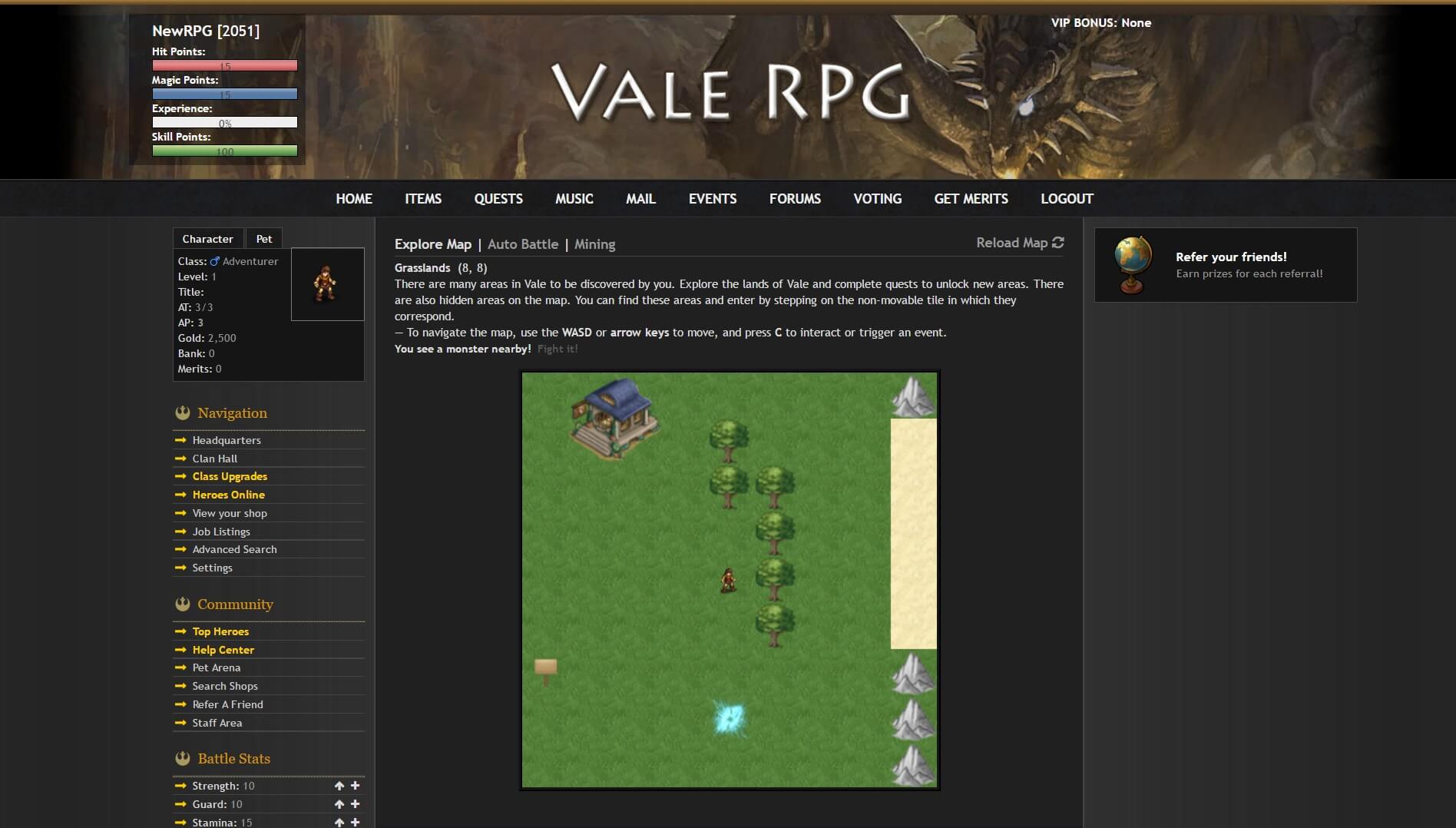 72

comments on

"Vale"
Briganti
October 13, 2023 at 02:15 pm
Interesting game. You have to have patience. I already play it for years. You have to build up your economy. Before fighting monsters. You don't have to PVP, I never did.
Do farming and fishing first to get food for energy.
Go mining for gems you can sell for gold.
You need gems to upgrade some tools.
Fight monsters to get gold.
ClownMutter
September 18, 2023 at 11:54 am
monoton and hard to get money to buy equipment and other item.
Briganti
October 13, 2023 at 02:17 pm
Good idea to join a clan :)
Aurora
March 04, 2022 at 06:50 am
I was looking for something to occupy my winter months, and found this freakishly addictive game. It is a grind your heart away type of game with combat as the main skill, and farming, mining, fishing, cooking side skills. I enjoy the hell out of this game and the members. If you want a game that has no frills and flash, has PVP option, has a no nonsense chat with friendly and helpful people, this is a game you need to try.
Myke
February 20, 2021 at 07:33 pm
Very good fantasy RPG.
aragon
November 23, 2021 at 10:00 pm
really like this game
aragon
November 14, 2021 at 05:38 am
started playing 9 days ago, cannot stop playing, so many things one can do.
Enjix
December 25, 2020 at 09:41 am
Very nice relaxing game
ELIXA scarlet
February 07, 2021 at 01:42 am
new to it but its a really nice game so happy to support it
RyanR
August 05, 2020 at 05:22 pm
Nice game. You will have to find out how things work. Read the manual.
Some register, and never come again. That is a pity.
StoneDeCroze
July 26, 2020 at 06:02 pm
Very laid back game, it whiles away the hours, you can do other thins while you play,, nice community
Gran
April 05, 2020 at 02:04 pm
An awesome game!! simple & elegant design, a perfect balance of idle and active gameplay, constantly updating, friendly community, addictive as hell!
Highly recommended as this just might be the gem you're after!
WhiteWolf
January 19, 2020 at 11:51 am
whatevre
gy
January 11, 2020 at 06:22 pm
Awesome game
Gamer
December 13, 2019 at 06:55 am
Awesome game, try out you wont regret it!
OrangeZest
December 03, 2019 at 05:06 am
great game with great content
Alper
December 02, 2019 at 01:02 am
Good.
Torax
December 01, 2019 at 05:23 pm
I've been playing for a few days now and it's nice. I predict this game will have a good long run, unlike most others that just shut down within a year or so. This one has been around for a long time, shown improvement, and will probably remain a thing for a while.
Torax
November 27, 2019 at 05:17 am
Just started playing. Amazing UI. Decent layout. Interesting features.
Atticus
November 01, 2019 at 12:02 am
This is a great game!
Sherie D
October 16, 2019 at 03:51 am
The best game join up.
Bob
June 01, 2019 at 07:38 pm
Awesome game!! simple & elegant design, a *perfect balance* of idle and active game-play, constantly updating, friendly community, addictive as hell!

Highly recommended. This might just be the gem you're after!
Ebenezer
May 28, 2019 at 08:16 pm
I'm too new to properly judge but its fun so far.
Equezly
May 24, 2019 at 12:33 pm
Its a new concept but not bad for me
Gui
April 25, 2019 at 01:10 am
Awesome Game
Naru
April 21, 2019 at 09:19 pm
i like it. you should too.
Dakota
April 15, 2019 at 03:26 am
Love
Philacles
April 08, 2019 at 04:55 am
Very nice and retro rpg. Very challenging at times.
Shawn
March 22, 2019 at 01:28 pm
Cool game
Scrooge
March 19, 2019 at 02:33 pm
it was alright... more effort could be placed to improve the existing gameplay
Rygar
March 11, 2019 at 02:23 am
Very fun game and community
jester
March 04, 2019 at 12:27 pm
very nice commnity
john
January 15, 2019 at 10:32 pm
cool
Granov
December 18, 2018 at 09:25 pm
awesome game
etain
December 15, 2018 at 05:25 am
i am trying it out
Valerie
December 13, 2018 at 09:28 am
I luv it sooo much!
Cam
December 08, 2018 at 10:16 am
great game
Mikey
December 07, 2018 at 06:47 am
Super fun game
Scarlet
December 01, 2018 at 03:58 am
Very fun game with tremendous potential, needs (and keeps) growing, updating and evolving.
Active and helpful Mods, friendly community.

TRY IT!!
Valerie
November 20, 2018 at 01:42 am
It is a very nice game omega did a lit work so cool omega i give this game a ten out of ten
Janet
November 10, 2018 at 05:13 am
The best Rpg ever
Alex
November 07, 2018 at 09:09 am
When I found Vale, I couldn't believe my eyes. This is truly the best game I've played in a long time. It's dipped in popularity but unrightfully so; it is a gem of its genre and deserves to be played more. Thanks Vale creators!
Janet
November 04, 2018 at 08:45 am
I love this game it is very fun.
Marlo
October 18, 2018 at 07:17 pm
decent game
SSLAB
October 12, 2018 at 05:56 pm
This game is very well made. The staff is attentive and the players are helpful. You are encouraged to play it feels like meeting with friends you already know.
Mad Doiron
September 22, 2018 at 06:44 pm
Really cool game
Urwis
September 15, 2018 at 01:44 am
Nice game keep it up!
Pumpum
September 10, 2018 at 07:04 am
Its a good game evwn tho sowsnt have great graphica or is a bit confusing its a good fun gane
Phil
September 06, 2018 at 08:37 pm
Nice game, allows you to play without devoting a ton of time if you are looking for a more idle play.
Budi
August 26, 2018 at 12:07 am
nice game....similiar to Samurai of Legends but much better in graphics!
ben heywood
August 19, 2018 at 02:31 am
grate game
RuccaBright
August 16, 2018 at 05:32 am
Laid back nature of this game makes it AWESOME!!!
Apothas
July 26, 2018 at 07:48 pm
Awesome, and addictive. If you like RPGs, PBBs, or the Final Fantasy franchise, check it out!
Bookeater
June 29, 2018 at 05:06 am
Funny game with intuitive mechanics. Pick a class, battle mobs, gain EXP and LVLs to increase your stats so you can fight harder mobs, Vale also has some other systems like fishing, mining and farming ! A whole map, creatures and equipments/weapons to discover by rising levels. A supporting staff that keep the game constatly updated. All in your browser and available at smartphones. Totally suggested.
Mahrl
May 31, 2018 at 03:40 am
Nice game to play while watching netflix :) regular rpg with leveling,stats allocation class upgrade and pets and pvp arena,mining,fishing and cultivating crops,you can't move with arrows you move by clicking on different zones,progression is done with a timer,simple and fun overall to pass some time.
Anastazia
May 06, 2018 at 10:32 am
Sehr schönes Spiel das man praktisch überall spielen kann. Die Comunity ist nett, der Entwickler hilft und geht auf die Spieler ein. Kein Spiel vor den man stundenlang sitzen kann, aber für Nebenbei absolut tauglich. Mir gefällt es sehr gut, andere mögen da andere Ansprüche haben.
DysturbedOne
April 24, 2018 at 05:02 am
Fun game, simple and easy to play. Good to burn some time.
Dean
March 31, 2018 at 06:21 pm
Interseting
RoyFireE
March 14, 2018 at 06:14 pm
Only just started and after I ran outta energy I got a little ragey. My recommendation is to definitely make sure you look at the help link before you do too much spending. Otherwise its a fairly fun game once you figure everything out and give it its due chance.
Vanna
March 02, 2018 at 05:28 pm
old school rpg that works on any browser and os.. im playing it in a smart tv browser, almost all games wont work on it, but this game works on low level specs.. and it doesnt require much of my time
Valiant
February 28, 2018 at 06:38 pm
simple rpg and doesnt require most of your time
test
February 08, 2018 at 04:29 pm
it's ok so far but the faq/how to play is incredibly lacking... has potential though..
MsSteve
January 09, 2018 at 06:06 pm
Great game, very good comunity.
Pikachu
January 02, 2018 at 01:36 pm
Great game!
Valsen
January 01, 2018 at 03:32 pm
It's looking nice.
Sweettea
December 06, 2017 at 01:35 pm
I really like it so far, friendly community and interesting game mechanics. Awesome! Needs a better tutorial though, lol.
Vivessa
September 12, 2017 at 03:11 pm
So far the game is okay, it's not bad really. It has this oldschool rpg feel to it and even has some oldschool rpg music to go along with it as well. Click play music down at the bottom and enjoy!
Zhunxi
June 10, 2017 at 04:32 am
very nice game, many updates awesome Dev
3spooky5u
April 20, 2017 at 04:43 pm
Fun game hopefully people will see its greatness and it will grow, a great community
aragon
November 15, 2021 at 01:40 am
found out about this game 9 days ago, can't stop playing it.
Fraja
February 04, 2017 at 10:41 pm
Tolles spiel im Retro Style mit wirklich interessierten Entwicklern und Mods die ihr möglichstes geben zu helfen und zu unterstützen. Ich hoffe auf viele weitere Spieler die dazu kommen werden.
Astral
December 15, 2016 at 02:07 pm
Fun and interesting game, with active and helpfull staff :) Regular updates, 5/5
Zim
December 09, 2016 at 01:32 pm
Cool, hoping it develops more.
Duke
November 23, 2016 at 07:29 pm
Very good game, similar to final fantasy!
Meghan
November 22, 2016 at 11:42 am
Fun game. Great community :)
Paige
September 20, 2015 at 06:30 pm
Very fun game if you can get over the graphics and different mechanics.
Björn
September 10, 2015 at 05:30 pm
A interesting game with very active mods gladly listening to suggestions. Will turn out to be a quite nice game I think