Vampire Bloodlust (OFFLINE)
Vampire Bloodlust is a free vampire themed browser game. The main aim is to become a legendary vampire and build your stats. Take courses to get education, get a job, travel to other cities or buy items from the Item Market. Simple fighting system, once you've damaged yourself you end up in hospital but you can also help other players to get out of hospital by paying a fee. Bribe bodyguards to let other players out of jail or train your Agility, Labour, Guard and Strength while you are behind the bars. If you sign up, make sure you verify your e-mail, because then you are given various awards.





(8 votes, average: 3.5 out of 5)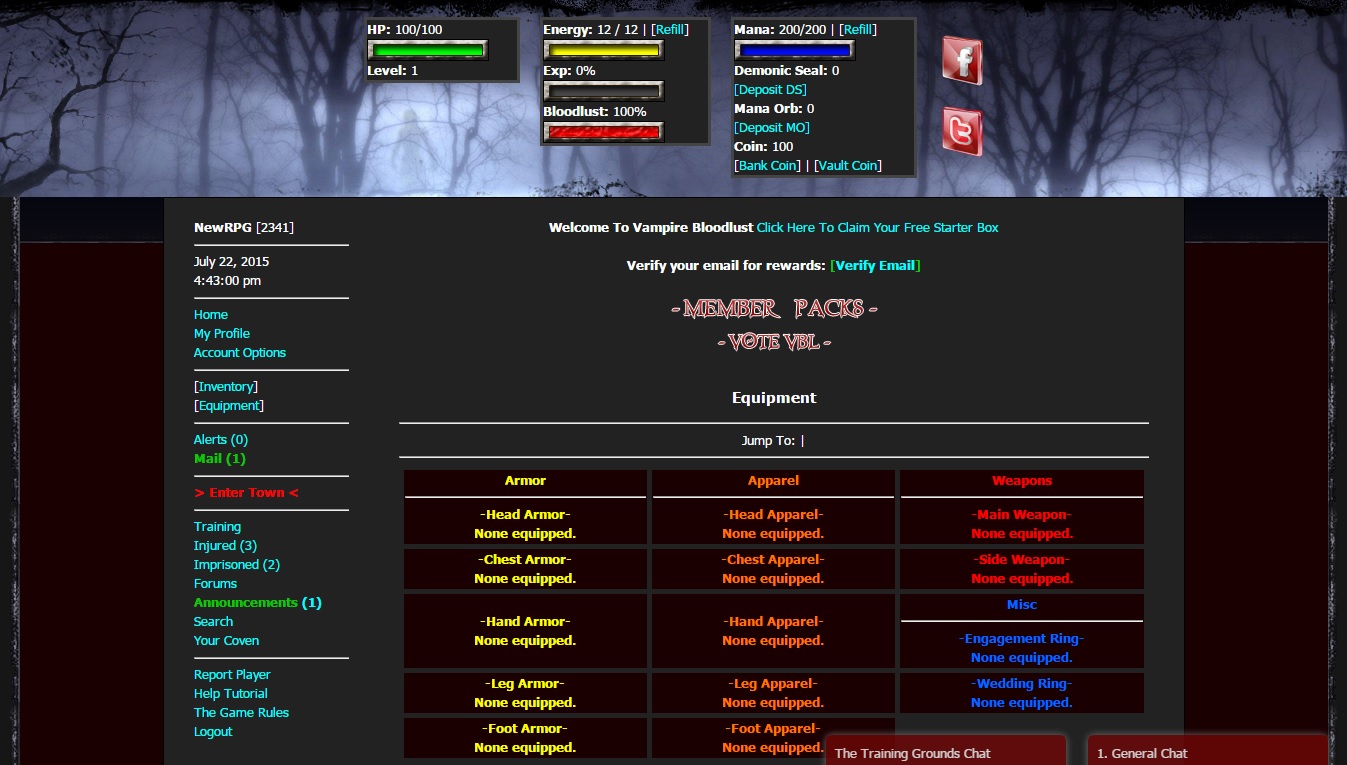 5

comments on

"Vampire Bloodlust"
Tethyr
September 17, 2016 at 08:27 pm
That's a typical Immortal Night/Day vocabulary.
Fedor_A_Million_Ankles
November 22, 2015 at 09:16 am
This game is 100 times shittier than Immortal Night/Day, and that's saying a lot, because IN and ID aren't all that great IMO.
Gilgamesh [2264]
November 22, 2015 at 03:36 am
I'm not an avid gamer like most. I've spent time playing certain games over the last few years trying to find the right mix of gameplay and community which would make me feel comfortable. From my time i must say that Vampire Bloodlines offers a unique experience in my opinion. The community has welcomed me in as though i was a seasoned player from day 1. Questions were answered, doors open which allowed me to see that this was a game that i not only wanted, but needed to be apart of. My time is valuable and so far none has been wasted. Everyone has their own needs when wanting to find a quality game. If you desire to partake in a great game that has all that you would need. Don't take my word for it, sign up and experience Vampire Bloodlines first hand. Look forward to seeing you.
Tethyr
November 21, 2015 at 10:58 pm
As someone who had a taste of more than a few text based RPG's, I recognised Vampire Bloodlust as one that deserves a full portion of my leisure time.
Biggest advantage this game has in comparison to many others is NOT having one hour resets, meaning the quality of a good player isn't based on number of clicks or will he be able to log in at the start of an hour or not. Personally, I find that part of Vampire Bloodlust as one of the best.
Secondly, this site has a very communicative community, which will provide you with information, help and guidance from the day one.
So, regardless of what kind of player you are - aiming for a good score and development or just looking for a good community to settle in with, you'll find that Vampire Bloodlust can offer you what you're searching for.
Aequitas Nox [371]
November 21, 2015 at 01:25 am
This game is truly the most amazing vampire role playing that I have ever seen, in my opinion this game far surpasses any other vampire role playing game such as Immortal Night or Immortal Day. When you first join Vampire Bloodlust; you are joining a family. With staff members online 24/7 to answer any of your questions, or deal with any issues that you have, with seasonal events that everyone can participate in, covens, chats, pillaging, lich challenges, lotteries, rewards for each referral! Want to know more? JOIN TODAY!!

Vampire Bloodlust.
Sign up now before you get left behind in the blood.