Velrania
Velrania is a late text-based RPG. Upper district in the city offers you a training area, jail, AP shop, enchanter and a rankings listing. Trading part of the city offers you a marketplace, equipment center, gem shop, ancient market and a bank. City is full of other different features, discover them all to fully take advantage of the game. Chat system available for help and suggestions. Experience the great game where users are limited by energy and health.





(7 votes, average: 4.29 out of 5)
Rate it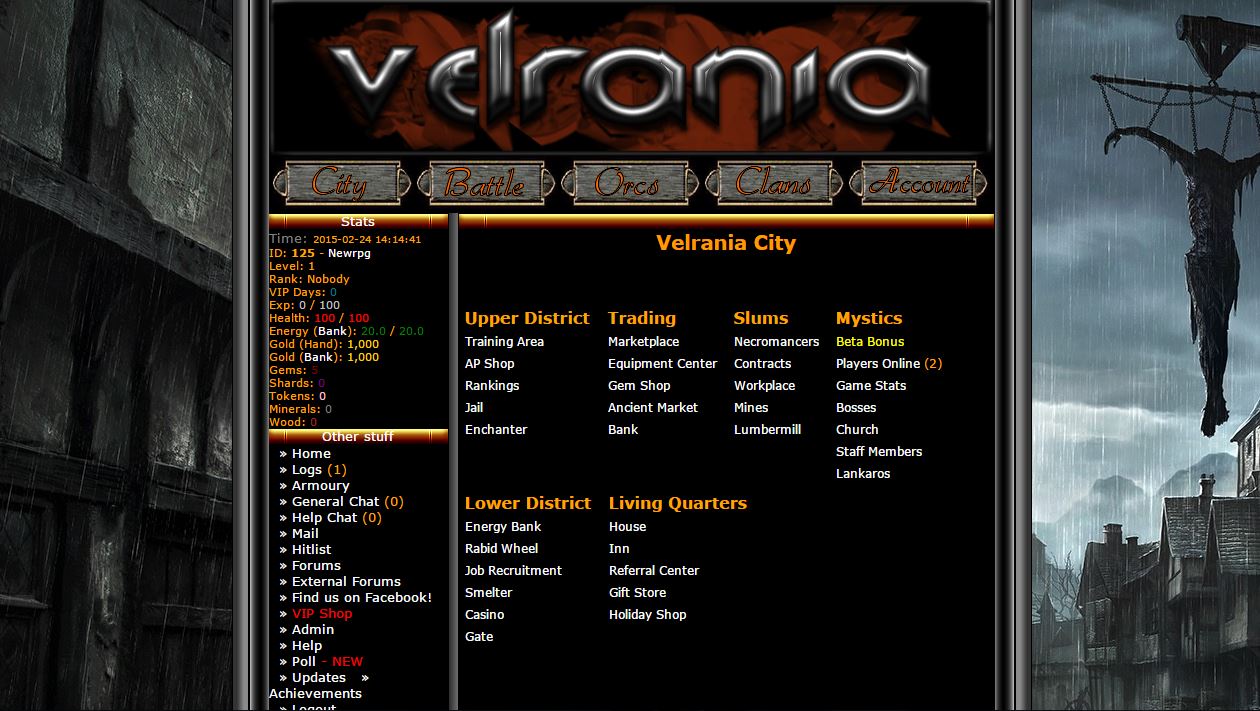 5

comments on

"Velrania"
Terrai
May 09, 2017 at 11:03 am
I tried to sign up today and was unable to (a bunch of error messages when I entered my registration info).
Baela Mar
February 24, 2015 at 05:47 pm
This is a wonderful game with a great community, even at such a young age. The updates always bring something new and exciting. The owner is also really attentive to his players; responding quickly to messages and often implementing their suggestions into the game. All of this is while the game is in beta, so I can only imagine how awesome it will be when it goes live. :)
Vaudevillian
February 24, 2015 at 03:18 pm
I love playing this game whislt having a good cuppa!
Kenazz
February 24, 2015 at 02:40 pm
Owner of Velrania here :)

I put so much into most of the features that you would be surprised it is a text based game. For example, my latest feature "Lankaros" has a Pokemon-style creature-capture system with the functionality to search for and capture creatures of different names, stats and rarities. This is just one of handfuls of features available to my players :)

Game is halfway through the beta, every user suggestion is considered and most of the time they're added. Balancing and RL money prices are done via user polls. Pay2win is avoided at all costs. Yes you are limited by your energy but there's lots of things to do without energy and even then you can gain a lot of energy :)

If you're looking for a good community with a developer/owner who puts 100% into the players then you've come to the right place!
Emma-Jane
February 24, 2015 at 02:37 pm
Great game to play! Not a typical pay2win Game either! :)