Victory Hockey League
Victory Hockey League, also known as VHL is a forum-based hockey sim. Sign up and start creating your player. Manage your player's career, league participation and other management options. You can earn weekly points to evolve your player. You can create posts about your player, even videos or graphs. It's all up to you how much time and effort you're willing to invest. Big part of the game is community, which has grown quite large over the past 10 years.





(49 votes, average: 4.69 out of 5)
Rate it
Victory Hockey League images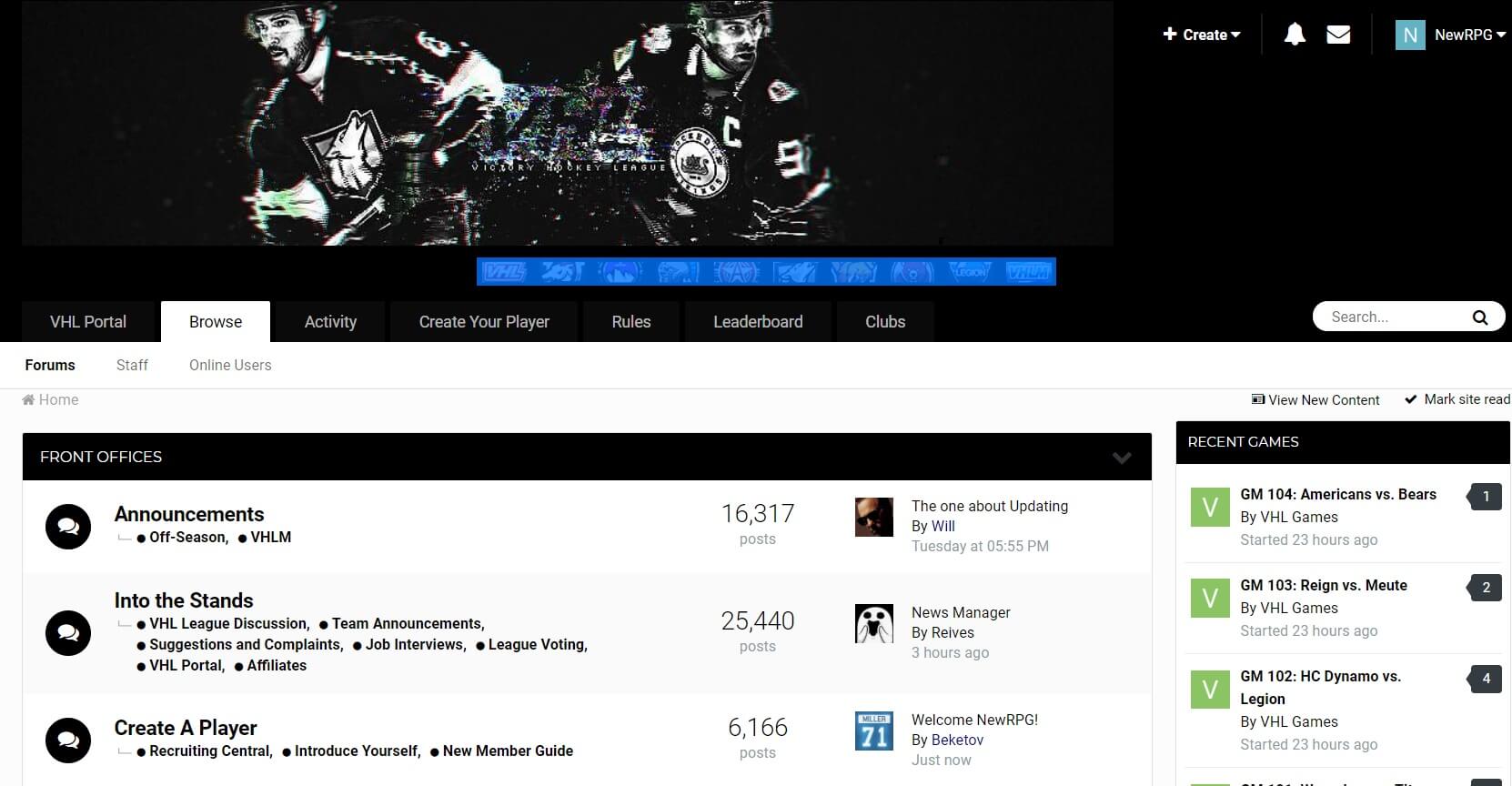 13

comments on

"Victory Hockey League"
Ledge and Dairy
February 19, 2021 at 02:57 am
I'm a huge fan of the NHL, and hockey in general, and this is a fantastic way to experience it yourself. You get to create a simulation player and go through their career. But the best part is the community. I've had a great experience so far.
NotSoGood88
February 17, 2021 at 11:46 pm
Bro, I am mother fucking addicted. It's a lit game, with lit people
Harry
February 17, 2021 at 08:47 pm
Great league, everyone is amazing!
Ricer13
February 17, 2021 at 08:05 pm
This league is exceptional. A wonderful community that creates a fun place to play simulated hockey. 10/10
Ryuu
July 05, 2018 at 12:53 am
Awesome game, it can be hard at first but everyone is so supportive!
MrMaxx44
July 04, 2018 at 03:06 am
As a newcomer in the league, I can say that this league is very well run and is easy to get into. It is very captivating developing and managing your player's career.
DollarAndADream
July 04, 2018 at 01:58 am
Yo, this shit is sick, bruh. League is off the chain. I'll never make the NHL in my life, but in the VHL I'm a Hall of Famer.


Seriously though, it's a great role-playing hockey sim. Real people GMing, real people creating the players, etc etc. It's really fun. Get to it!
Jacob
July 03, 2018 at 10:23 pm
Honestly the best way to live out being a hockey player without actually playing hockey it's gr8
Luke
July 03, 2018 at 07:30 pm
This is one of the best games I have played! I plan to be a long term active member for many seasons and years to come.
Beaviss
July 03, 2018 at 07:22 pm
Been playing cosistantly for over a year now. If your a fan of hockey or even just a fan of be a pro sim games it's an absolute blast. Watching your player grow is tons of fun I highly recommend joining us!
Mikey
July 03, 2018 at 04:32 am
The website/forum is confusing and nowhere does it explain how the game is simmed or anything about the simulator engine used. Everything is scattered about. It took me a few minutes just to find some generic rules. In essence, I get you create a hockey player, after that, no clue.
David Kiaskov
July 02, 2018 at 09:43 pm
Takes a little while to figure out how everything works but there's great support and friendly members to help you out in getting started.
If you enjoy task oriented text based games this one is for you!
Joey
July 02, 2018 at 09:38 am
VHL is one of the best/active forum based games I have played on the internet!