vPopulus (OFFLINE)
vPopulus is a browser game where the main focus is on defending your country. If you sign up, then select your country and train yourself on regular basis to help your country in a war. You must get a job, increase your level, make estate contracts, create armies and participate in various fights. Buy your own house or stay in hotels for a while. Increase your experience to climb the rankings. The final step is becoming a president.





(34 votes, average: 3.65 out of 5)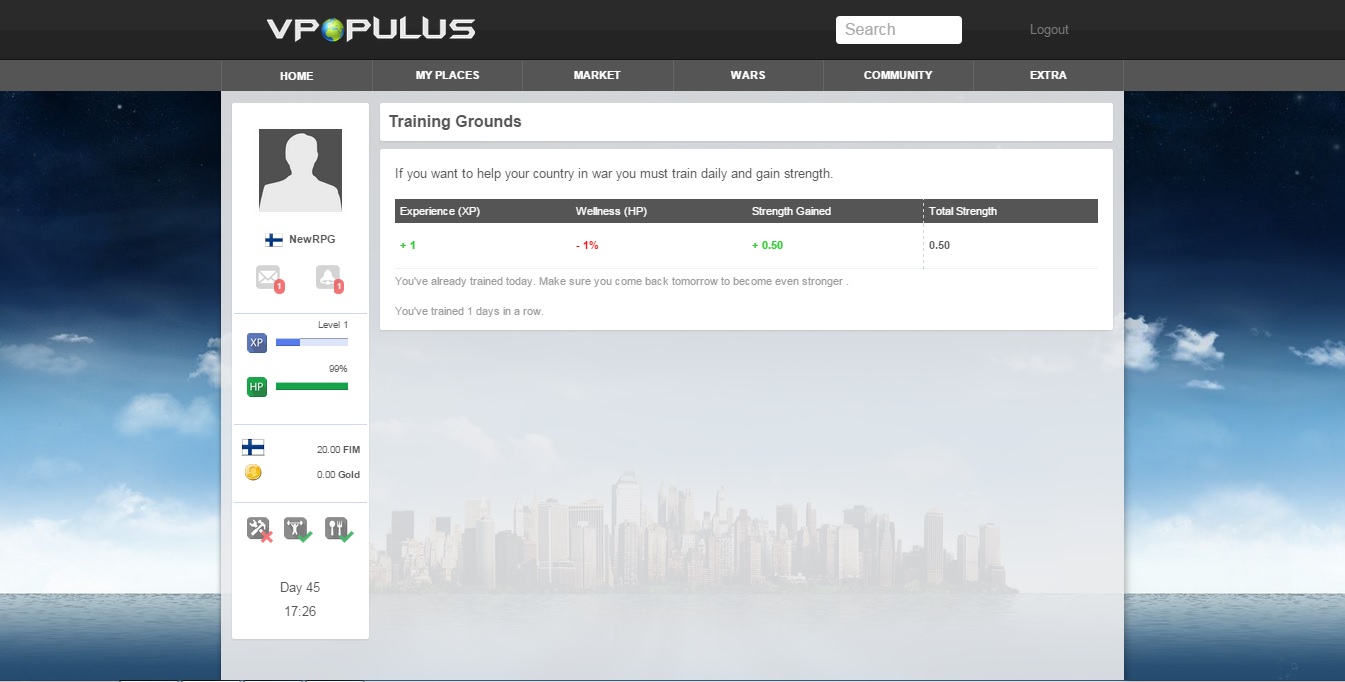 6

comments on

"vPopulus"
samuel
October 22, 2016 at 09:54 pm
how do i play the game
NewRPG
October 23, 2016 at 01:17 pm
The game status has been changed to "Under development" so you have to wait a little bit, hopefully the game will be up and running in no time :)
Sioraf as Na Cillini
June 27, 2016 at 12:51 am
Don't select Germany. There aren't any jobs there and to move you'd need gold.
Kei
January 12, 2016 at 05:46 am
This is a really fun game that more people should play. The vPopulus community is very welcoming and will help you learn the game. Come check it out!
Icarusvonlubey
July 22, 2015 at 09:14 pm
I found out that can also play on mobile which means never have to miss a days work or training or battle
Caevus
July 22, 2015 at 08:51 pm
vPopulus has a close, welcoming community that will surely get you on your feet and help you out in any way you need. You've got many options to play vPopulus, such as being a politician or economic powerhouse, and the developers are committed to making the game as good as it can be.
vPopulus is more than a game, it's a community, and it's great in both regards.
Kazuto
July 22, 2015 at 07:15 pm
A really nice game! I invite you all to come play, i can help you inside! Enjoy the game \o/

Regards
Kazuto