Warring Factions
Warring Factions is a free browser-based text game that takes you into a space world. You can take a look at the empire list, make your decision and join an empire. If you're not sure which empire to join, there is some information that should help you. For example, you can see members of each empire, name, score, alignment and bonus. There's an opportunity to employ scientists or you can wait for someone to migrate to your colonies.





(50 votes, average: 4.98 out of 5)
Rate it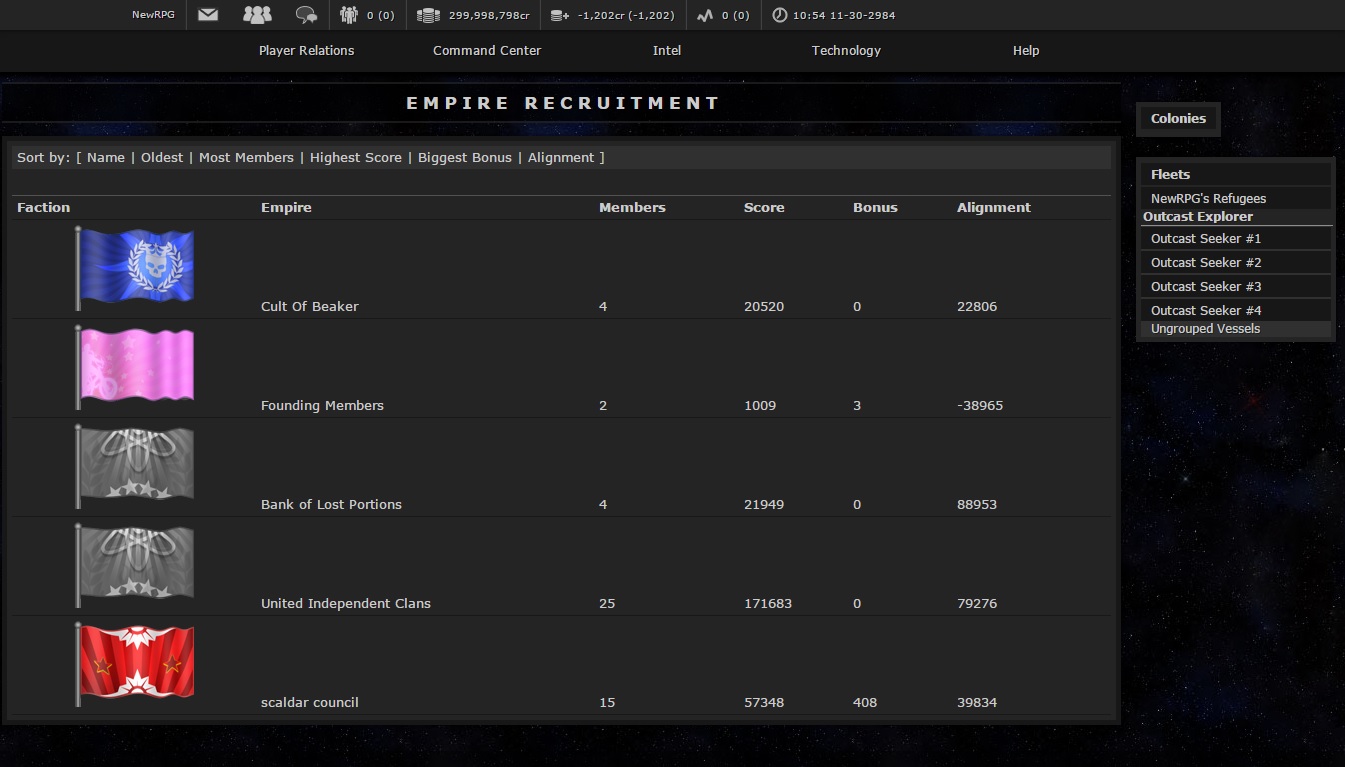 5

comments on

"Warring Factions"
duncecap
August 22, 2016 at 05:06 am
Hello! I am one of the developers of this game and I have been playing/developing it for 13 years! Things have changed a lot recently, with a massive update to the entire user interface to make it more modern and fit nicely onto any screen size. We also have an android app now that lets you get real-time notifications for in-game events.

The game is still in active development with large gameplay changing additions still being made. There's even a system view with CSS rotating planets and planet rings. Planet rings in CSS! No one appreciates how difficult this was.
Caesar Baktabian
July 23, 2022 at 01:47 am
Hi, I wish I could help you get the war facts server back up. Any progress?
Thomas
September 13, 2022 at 02:29 pm
Main server is back up, so is a new development round at test.war-facts.com. Major overhaul is in the works.
Owen Noad-Watson
March 07, 2022 at 02:32 am
Something weird has been going on with the game. My account suddenly stopped working a couple weeks into the new Lost game (after a long-standing and mostly dead game with the Reds and Blues (Scaldarians and something else) and I've been trying everything to get back into the game. I have tried logging in on pc as well as mobile (on both mobile amd desktop settings) and have tried resetting my password also multiple times. Not sure of you'll remember me but I usually rp as "The Dionyssean Remnant" then later "The Dionyssean Empire) and I evwn just tried creating a new account but no confirmation email has even reached my secondary email address. The game has been entirely inaccessible for months now and I'm concerned maybe the servers are down or maybe something happened with development that is causing issues with existing accounts and registration
deegon01
March 18, 2017 at 06:44 am
Hi, i have tried to sign up to this game and it said that an email would be sent but has not?
How do i get help with this?
I can't find any forum to contact.
duncecap
March 19, 2017 at 09:22 pm
ah, we moved servers recently and it seems there has been an email configuration problem, I'm looking into it now, try again in a few days.
MaximinusThrax
November 30, 2015 at 12:58 pm
Here is a video I made showing what we get up to in Warring Factions, please note this is not representative of actual gameplay.

https://www.youtube.com/watch?v=Njtk_OC2MA8
MaximinusThrax
October 04, 2015 at 02:27 pm
In Warring Factions you employ unique scientists, then train their existing skills by creating new blueprints. With a collection of blueprints from hulls to engines, cannons, armor and shields, you design spaceships to fight other factions from the ground up.

No two scientists, blueprints or ship designs are the same ... Everything is unique to you and your colonies, expand your influence alone or in a team and conquer the known universe of over 100,000 solar systems and one million planets with your superior technology and tactics.

Micro manage your colonies with urban, industrial, technological or military development. Choose the laws that define you and your people, set the tax rate for the poor and wealthy separately. Every action you make is calculated into the algorithm that produces your fate ... Will you take, or give?

There are veteran players with more than 12 years of experience willing to help you learn this addictive game and it's complex algorithm, that can be played piecemeal or religiously. Help make history in the most complicated game available on Earth, Warring Factions is a collection of old generals who like an armchair view of the battlefield, directing their forces with precision and patience.
TUG
October 03, 2015 at 03:24 pm
I've played this game for the better part of seven years.

This game used to have up to four thousand active players. The numbers have since gone down to a core group of around one hundred players.

A solid team of dedicated developers have teamed up to resurrect Warring Factions. A new UI and forum have been created to increase player retention and reduce unwanted complexity.

Warring Factions has a (mostly) helpful community with newbie guides written by veteran players and empires willing to take newcomers. We also have a Wiki.
Overlord
October 02, 2015 at 04:19 am
Been playing since 2003. Very addictive, and very unique. Give it a shot.