Wise Crime (OFFLINE)
While playing Wise Crime you can enjoy the real mafia life. Get your character to explore the city where you can find useful stores, estate agent, hall of fame, gambling area, and so forth. Creating a gang is pretty expensive so instead you can always join an existing gang. As a fearless criminal you can commit various crimes that contain killing, mugging, kidnapping, hacking etc. Your garage is a safe place where you can keep all your vehicles.





(37 votes, average: 4.76 out of 5)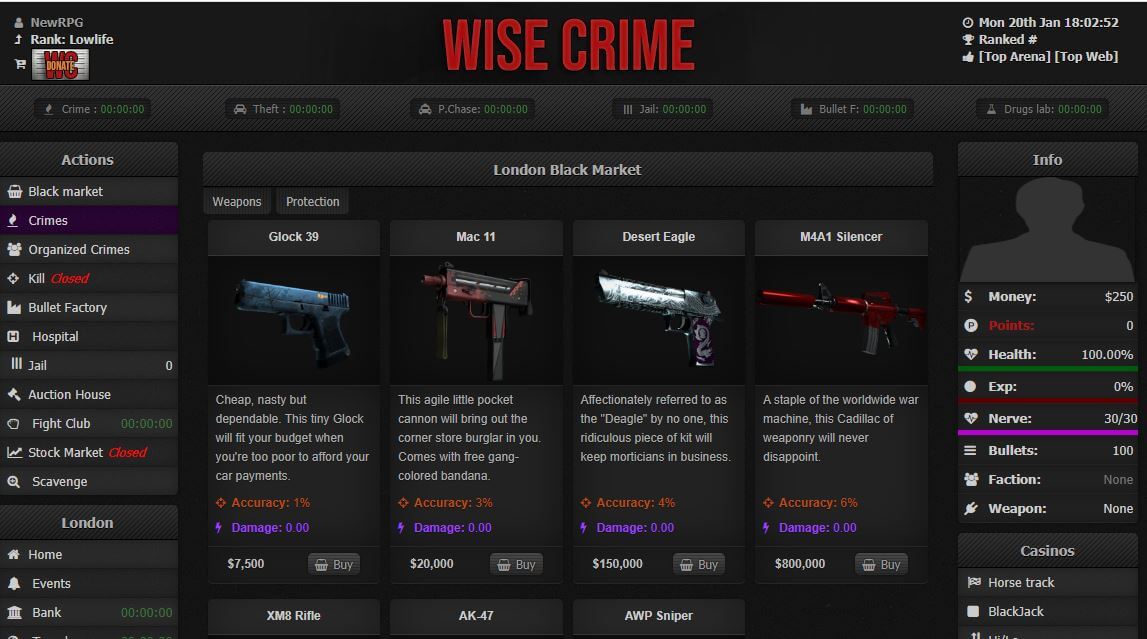 17

comments on

"Wise Crime"
Offline
December 16, 2021 at 10:12 am
This game is offline
MsGtmasta
April 02, 2020 at 10:39 pm
this game is fresh and exciting im loving it!
Gamergojr
March 20, 2020 at 12:40 am
It's great. You should try it, great details, great mechanics, and much ore
casper3016
February 27, 2020 at 01:24 pm
Good game, user friendly.
Test16
January 29, 2020 at 04:16 am
Just try it, good game.
Jacey
January 27, 2020 at 02:00 am
This is a new exciting game that provides a different spin compared to other mafia games.
Poppy
January 25, 2020 at 08:41 pm
Decent game
Nutellaforyourmom
January 25, 2020 at 04:27 am
Gr8 g8m3 m8 I r8 8 out of 8
Gaucho32
January 24, 2020 at 02:52 am
This is a good game.
I recommend.
Caelan
January 21, 2020 at 05:08 am
A new exciting game where the owner and admins really value your opinion!
Joe
January 20, 2020 at 11:43 pm
great game peeps, come check it out
Maninlove
January 20, 2020 at 10:39 pm
Great begining for the game and everyday new thing added to the game Keepgoing
Any help there mail me
Maninlove
Adri
January 20, 2020 at 10:20 pm
this game is very fun and thanks to the owner i can enjoy playing on mobile
NSA
January 20, 2020 at 10:13 pm
ty judge for giving us this awesome game back
Quil
January 20, 2020 at 10:05 pm
I use to love this game! Glad to see it back.
Anon
January 20, 2020 at 09:21 pm
The weapons looks like CS:GO skins
Judge
January 20, 2020 at 08:54 pm
As the Owner just wanted to say all users are welcome to play. I stride to keep the game updated and add new features everyday for players.