Wize Guyz (OFFLINE)
Wize Guyz is a text-based browser game set in a cruel mafia world. If your dream is to reach the top then you must train strength, speed and defense in the gym. Increasing your stats helps you to become more powerful and commit crimes more successfully. Being a gangster is all about the speed, because a "slow criminal is a bad criminal". There's a checklist section that includes all the activities where you can earn money. Smuggle, search the town, gamble or sell items.





(45 votes, average: 3.98 out of 5)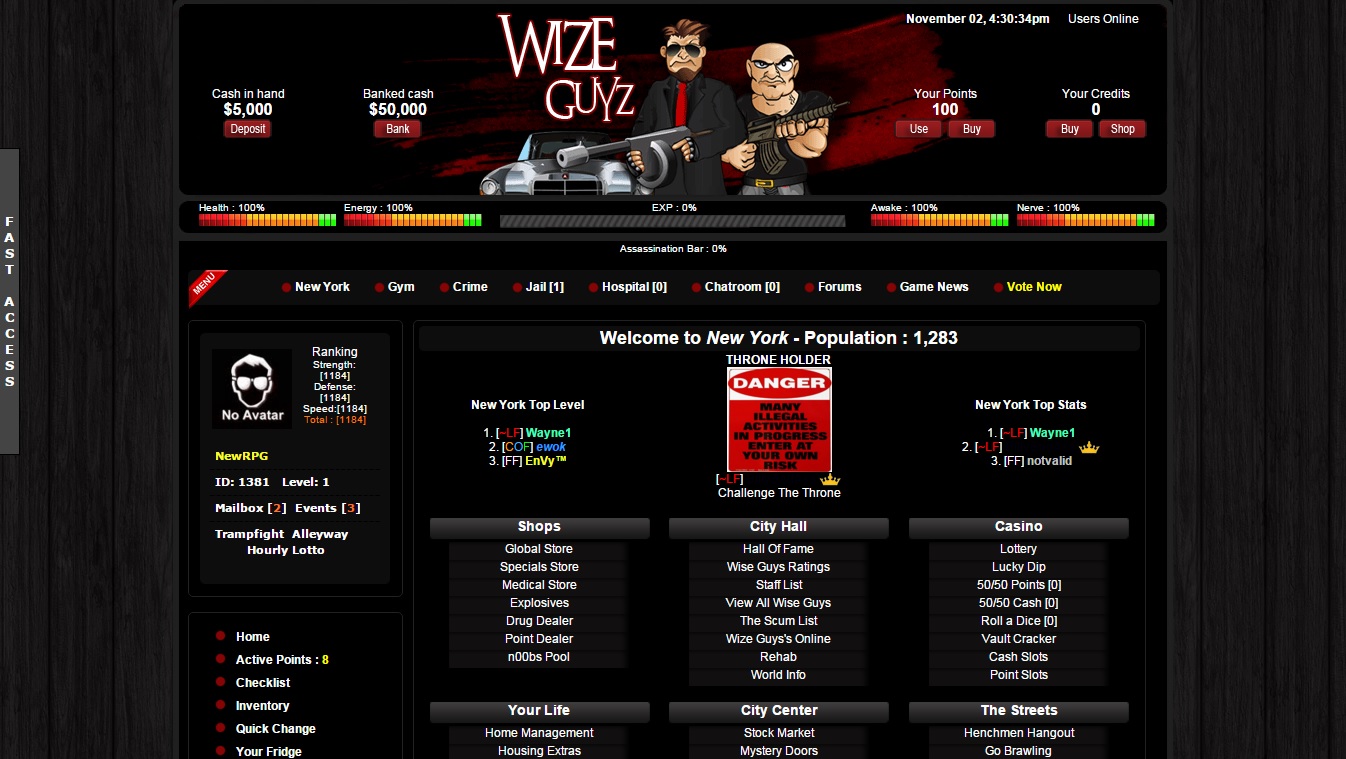 24

comments on

"Wize Guyz"
Envy
September 14, 2020 at 08:14 pm
Hey guys it's Envy :)
Miss playing with you old timers but a few of us are still around
HG
March 29, 2019 at 06:45 pm
Why
LF
March 29, 2019 at 01:11 am
I miss games like this! Where is everyone at?!
Jewels
December 30, 2018 at 08:48 am
Come play Debauched City. It's a great game and lots of familiar faces to see. Just add the dot com at the end. Hope to see you there.
Jewels
June 10, 2019 at 08:51 am
FYI don't bother looking for debauched city just another fuck up of his that he of course shut down. playing over at truemmo. not much better but more of the same ppl still play.
88er
March 28, 2019 at 12:32 pm
It says the game is down. I miss playing with you and Ewok.
Jewels
June 10, 2019 at 08:52 am
come find us on truemmo dot com.
tiffany
November 23, 2018 at 05:01 pm
what game is everyone talking about
Lil Jewels
October 19, 2018 at 05:33 am
Debauched City
Lil Jewels
October 19, 2018 at 05:29 am
Everyone come play Debauched City instead
stan lee
July 04, 2018 at 01:38 pm
Mobrivalry.com is the newest i know of
The Joker
March 31, 2017 at 04:30 pm
mafiastruggle.com

The Joker FINALLY married Cherry come check it out :D
God
January 09, 2018 at 02:47 am
Any other game besides mafia struggle?
Gunner
April 01, 2017 at 06:52 pm
0_0
Yoyo
February 09, 2017 at 06:51 am
F*ck mafia struggle
Gabby
January 24, 2017 at 03:00 am
Mafia Struggle :)
The Joker
March 31, 2017 at 04:27 pm
MAFIA STRUGGLE WE ARE ALL HERE.
Arachnid
December 15, 2016 at 10:26 pm
What Game?
Jason Bourne
October 10, 2016 at 09:00 pm
Well guess he just got too greedy and lazy...where are you guys playing at?

Not sure if I will really play another game in the same way...thousands wasted on wg.
lil Jewels
February 18, 2017 at 11:16 pm
meanstreetsmafia
lil Jewels
December 06, 2016 at 03:02 am
let me know if anyone has found anything better. it sucks what Acer did.
DontDropTheSoap
October 08, 2016 at 03:13 pm
Damn why would he do that :/
The Joker
September 14, 2016 at 03:10 am
so this went south, game just poof disappeared. so where is everyone playing now?
BillyBadass
September 24, 2016 at 01:29 am
i am done playing these games. wiseguyzs ruined me. I wont spend a dime on another.
Bazooka
September 14, 2016 at 06:39 pm
I'm at MafiaKings
Tart
August 31, 2016 at 12:19 pm
the game was good till the "owner" scammed people and shut the game down without any notice.
BluebeastANDgabby
June 20, 2016 at 11:21 pm
This game, AceR, is just money scamming admin, and getting people before he shuts down the game, hence the white page when you try to register. Don't bother with this game!

-BlueBeast
Rosalie
August 31, 2016 at 08:28 am
This game was good till the admin deliberate ripped his players off Never ever play one of his games
jack the hat
August 06, 2016 at 03:08 pm
got a new game for me blue..
Cadillac Pussy
August 10, 2016 at 10:32 am
Where is everyone at now? Dont bother going to OST it will be Reset again..
Edgar Barr
September 06, 2017 at 09:35 pm
Where are you now?
Annonymous
September 16, 2017 at 11:17 am
Yourmafia
Edgar Barr
September 10, 2017 at 11:21 pm
What Game?
Annonymous
September 08, 2017 at 08:54 am
Everyone is playing this game now
HaVoK
August 24, 2016 at 02:59 pm
What happened? Can't go to the login page in a while already...
Heavens Gift
September 01, 2016 at 12:01 am
Oh wow. He shut it down. Haha. What other games does this admin have?
maggie
May 25, 2016 at 01:48 pm
All the above comments a correct its a great game BUT dont disagree with the owner , if you do you will get banned . even if its in private mail .
And dont believe a word the owner says when he says thats the biggest house in game , heard that 3 times and yet he still added bigger cause he wanted more donator money .
Shelley
August 24, 2016 at 07:21 pm
Where are you playing now Maggie??
sophie
May 07, 2016 at 07:41 pm
i cant register i click to register and goes white page :(
Blue
November 09, 2015 at 08:46 am
Great game, the owner is a good guy he keeps it honest and interesting Never a dull moment come and play with us. :)
Raoul Duke
November 09, 2015 at 08:43 am
I've played a lot of games of this type, and this one is a cut above the rest. The owner runs a fair game and the players keep it very interesting. I highly recommend this game.
Red Spike
November 04, 2015 at 12:44 pm
Awesome game. Great staff & owner. Amazing community. Hope to see you playing soon!
Nuke
November 04, 2015 at 03:20 am
Game is better than most.
MMORPG
November 03, 2015 at 04:13 pm
Great game , give it a try today