Xterium
Xterium is a space strategy game in real time. Research technologies with each giving various advantages. Start a computer technology to run a mission fleet. Weapons technology helps you to survive. Recruit a geologist to support the development of resources. You can also hire admiral, so you wouldn't lose control in battles. Expand the empire by constructing Metal Mine, Robot Factory, Solar Power plant, Shipyard, Research Lab, Deuterium Power Plant, and so on. You can have a clear review whether your empire is being spied. Increase your units to rise in the Hall of Fame. Collect achievements and create an alliance.





(64 votes, average: 3.31 out of 5)
Rate it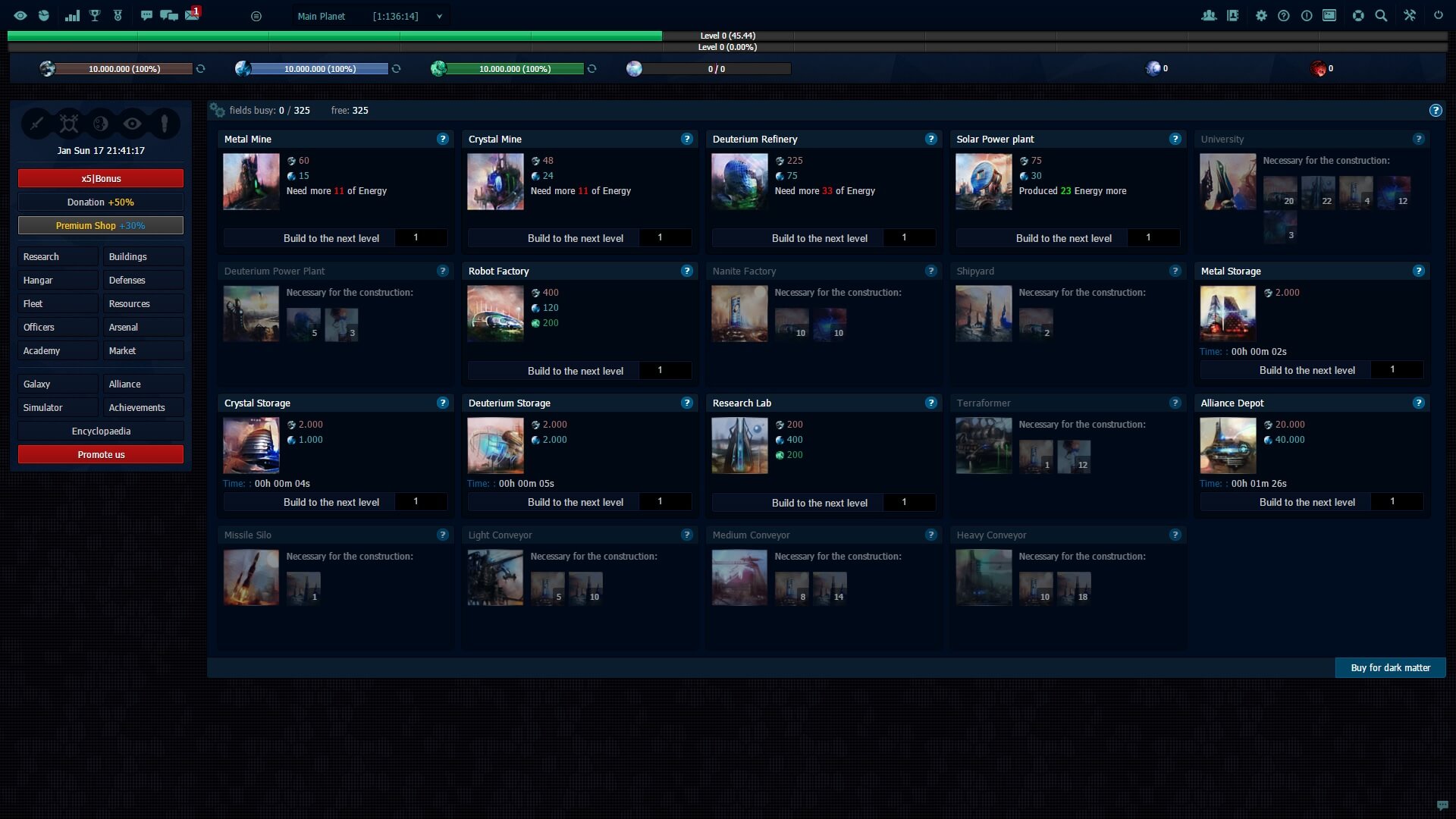 34

comments on

β€œXterium"
Yo
January 29, 2022 at 12:38 am
Good
Nicholas Todeschini
May 24, 2019 at 05:25 pm
Xterium opened a new CLASSIC universe! Check it out!

http://xterium.com/pp/space/classic/2
Jamion
May 16, 2017 at 09:29 pm
Jamion votes xterium !!!
Jeremy
December 19, 2016 at 07:50 pm
Merry Christmas and Happy New Year;
If you are looking after a nice and active game community to play with; then Xterium is wat you are looking for

Regards
Johann
June 23, 2016 at 10:00 am
Really good game. If you bored - join.
kdj8924
June 08, 2016 at 04:22 am
VERY GOOD
Apo
May 31, 2016 at 10:35 am
Its amazing place/ I really enjoying to play. Admins are so helpful and players are so friendly. I recommend you to start here.
Spartanul
May 30, 2016 at 01:04 am
Un server nemaipomenit, jucatori si admini de nota 10, fa-ti cont si nu vei regreta.
Savage Zoldyeck
May 28, 2016 at 03:11 am
Excelente juego, bien balanceado, con naves diferentes, aplican bien los fuegos rápidos, buen motor de batallas y sobre todo lo mas importante, los administradores son activos y realizan varios eventos para mantener a los jugadores activos y con buenas recompensas.
ANOMALIA
May 13, 2016 at 09:28 am
Goed game
Ancileddu
March 03, 2016 at 03:31 pm
Gooood game
Vadikan
March 01, 2016 at 10:32 pm
Best game)
macaria
March 01, 2016 at 09:17 pm
Good game
iribuya
February 28, 2016 at 06:54 pm
Balance is always important in these private servers. This server does it well. The admins are very active and ban cheaters quickly and fairly.
If you want to have fun, quick server, nice community this server is awesome.
swerck
February 16, 2016 at 08:26 pm
love these game
Krono
February 09, 2016 at 12:05 pm
Very good game and very good staff!
Gentleman
February 02, 2016 at 07:47 pm
I love this game
Homer
January 26, 2016 at 05:52 pm
Super jeu, belle communauté en devenir !
Bartimus
January 25, 2016 at 10:56 pm
Top ! The Best
GreIIIHuk
January 24, 2016 at 05:42 am
Игра очень хорошая, затягивает! Очень много новшеств относительно классического огейма, больше интересных моментов.
Администрация проекта следит за самой игрой и часто привносит что-то новое!
stralis22
January 23, 2016 at 09:07 pm
Good Game..
Angel
January 23, 2016 at 01:29 am
Very Good game!!
Le-Bouffon
January 23, 2016 at 12:04 am
Good game
fancy
January 22, 2016 at 09:57 pm
great game....very addictive
Rafael
January 22, 2016 at 09:32 pm
Good game, Blacky696
Dakota
January 22, 2016 at 08:54 pm
it is a good game
Kindaro
January 22, 2016 at 08:36 pm
Very good game! but beta test!
alexzav
January 22, 2016 at 05:11 pm
good
zagadra
January 22, 2016 at 04:48 pm
Good Server, the eco and fleet are very good balanced
BugZ BunnY
January 22, 2016 at 04:39 pm
A smooth running game with no 'Lags' and if a bug is found it is sorted out by the admin almost right away.
Gennadiy
January 22, 2016 at 04:37 pm
играем класс игра стратегия
prair
January 22, 2016 at 04:18 pm
I play this game and it works perfect, good admin with fast repair if something is not fully sattisfying. Nice active players , fast server but not so fast that you are not in control, good speed balanced.
psix
January 22, 2016 at 04:16 pm
new game , become the first !
Π°Π½Π΄Ρ€Π΅ΠΉ
January 22, 2016 at 04:16 pm
народ прикольная стратегия я сам лично играю на всех серверах этого проекта ( попробуйте зарегайтесь и я уверен что вам понравиться эта уникальная по своим возможностям игра