The RPG Gamer's Guide to Spin & Go Poker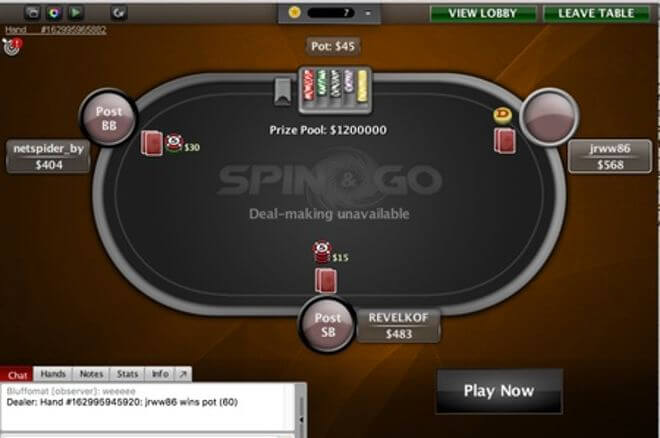 Online casino and poker games have in recent years become a globally recognized gaming format, with many professional players crediting them with developing the multimillion-dollar careers they have today. Although they are often grouped together with other esports disciplines, casino and poker games belong to verticals within the iGaming market. However, it�s not uncommon to find online championships as hotly contested as a Call of Duty, Hearthstone or League of Legends tournament.

There is all manner of real money games available to play both online and on mobile, covering disciplines like poker, slots gaming and roulette. Alongside innovative games like virtual reality poker, Spin & Go games have proven to be quite popular with players of all experience levels. Here, we�ll give you the lowdown on this exciting poker variation and discuss a few key beginner-level tips and strategies to adopt if you want to give the game a try.

Spin & Go Games at a Glance

Spin & Go poker games are still relatively new within the online casino and poker industry, having first come to prominence around 2014-15. Their format is quite similar to a Sit & Go game, which is a tournament of between 6 �10 players who have all paid a fixed buy-in that typically last no longer than 60 minutes when played online. There are, however, some fundamental differences that can make Spin & Gos much more player friendly than their original counterpart.

One of the main things that set Spin & Go events apart from other online poker tournaments is the fact that only three players can contest them at a time. This �hyper-turbo structure,� as exemplified in the newest UFC-branded Spin & Go promotion from PokerStars, means that each round of play is much shorter than in a traditional online tournament: -3 minutes compared to an average of 20 minutes. �

Also, the prize pool of Spin & Gos always changes. It usually equals around 2x the initial buy-in, but sometimes, it can reach a significant jackpot of around 3,000x or 10,000x. Prize pools always reveal before the plays start, and in the event of a larger jackpot, players in 2nd and 3rd place do stand a chance of receiving a payout. Otherwise, it�s a winner-takes-all format. Blinds increase every 3 minutes, and all three players begin with a maximum of 500 chips. ��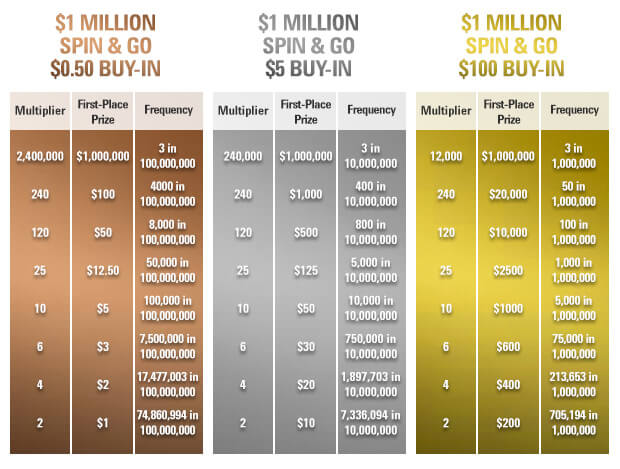 Simple Strategies for Newbies

Since the vast majority of prize pools are around 2x the buy-in, beginner players to the game can develop a mindset that they will hit the jackpot sooner rather than later. Despite their short formats, however, Spin & Go games require as much control, strategic thinking and a healthy dose of realism as other poker variations, especially if you want to enjoy the experience and build up your skill set.

With that in mind, here are a few key tips to keep in mind when you first start to play.



Build a stack early on

� Instead of waiting for a good hand to appear within the game, the limitations of this format (25bb and 3-minute rounds) mean that you will need to build your stack early on in the game. Even if you do manage to find a good hand, you may not have the big blinds in your stack to play it. Find out as much as you can from the get-go: How are your competitors defending? What�s their style of play? Are your button raises having any effect? Controlled aggression and smaller bluffs can lead to a more successful game in the long run.



Manage your bankroll

� Spin & Go games are variance-heavy, so manage your bankroll in a different way than you would for any other format. To play the rounds or spins comfortably, you should ideally keep your bankroll at around 200x the value of your initial buy-in. It�s possible to make it through a tournament with a lower, 100x buy-in bankroll, but you�ll need to drop down in stakes if you choose this approach. Spend wisely, and don�t underestimate the variance.



Watch the pros in action

� Undoubtedly, the best way to get good at any poker game is to practice by playing, but the second-best way would be to watch the pros in action. YouTube and Vimeo have plenty of useful and easy-to-watch videos of pros playing Spin & Go games that are completely free

like this one

from top online player �Pokerreign� so that you�ll be able to start building up your knowledge in no time at all. �



0

comments on

"The RPG Gamer's Guide to Spin & Go Poker"