Interview with Callum Richardson - Hooves of Fire
Today we interview Callum, the developer behind Hooves of Fire!
Who is Callum?
I'm an independent developer with a background in developing websites and applications for a range of organisations including universities, advertising agencies, industrial suppliers. So a broad range of experience working in different spaces. I grew up playing games on PC and was inspired by the old Sierra On-Line games like Kings Quest, Space Quest, adventure style, retro graphics. Back then, the graphics didn't have to be spectacular because the gameplay was solid. I don't get a lot of time to play games nowadays but my favourite games to play right now are generally strategy, role playing or social/party games. In lockdown we were playing a lot of the Jackbox games which inspired me to make the Neon Pizza social distancing suite of games.
I started building games when I was 8 years old so over the years I've used a variety of programming languages and techniques. Previously I've built some casual games for PC including a platformer called Mr. Bean the Mexican Jumping Bean and a casual, block-moving game called Freeze Frenzy.
How about Hooves of Fire?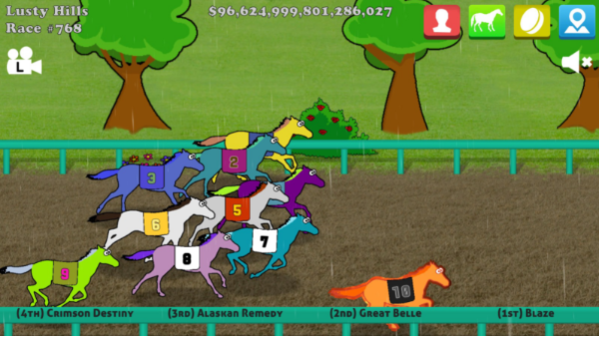 Hooves of Fire is a horse racing game that you can play on PC against other players. You enter races and watch them in real time. You look after your horses and there are strategy elements in choosing the right race for your horse and equip them with different items. You can place "virtual" bets with "virtual" cash that you win by racing your horses and winning races. You can race against real players and chat to them as you are racing.
There are usually several hundred players online at any one time. Players communicate with each other in the game through in-game chat or Facebook chat and player also have their own communities on Facebook and Discord. There is a Hooves of Fire players group on Facebook with approximately 5000 members and also a separate game forum. Some players have formed their own tournament groups that meet up regularly and race off against each other.
How did it all start?
Hooves of Fire started as a fun side project that I was working on. I wanted to create a horse racing game that I could play against my mates. The first iteration was just 1 stream of races with 1 chat room that we all jumped in. Then I published the game on Facebook which was around the time 'social games' (Farmville etc) were big, and it just took off.
I would say 98% of the development is done by me personally, with small portions outsourced to other devs. So the team is small, generally I code by myself but have had additional devs contract to us over the years. Some of the graphics/artwork is contracted out because I am terrible at drawing. The original Hooves horses were drawn by me which I think look terrible but the players voted to keep them in favour of the professionally designed replacements!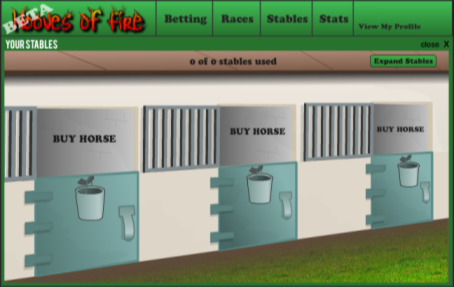 The most unique feature of Hooves of Fire is its interactivity between players. Being able to chat with each other while you watch races, breeding your horses with other player's horses, tracking their lineage back and seeing your horse's predecessors and buying and selling your horse to other players. It's a casual game, yet we have players that have been playing for over 10 years, there is a real sense of community between the players of the game. It's really rewarding to see the love players have for our game.
Any big issues you ran into?
The deprecation of Flash at the end of 2020 has been a huge issue for us in developing Hooves of Fire, as the game was written originally in Flash and this meant that we had to find an alternative engine in order for the game to continue. Having known about the deadline in advance, we halted feature development on the Flash version for a couple of years prior to 2020 while we rewrote the game into Unity.
The changeover to Unity from Flash has been difficult for players also, we had made some changes to accommodate the game being able to run on PC and mobile and so there was a bit of a learning curve with the new format. On the plus side, Unity has made the game almost universally available on mobile and PC and development and deployment has been greatly streamlined as a result of the changeover. Being on multiple platforms also has its problems, as Facebook, Google, Apple, Paypal and even the browsers themselves will constantly throw a spanner in the works with API changes and updates. Instead of working on a new fun feature for the game, a lot of my time is spent just keeping the game working on each platform.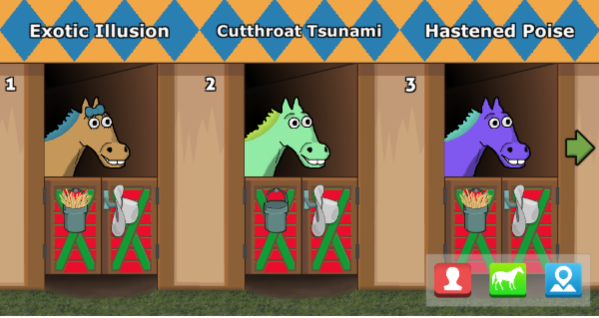 The hardest part about being an admin is when there are server issues and it is some ungodly hour of the night. Trying to troubleshoot and resolve issues when you are overtired or just woken up is really difficult. Players are upset because they can't access their stables and the support inbox is flooding with queries, it can be pretty stressful. Thankfully this hasn't happened for some time (touch wood) since we moved servers a couple of years ago to a more stable platform. This has meant we can spend more time on development and less time troubleshooting server issues.
Any funny stories to share?
We have heard stories of a player proposing to their partner in the game via their horse's name. Also, there has been at least one marriage that happened between players that met on Hooves of Fire, maybe more? Maybe even a Hooves of Fire baby that we don't know about? There have definitely been many international friendships formed through the game and as the game developer, that's quite a satisfying feeling.
What's the latest news?
We have just released a Teams Racing feature in Hooves of Fire where players can create or join their own racing team. We'd really like to build out this feature to make it more interesting and engaging for players. We also have a few other ideas we would like to implement but we can't reveal those just yet!
Got interested? Check out Hooves of Fire!
1

comments on

"Interview with Callum Richardson - Hooves of Fire"
Mike Akai
June 16, 2021 at 03:52 pm
I used to play Top Eleven - a football management game. One of the features that was most interesting was the ability to bid on players. It would be great to see an auction element added to the game just like in real horseracing. It would also be great to have special events with huge purses like stakes races (Triple Crown, Florida Derby to name a few - with qualifying to enter at the specific age groups- e.g. money earned as a Nb or 1DO etc.). The ability to acquire wealth through breeding and selling versus making game cash through racing is somewhat unrealistically disproportionate. Not complaining - love the game but would like to see it evolve.