What happened with METROHO in the summer?
Think you can build a championship hockey team? You can find out in METROHO. METROHO went down briefly during the summer of 2020. To learn more about the game and what happened, check out this interview with the owner!
METROHO went down this summer? What happened?

In late July 2020, the drive on METROHO's server unexpectedly failed and could not be restored. The problem was solved by putting the game on a new server! I am very grateful for how patient and supportive METROHO's users were about this unfortunate incident. Game over? No. Game revived!
METROHO had to be rolled back a few days from the time of the crash. But aside from that, nothing was lost. Users were incredibly understanding. When glitches happen, I am always open to finding ways to compensate users who were negatively affected by the glitch, for example, by giving them extra drills or other in-game items they can use to improve their team. But in this instance, no one complained about the crash hurting their team and users were just happy to have the game back!
Can you describe yourself?
I am a hockey-lover from Edmonton, Alberta, Canada. I grew up playing EA Sports NHL games and street hockey. One day, in 2005 or 2006, I thought it would be fun to play a text-based game where I could be the manager of a hockey team and compete against other real-life users. I searched for a game like this, but could not find anything that I liked. That led me to making METROHO: a game that is action-packed and full of features, but not too time consuming or difficult to learn.
I started game development back in 2001 and am self-taught. The first and only other game I made was a text-based role-playing game called Frog Life in which users could choose to be a frog, human, robot or alien and compete against other users for wealth and power. The world in that game was called Metropolis and, originally, the plan was for METROHO to be a part of that game. This is where METROHO (the Metropolis Hockey Organization) got its name.
As I developed METROHO, it became clear that METROHO needed to be its own separate game. It was too big to be part of another game and had its own target audience: hockey fans!
I built METROHO myself from scratch and work alone aside from getting help with things like graphic design and enforcing the rules of the game. But I am open to working with a team to expand the game if the right opportunity arises.
Occasionally, I will play a game, like Head Soccer, on my iPhone while I am waiting for something. Recently, I also played some games on a friend's Nintendo Switch. As amazing as the Nintendo Switch games were, they gave me a bit of a headache because of how fast and dramatically things kept changing on the screen. I like games that are easy to follow and easy on the eyes, which is probably easier for a text-based game to achieve than a video game, although, of course, text-based games are less visually impressive.
Do you have any inspirational games?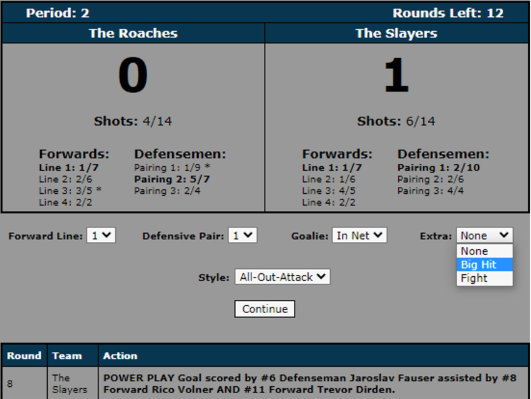 Slot machines were the most inspirational games for me in making METROHO. Although METROHO focuses on the management of a hockey team as opposed to the actual playing of the hockey team's games, METROHO does allow users to play their team's hockey games if they want, slot machine style! For each minute of a game (called a round), the user can choose which players to send on the ice and how offensive or defensive-minded those players should be while they are on the ice. If users do not want to take the time to play a game this way, they can allow the game to be simulated automatically without their involvement. But there is an advantage to playing games manually because doing so allows users to strategically match lines against the other team.
Can you describe METROHO for new players?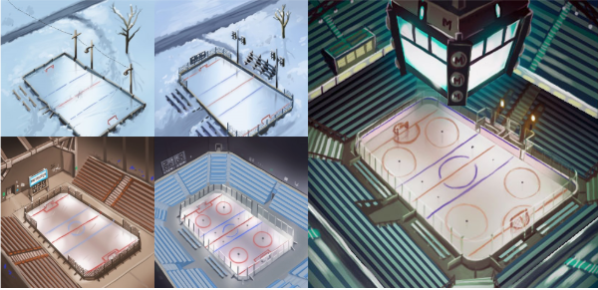 METROHO is a game you play through a web browser in which you manage your own hockey team. You can join leagues, draft players, cut players, sign free agents, make trades and hire/fire coaches. By winning games, you grow your fan base and earn credits, which you can use to upgrade your arena. As seasons finish, players age and eventually retire. You can then hire those retired players as coaches.
METROHO has many features (e.g. betting, big hits, fighting, junior leagues to draft players from, tournaments in addition to league play, etc.), but I think METROHO's most unique feature is the ability to play your hockey team's games manually like a slot machine.
How is the community?
METROHO currently has over 300 active teams. Users communicate with each other though the in-game mail system and the forums. Even though METROHO has existed since 2008, there are not many people who know about it. METROHO is a hidden gem!
The biggest problem has been increasing the size of the community. It takes time to build a successful hockey team and many users quit because they do not have that kind of patience.
What is your biggest challenge?
Administrating trades is the hardest part of being an admin for METROHO because it can be difficult to determine when a trade is lopsided enough to warrant a reversal. We try to strike a balance between allowing users the freedom to manage their teams as they see fit and ensuring reasonable transactions, but that is not an easy thing to do. For clarity, there are rules against abusing multiple accounts. For example, users with multiple teams cannot make any trades between those teams, period.
Any future plans?
Users have requested that a mobile app be developed for the game. I like that idea, but would need to be sure that it would be popular enough to justify making it. METROHO is rich in content, has a great community and has a lot of room for more users!
0

comments on

"What happened with METROHO in the summer?"