Arcane Kingdom 2.0 wilderness event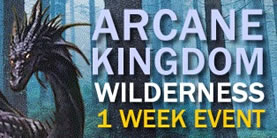 Wilderness event at Arcane Kingdom 2.0 starts from 1st August and lasts for a whole week. During that period you can use Wilderness without any effort or catches. Every Wilderness square per move spawns at least 20 monsters that can drop legendary items. This is a huge boost and worth taking part in. Hopefully this event will bring old players back into the game as updates have stopped and many players have left. Developers have picked up the game once again and starting with this event they hope to bring back the community they used to have. They have started working on the game's base system and implementing more updates. For example No Macro Check tokens that can be found in various locations in-game, this means you can use your Auto Fighting without having to worry that there will be a Macro Check.

100 free credit bonus
They also offer 100 credits for returning players. Make a support token and write "I'm a returning user, i want to redeem my 100 free credits" to claim your free credits. They also offer double experience for you if you vote for the game in their in-game Voting page, this applies to all players, not just returning users.
Play Arcane Kingdom
0

comments on

"Arcane Kingdom 2.0 wilderness event"