Torn City update
Torn city has recently integrated massive updates, all listed below: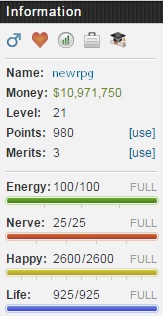 Statistic bars re-design

The design of statistic and energy bars has been kept the same for a long time. It was only a matter of time, till the update for those came out. Changes are not dramatic as they involve small changes, like fancy modern look with better color palette. Main important detail is the fact that they have added a statistic bar that is showing your remaining health.
Medical items
As of now, medical items can increase your health points, but still use cooldown. It is no longer needed to be in a hospital to use medical items. You can increase from 3% to 15% of maximum life you have depending on the worth of item. When you are revived by someone, 1/4 health bar will be restored. It was made to balance faction wars, so they would not rely too much on reviving.
Intravenous Therapy
Educational courses will give you different bonuses upon completion. With the massive update, there has been one education course added to the list, called Intravenous Therapy. When you complete this course, you need an empty blood bag to give or get blood. The effect of filled blood bag is quite similar to morphine, except a bit more powerful.
Dirty bombs that cause radiation
Radiation damage can be done with dirty bombs because they were not overpowered enough. Now that their damage has been increased, massive warfare is expected. But don't worry, these bombs are only targeted at factions. The radiation you would get from these bombs can last up to one month, with a two days minimum. Of course there are workarounds to decrease the time of your radiation poisoning, items called Neumune tablets.
Hair Salon upgrades
Company specials will be upgraded in the future and they have started with the smallest one. Hair salon was upgraded for testing only, if the updates go without bugs and issued, other companies will be updated too. Hair Salon specials system has been modified to balance companies since players intent to skip some companies, because they don't see a potential in them. Make sure to let developers know when you find any issues with the latest updates for better gameplay.
Other updates
Many other smaller updates have been also released. Fresh casino game Blackjack has a new modern and clean design. It is now running on HTML5 for better performance and smoother animations. Another update involved payment methods, since Google wallet has had some problems. Bitcoin and amazon are now added to payment methods list. In-game Torn City advertising has been updated to give them better animation effects. Loanshark has been changed, he is now called Duke and offers 2,5% fee per week. Factions can now fight each other against territory. The more territory a faction has, the more bonuses it will have. Search bar has been improved, since a lot of people didn't find what they were searching for.
Torn City reviews and ratings
1

comments on

"Torn City update"
wallnut
April 03, 2015 at 07:25 pm
I see a lot of drugs in this game but no meth lab or chem lab at Torn U.