Avalon
(Online since

2007

)
Avalon is a browser RPG that was launched in 2007. It's a medieval styled text based RPG. New players can choose between one of three character classes:
Paladin - Defense/Guard Centered
Outcast - Speed/Agility Centered
Warrior - Attack/Strength Centered
As you progress you might realize that you wish to change your class, one of the game's many quests allows you to do this after completing it. New users will receive 10 Starter Item Kits to help them if they're placed in the stocks or have suffered at the hands of a wild boar or an ice bear while navigating the Black Thorn Forest.
The Forest is one of the most profitable and dangerous areas in Avalon. As you explore it you can find various chests, gold and the occasional dragon. Defeat more and more of them to claim exclusive achievements.
Some of the dragons have been tamed and are available for purchase at the atrium. The Atrium is Avalon's Dragon Racing head quarters. Train your dragons, purchase new ones and sign up for events. Each day there are 4 races with great prizes.
If racing isn't your thing you can farm and be a producer or go to the pub and be a dancer.
Smaller adventures are also available for you daily dose of adrenaline and gold. Adventures help you to gain both experience and battle stats. While stats are important when it comes to battle, the wide variety of equipment is even more crucial. You will need the best equipment if you wish to conquer the Colosseums scattered across the World of Avalon. If you do conquer them you'll be rewarded with a medal which is proudly displayed on your profile along with gold and items.
The strong, swift and resilient can conquer some but only the best can conquer them all and earn the right to travel to the Ancient Sanctuary and face the greatest of challenges, Zerato himself, for the ultimate prize.
Begin the Quest to become a Legend





(9 votes, average: 4.33 out of 5)
Rate it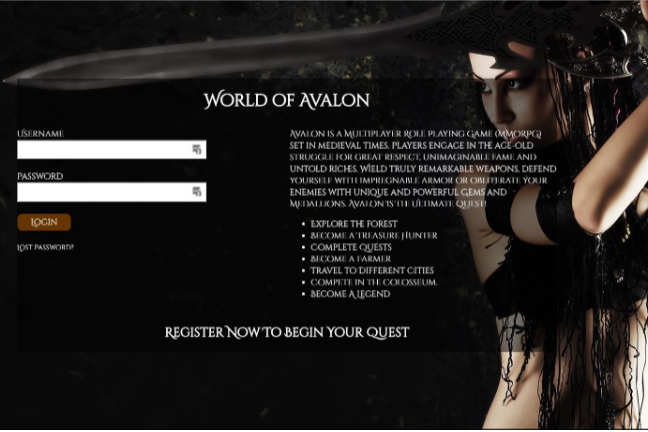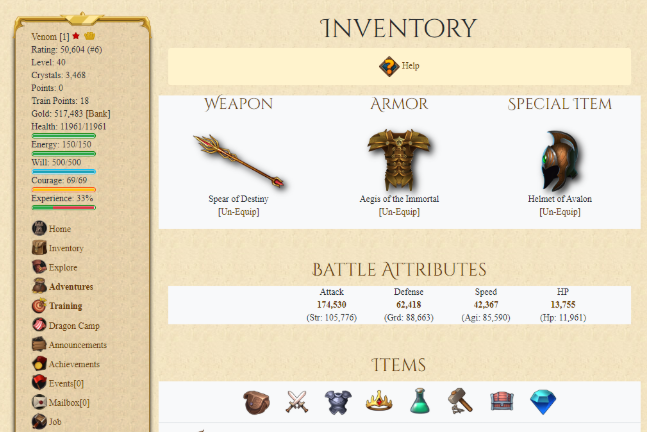 2

comments on

"Avalon"
Akuma
January 23, 2015 at 10:27 am
Ive been playing this game for really long, it has a lot of great features and the battle system is one of the best p2p systems I have ever seen. I think the developer strives for balance and he actually casually plays to get a better feel for the game.... And you can attack him too, he's one the list for most losses lol.
ethereal
January 23, 2015 at 10:22 am
Avalon has been around for a while now, it's one of the better browser RPGs out there. I've played a few and they suffer from many problems, each game has issues but in this one I think most of the kinks have been worked out and the game is mature. There are lots of unique features and a balanced economy. Leveling and things like that exist but new players are given quite a few bonuses to make their time enjoyable. I can't explain why I've been playing it for so long, you should come play to see what it's about.