Clicker Kings
Welcome to the world of Clicker Kings (Alpha) - The crypto backed Massively Multiplayer Online Text Based Role Playing Game
Phase 1 - The first in our long line of versions will include a mobile and browser-based version connecting through to the same player environment.
Enter into fierce battles with global monsters, build cities and invade your fellow players, craft and upgrade your equipment and earn FIAT & Crypto $CK along the way in your journey. All of this is cross-server within discord.
Before you begin you will need to register on your chosen server register then make sure you choose a class with class Once you have joined the fantasy world of Clicker Kings you can start customising your character. First, you need to set up your class To do this type class and choose your destiny!
Currently whilst we are in Alpha you can only choose between a mage and a warrior More will be released as the game development progresses.
Server owners will be rewarded with a share of all own game revenue made through their server.





(9 votes, average: 5 out of 5)
Rate it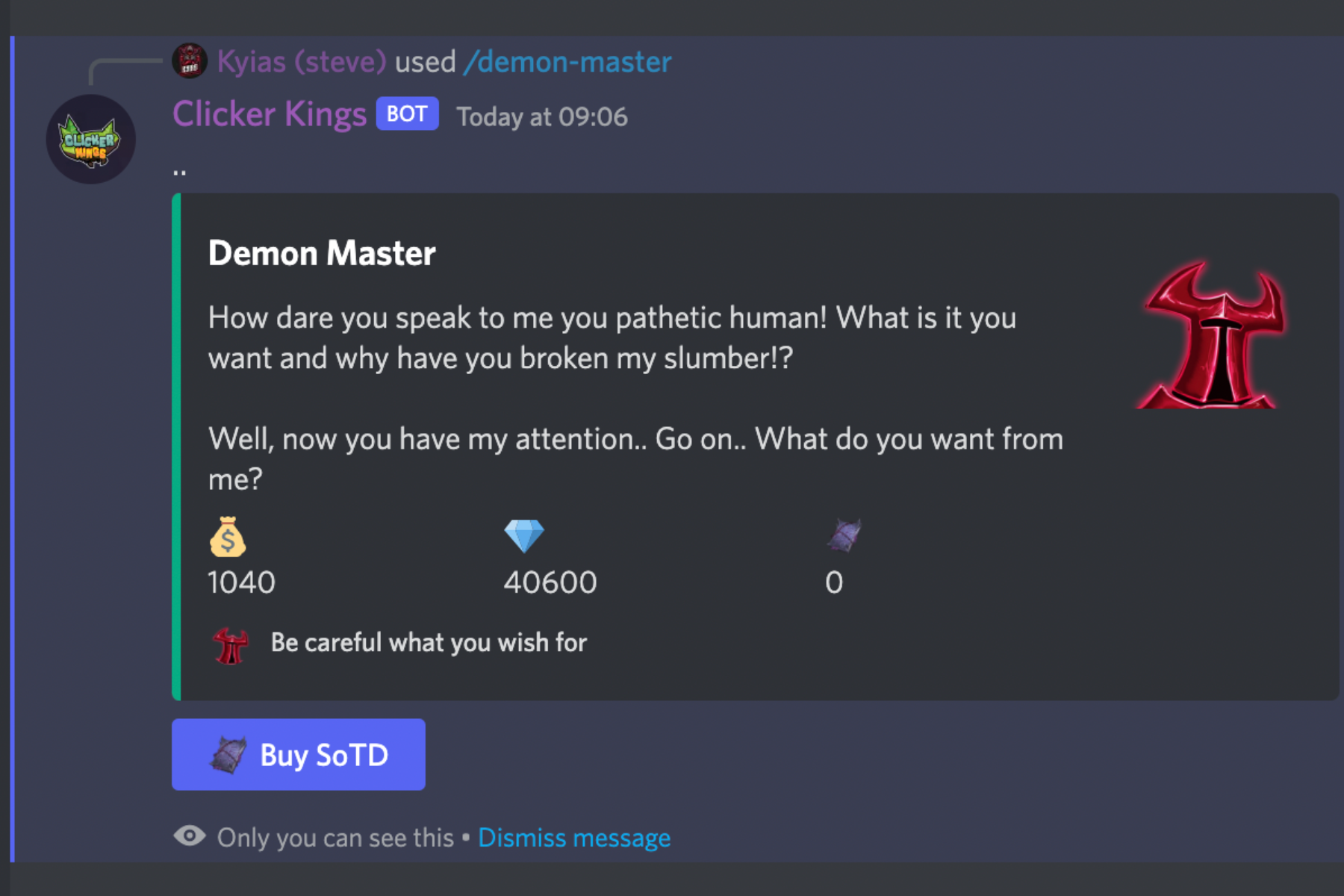 Demon Master - World Boss Spawn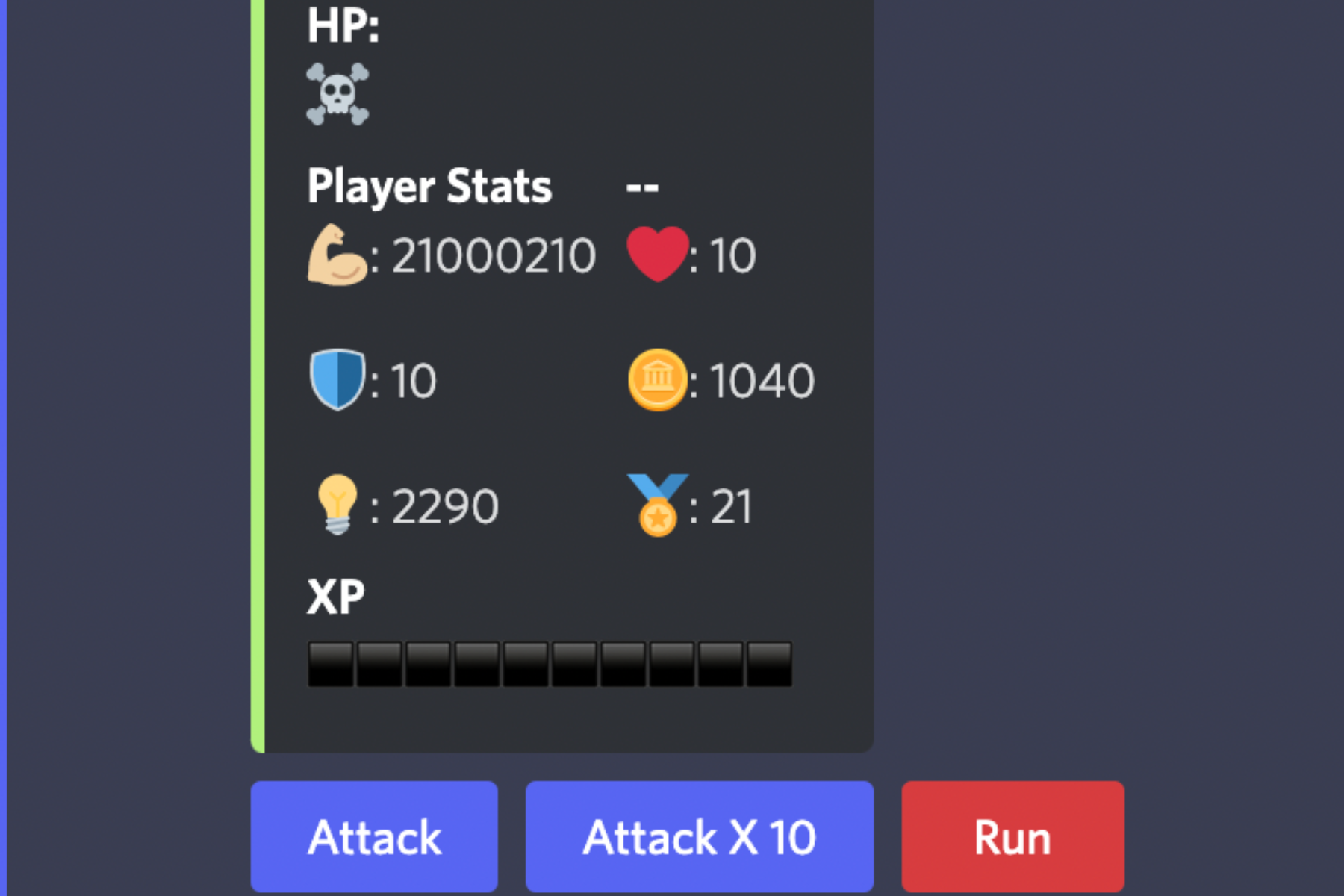 Battle Menu, World Boss Spawn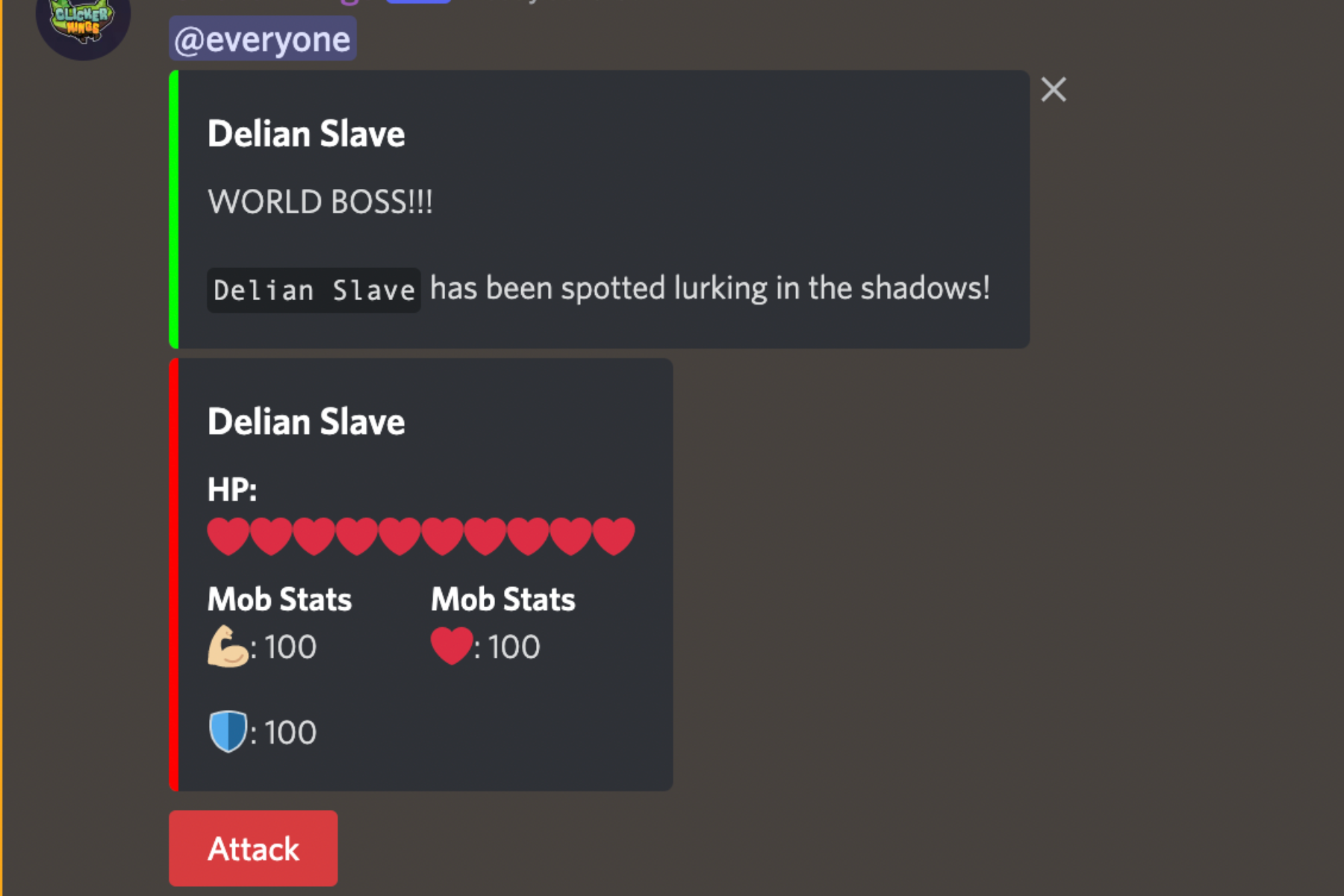 Battle Menu, World Boss Spawn
10

comments on

"Clicker Kings"
127
December 15, 2022 at 04:30 am
Reminds me of a middle school that I played. Brings back old memories and is very fun to play. I would rate it 11 starts out of 10.
DJ Nikov
December 15, 2022 at 03:06 am
Clicker Kings is a large scale, P2E, and overall awesome bot. It might seem complicated at first, but the concept is easy to grasp. The bot has numerous features, like the setting up of bases in up to a million spots, clans, the crafting of weapons/armour, and so much more. Large progress for a still developing project!
Recircc
December 14, 2022 at 06:23 pm
Really fun and addictive! Always new things being added to keep it fresh and enjoyable
Pelumi
September 01, 2022 at 03:46 am
Clicker Kings is a project that will soon lead the Crypto Space. Be part of the project to enjoy P2E
Ameh Charisma
August 31, 2022 at 10:27 am
Experience how great it feels when you play to earn on clicker kings.
Ayommie72
August 31, 2022 at 07:45 am
Clicker King is unique and it's dynamism to P2E is awesome always wanna be part all the time love to always taking part due to its creativity in the crypto chain
Faruq
August 31, 2022 at 06:17 am
Clicker king is the project that as long term plans with easy interface and also one of the best NFTs project
Mohammed Agashi Haruna
August 30, 2022 at 09:05 pm
What an innovative play to earn with good usecase of the CK token!
I must commend the team for coming up with a very easy interface with a good discord community which shows the long term plans of the project and it's longevity potential.
FAL
August 30, 2022 at 07:31 pm
Fun game! enjoying discord interface, all while earning crypto!
Johnexboi
August 30, 2022 at 07:19 pm
Clickers King is one of the best NFTs project which advocate P2E.