Core Exiles Premium Key Giveaway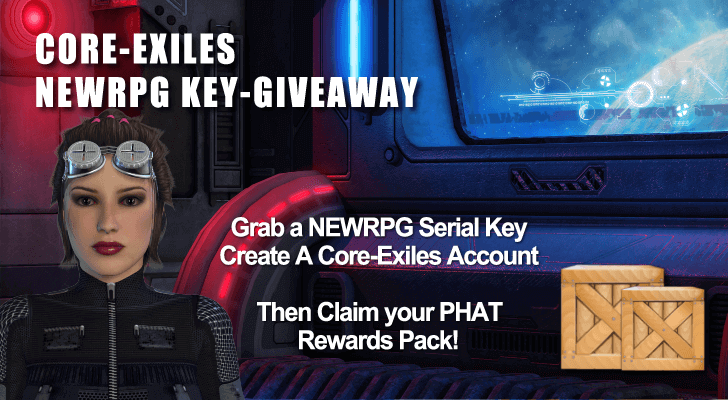 Core Exiles and NewRPG have teamed up to provide you with some awesome bonuses, such as free premium. Only 250 keys in total are available!

Core Exiles is a Sci-fi Browser Game a decade in the making. We hold our hands in the air at being 'Old School', but we have a game here with so much depth and breadth you will be tripping over new things to do in many years from now! Core Exiles players have burnt over 1 Billion units of Fuel! Mined over 562 million units of resources, moved over 600 million units of cargo, fought over 11.7 million combat sorties, salvaged 582,000 of them and looted over 801 million units of loot!

[keys id=7005]


How to use this giveaway code
1.
Create an account
HERE
2.
Login from
HERE
3.
Redeem Key from
in-game
Panel (CE Guides - MMO Serial Handin)
Giveaway Key bonuses:
- 1 X Specially designed 'NEWRPG Reactor'.
- 5,000 IP added to your Skills IP Pool.
- We will top of your Fuel Tank to 3,500 units!
- We will add 500 Festive Points to Spend in the Festive Store.
- We will issue you a 5,000 unit Fuel Ticket to your fuel depot account.
- Finally, we give you a
One Month Full Premium
Account Upgrade.
Game can be played even after Premium expires!
5

comments on

"Core Exiles Premium Key Giveaway"
GearAnce
June 06, 2019 at 07:08 pm
CE is all bout community, come join us. You can ask other players for help, everyone is friendly :D
jason
April 08, 2019 at 10:24 pm
fun game recommend
acu
March 26, 2019 at 08:54 pm
hola TY TY
retro but good game
William
March 22, 2019 at 09:05 pm
What happens after the Premium account expires?? Is the game restricted in any way after the Premium account expires and switches to free game mode?
NewRPG
March 22, 2019 at 11:16 pm
This is not your typical P2W game - you will not feel penalties even when premium expires. Hope you enjoy the game, William! :)
Hyena
March 17, 2019 at 07:42 pm
TY. Fantastic game considering it's over 10 years old :O