Adam about Football-o-Rama
We've already met Adam in his interview about Santa Monica FC Online. This time we dive into one of his other creations, called Football-o-Rama.
What is Football-o-Rama in short?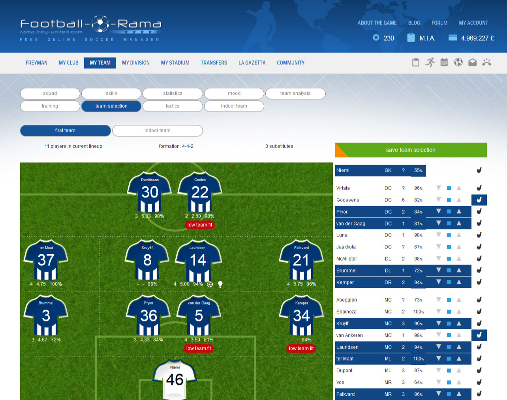 It's a football manager game, in which everything should be taken in long term - sponsorship deals, staff market, player development, the fact that you learn about your own players with time, the fact that you won't really know them before few weeks will pass, etc. Also there is another factor that puts Rama outside of the mainstream - every player has parameters that describes how well he fits into your team style and tactics, which means players who seldom are in the lineup will not perform well in their first matches.
How did Football-o-Rama start for you?
Back in 2001 I used my experience from making PSV Eindhoven Manager to build a new game that could be played over Internet. It was built from scratch and developed step by step into fully grown project - first version was designed for 16 players only, but by 2006 it has reached over 1000 players.
What makes Football-o-Rama unique?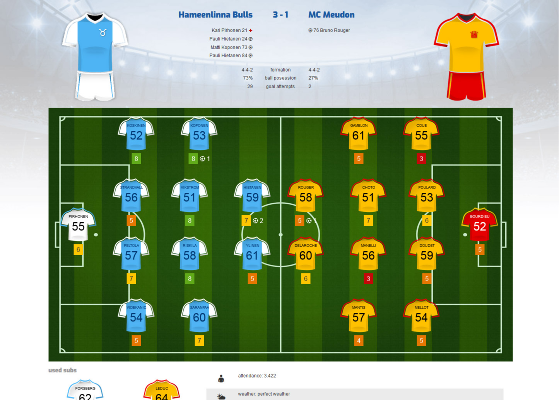 I try to use one element that is often missing in modern games - uncertainty. I often quote the same story that was behind the new version of Football-o-Rama: I used to play Hattrick and once I went to the transfer list to find a new player. I found one that was Swedish and one that was Brazilian and after checking their parameters I realized it makes absolutely no difference which one will I buy, they are identical. That's why I built the new Rama around concept that there are no two identical players in the game.
But that's just the first layer, there is also uncertainty around your players and staff - when you establish your club you know nothing about your players and it takes few weeks to learn something about them. It's like in a real life: when you meet someone for the first time you don't know anything about that person and it takes time to learn if they are introvert, extravert, if they are intelligent, funny, if they have some skills or are they lazy. That's why in Rama in your first week you know only very basic things about your players - their age, height, their figure, race, language they speak, but it will take time to learn something about their personality, strong and weak points.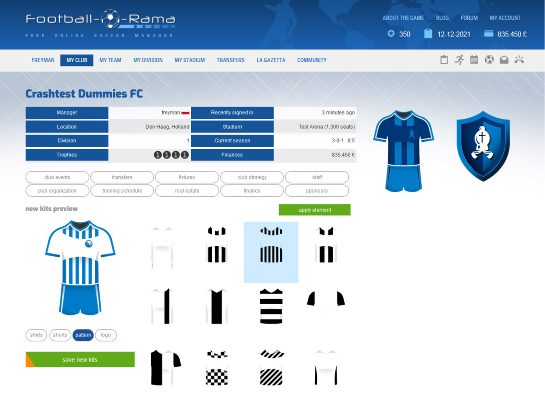 Similar story with the club staff - there are no visible parameters of their skills, they can only have certificates in their field of knowledge, but just like in real life there is no way of knowing how good they are until you hire them. This way you could have talented coach without certificate, who could be better than a coach with level 1 certificate, but you will know only after you hire them. It's like in real life - if you go to a doctor and he will help with your problem, you assume he is good. But when you try another doctor and not only he will help with your problem, but will cure it completely, only then you will realize the first one was not that great afterall.
I know it's approach that not every player will enjoy in modern times, but that is aspect of a game that often is missing - you know parameters of every weapon before you pick up, you know parameters of your enemies before you face them, you know exactly how many points does your shot deduct from HP of your enemy. In Rama it doesn't work that way.
What is the biggest issue you encountered?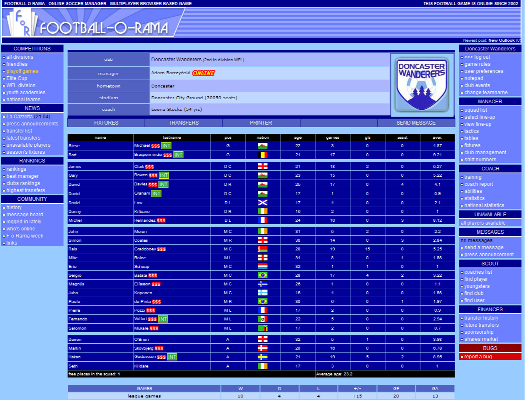 Football-o-Rama is very complex game, where there are dozens of hidden parameters that influence the game, the performance of your players, the in-game events, all of which is unknown to players, but have to work perfectly, otherwise the whole project will collapse. It took me few years to put the whole thing together and will take few more to smooth every little detail, but we're getting there - each season there are new features introduced.
How many players currently play the game?
Right now we have about 50 users, but the game is available in English only, which is a bit of a problem for new players. We're working right now on introducing language versions and improving user experience, so new players wouldn't be lost in all of the game options. There is a forum and La Gazzetta della Rama, which contains news and gossip from the game world and soon will be interactive for the game events.
What is the hardest part of being an admin for Football-o-Rama?
There are dozens of problems with running any multiplayer game, but the biggest are usually the players themselves (sorry). In old version of the games the number of players that join the game, play one match (if any) and never login again was with time problematic, that's why in new Rama we introduced a compulsory demo (you need to get through it to create account), which in few steps shows everything there is to know about the game, so people who just wanna take a peek won't have to get through the whole process, which helped a lot.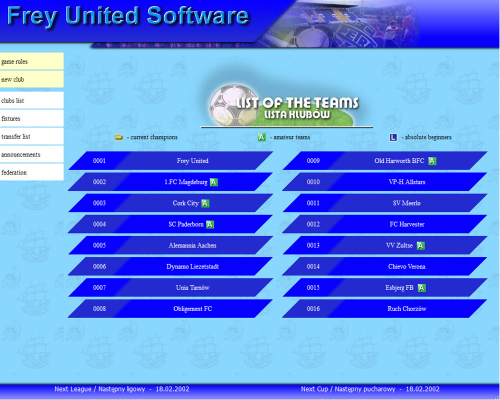 Luckily with small current player base Rama is rather easy to run, although there is always lack of time to take care of all the details, but this is quite normal for games.
Any funny stories to share?
Yeah, once when we got drunk and accidentally robbed a bank, only to find out that... Oh, wait, you meant Football-o-Rama related stories? No, no funny stories, it's all very serious business.
Can you already reveal future roadmap steps that you have planned?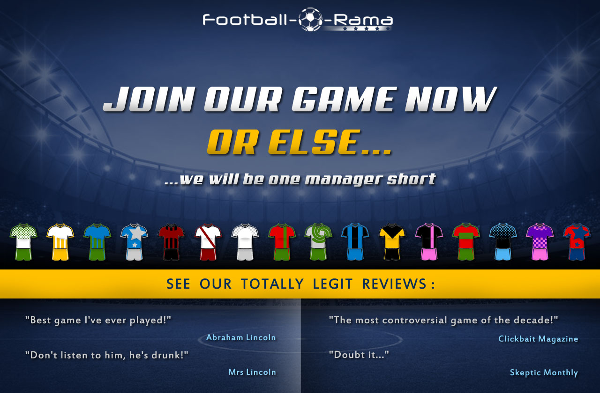 Yes, soon there will be language versions, interactive trainings, friendly and indoor tournaments, national teams and, of course, the hidden part of the game, which will remain hidden for some time.
0

comments on

"Adam about Football-o-Rama"