Behind Prison Struggle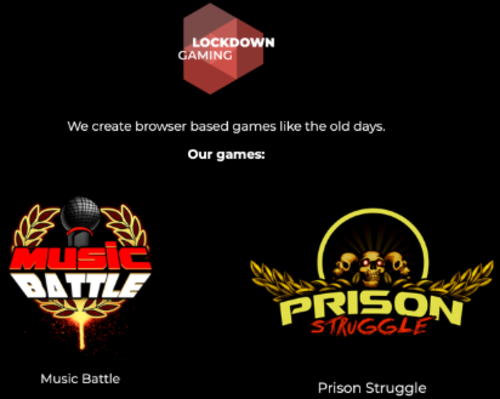 Lockdown Gaming is the team behind reviving two browser games, Prison Struggle and Music Battle. In this interview we get a small look behind the scenes and get a bit more personal with the developers.
Can you describe Lockdown Gaming?
We are a small team of passionate developers who have a love for text-based gaming. We both started our development journeys as teenagers who played text-based games before figuring out to building them, which lead to us both pursuing full-time development roles.
The biggest inspirational game for us, is Torn, it's great to see what has been achieved by a text-based game, and great to see that the game is still going strong after being around for so many years. Lasting the tests of time that many games haven't been able to. We're also extremely happy to now own Prison Struggle, which was a game we both played as teenagers and we are excited to try and restore the game back to its previous stature.
Do you work alone, or with a team / company?
We work with a team, Lockdown Gaming has two owners. We have a team of 3 freelance developers who help us on a daily basis to resolve bugs, support tickets and build new features for the games. We also have 3 in-game moderators who help us to manage the games and ensure the rules of the games are being followed and enforced. All our team work remote and are all based in various different countries.
Why did you take over Prison Struggle?

The biggest attraction to Prison Struggle was the legacy of the game. In its prime it had over 300,000 players and was one of the best-known text-based games on the internet.
It had since been closed and passed between a few owners who had done a poor job of ensuring the game was updated regularly and interacting with the players. This is where we knew we could make a difference, we have worked to ensure we are always issuing updates, implementing player suggestions and adding in-game events to keep players interested and excited.
How would you describe Prison Struggle?
Prison Struggle is an easy-to-play text-based MMORPG which offers a vast range of features to ensure hours of fun gameplay and many ways in which you can interact with our player base. The aim of the game is to build your character up to become the strongest player. You can also join gangs, commit crimes, be involved in gang wars and lots of other exciting things that you might get up to in a prison that is out of control!
How big is your player-base?
The game currently averages 80-100 daily players and has 400 players in total. We are now working hard to grow the player base and we are excited to welcome many new players to the game.
Can you already reveal future roadmap steps that you have planned?
Our main aim for the game is to provide features that work as one and interact with each other, and fit the game's prison genre. We are also working on a new chat system to help make player interactions easier as we know that players love to speak to each other and we know the importance of building a community.
1

comments on

"Behind Prison Struggle"
Todd Rezack
November 01, 2020 at 03:03 am
I always really liked this game , its simple and fun.